GRM's Aaron Cameron won the opening race of the TCR Australia finale at Bathurst, as Melbourne Performance Centre's Chaz Mostert sealed the overall drivers' title with ninth.
Earlier in the day, Burson Auto Parts Racing's Ben Bargwanna had secured the pole position with a surprise fastest time, which was two tenths faster than the GRM Alfa Romeo of Michael Caruso.
At the start of the race, Bargwanna held the lead, as Cameron jumped from fourth on the grid up to second with a strong start, leapfrogging John Martin's Honda and Caruso's Alfa.
Bargwanna then held the lead for the first four laps, but couldn't keep fellow Peugeot racer Cameron at bay, as Cameron stole the lead on lap five at The Chase.
Cameron then lead the remainder of the race, but Bargwanna was on his heels throughout and ultimately he only took the chequered flag by less than a second.
For Bargwanna, second marks not only his first visit to the podium but also his best-ever result in what is his début season in the category.
Caruso completed the podium in third, ahead of the leading Hyundai of Brad Shiels in fourth, the Tilton Racing driver having passed Martin's Honda for fifth on the opening lap and then the Reanult of James Moffat for fourth later in the race.
From almost the back of the grid, Jordan Cox put in a superb recovery drive in his GRM Alfa Romeo to claim fifth, having benefitted from a mistake by Mostert on lap nine to gain sixth, which then became fifth with a pass on Moffat three laps from the end.
Moffat was sixth, ahead of the MPC Moutai Audi of Luke King in seventh – going into the weekend, King had been Mostert's closest challenger for the title but realistically only had an outside shot at the top spot.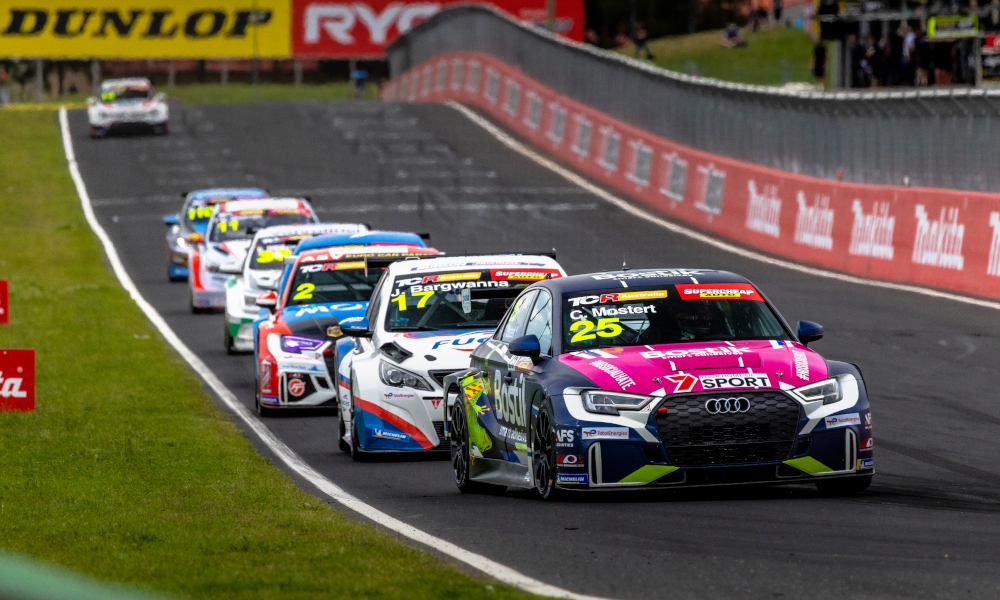 Martin slumped to eighth by the chequered flag, whilst Mostert was ninth in his Audi – enough to give him the title with a margin of 102 point and only 90 up for grabs in the final two races of the weekend.
Jason Bargwanna completed the top ten in his Peugeot, having lost out to Cox and King.
HMO Customer Racing's Josh Buchan failed to make the start when his Hyundai i30 N stopped on track with a broken driveshaft on the formation lap, which necessitated a second formation lap.
The only other retirement of the race was GRM's Jay Hanson, who hit the pit wall at the start of the race after contact with Zac Soutar's Honda, requiring a pitstop for repairs, with a tyre delamination also causing strife.
Race two is scheduled to take place at 12:30 local time (02:30 CET, 01:30 GMT) on Friday, followed by race three at 14:00 local time (04:00 CET, 03:00 GMT) on Saturday.
Race result
| | | | | | | | | | | |
| --- | --- | --- | --- | --- | --- | --- | --- | --- | --- | --- |
| POS | NO | CL | NAT | DRIVER | ENTRANT | CAR | LAPS | TIME | BEST | GD |
| 1 | 155 | | | Aaron CAMERON | Team Valvoline GRM | Peugeot 308 TCR | 17 | 38:43.5046 | 2:15.351 | 4 |
| 2 | 71 | | | Ben BARGWANNA | Burson Auto Parts Racing | Peugeot 308 TCR | 17 | 0.094 | 2:15.365 | 1 |
| 3 | 150 | | | Michael CARUSO | Valvoline Racing GRM | Alfa Romeo Giulietta TCR | 17 | 5.911 | 2:15.598 | 2 |
| 4 | 333 | | | Brad SHIELS | Tilton Racing | Hyundai i30 N TCR | 17 | 8.913 | 2:16.118 | 6 |
| 5 | 5 | | | Jordan COX | Garry Rogers Motorsport | Alfa Romeo Giulietta TCR | 17 | 16.075 | 2:15.853 | 16 |
| 6 | 34 | | | James MOFFAT | LMCT+ Racing GRM | Renault Mégane RS TCR | 17 | 19.281 | 2:16.499 | 5 |
| 7 | 2 | | | Luke KING | MPC Moutai | Audi RS3 LMS TCR | 17 | 27.123 | 2:16.847 | 9 |
| 8 | 24 | | | John MARTIN | Mobil 1 Wall Racing | Honda Civic Type-R FK8 TCR | 17 | 27.706 | 2:16.654 | 3 |
| 9 | 25 | | | Chaz MOSTERT | MPC Bostik Racing | Audi RS3 LMS TCR | 17 | 33.333 | 2:16.896 | 7 |
| 10 | 17 | | | Jason BARGWANNA | Burson Auto Parts Racing | Peugeot 308 TCR | 17 | 39.366 | 2:17.397 | 8 |
| 11 | 33 | | | Dylan O'KEEFFE | Lowbake Racing GRM | Renault Mégane RS TCR | 17 | 39.744 | 2:17.680 | 10 |
| 12 | 11 | | | Nathan MORCOM | HMO Customer Racing | Hyundai i30 N TCR | 17 | 41.330 | 2:17.415 | 12 |
| 13 | 110 | | | Zac SOUTAR | Team Soutar Motorsport | Honda Civic Type-R FK8 TCR | 17 | 54.191 | 2:17.473 | 13 |
| 14 | 78 | | | Keegan BRAIN | Purple Sector | Volkswagen Golf GTi TCR | 17 | 2:15.844 | 2:20.946 | 17 |
| 15 | 14 | | | Lachlan MINEEFF | Purple Sector / Southern Star | Volkswagen Golf GTi TCR | 15 | + 2 LAPS | 2:17.869 | 14 |
| R | 9 | | | Jay HANSON | Melbourne Performance Centre | Alfa Romeo Giulietta TCR | 15 | DNF | 2:16.038 | 11 |
| NS | 30 | | | Josh BUCHAN | HMO Customer Racing | Hyundai i30 N TCR | 0 | DNF | N/A | 15 |