Reigning British Touring Car Champion Ash Sutton heads to Brands Hatch this weekend for the season finale with a healthy 32-point advantage over nearest rival Colin Turkington. We explore the potential scenarios for the weekend.
Sutton has a margin bigger than any other driver has had heading into the final weekend in the past 20 years.
Only three times has the driver who trailed going into the final meeting overcome the favourite to win the title since 2001.
Indeed, last year was one of those occasions, when Sutton went to Brands Hatch in November nine points behind Turkington, but ultimately lifted the title by 14 points – a 23-point swing – after claiming a second, first and sixth respectively, beating the BMW driver in all three races.
The biggest deficit any driver has overcome in recent memory was in 2016, when Gordon Shedden turned around an 11-point shortfall before the meeting into a two-point title-winning margin to claim his third BTCC championship.
The only other occasion in the past 20 years when the deficit was overturned was in 2007, when Fabrizio Giovanardi beat Jason Plato, who had suffered burns to his hands in the run up to the event, by three points, having gone into the meeting nine points behind.
Although the number of potential permutations is large heading into the weekend, TouringCars.Net has looked at how some of the early results might play out.
Sutton's average finishing position in 2021 has been 5.5, which will be rounded up to sixth for simplicity's sake.
If the Laser Tools Racing driver finishes race one in sixth, he claims ten points. Assuming his nearest rival Turkington goes on to win the race, Sutton's margin would be cut to 22 points.
Indeed, if Sutton was to finish all three races in sixth, he would score a total of at least 30 points, excluding any potential bonuses for fastest laps or leading (we are also discounting a point for pole position as qualifying with full ballast on makes it an extra challenge for any driver with weight).
If that was the case – i.e. if Sutton was to have a weekend on par with his average performance this season – Turkington would need to effectively win all three races in order to win the title.
It is not inconceivable, of course, that Sutton could endure his worst weekend of the season. But taking his worst of 2021 to-date, at Oulton Park where he was 14th, eighth and a non-finisher, if he was to replicate that form, he would still take away ten points from the weekend.
Even a ten-point top up would require Turkington to score 42 points – equivalent to, for example, two wins and a non-score, or two thirds and a fourth. Of course, there are many more permutations, but to list them all would require a significant amount of space (and time).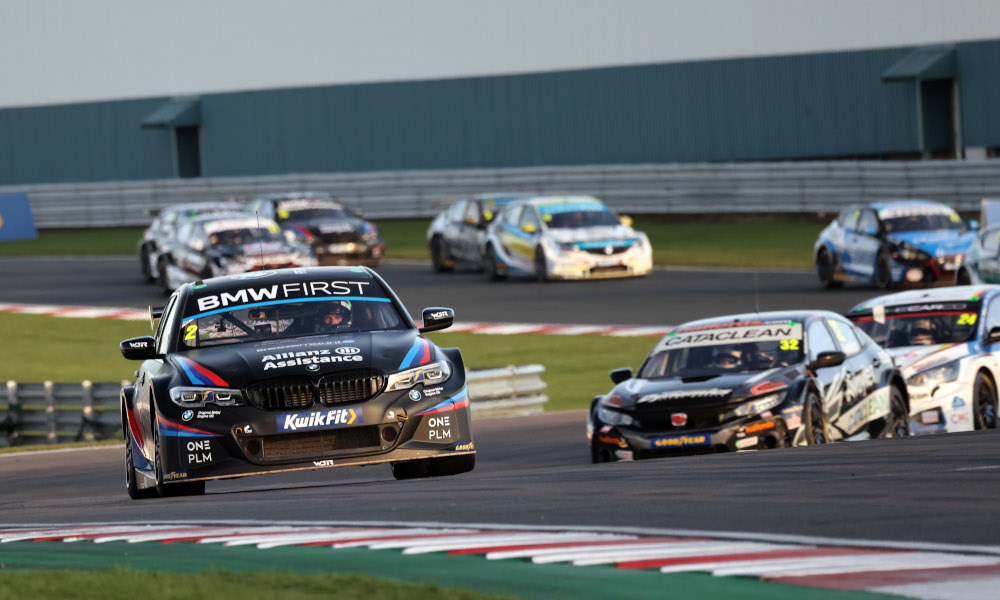 In simple terms, Turkington is likely to need to make it onto the podium in at least two races, and most likely three, to stand even a chance of beating Sutton.
Even then, there is a requirement for Sutton to endure at least a worst-of-2021-equalling weekend, and given his record at the Brands Hatch Grand Prix circuit, it's hard to see that occurring.
Out of his five previous visits to the Grand Prix loop, Sutton has claimed two wins, one second and four thirds, out of 15 races. The 27-year-old has thus finished on the podium in just under half of all BTCC races he has contested on the Brands Hatch layout – an impressive record, especially when you consider that he didn't even stand on the podium in his début year in 2016.
More importantly, Sutton has only failed to finish two races out of the past 84 races in the BTCC he has started in the past three seasons.
Mathematically five drivers are in contention, but Josh Cook can be quickly discounted when it is considered that there are only 67 points up for grabs and he is 66 points adrift.
The other three contenders are only separated by 13 points, and Turkington, Tom Ingram and Josh Cook all have only an outside chance of the title, essentially reliant on Sutton non-scoring early on in the weekend.
Either way, the BTCC will surely deliver some close and exciting racing on Sunday, but the chances are that it will be Sutton who emerges with a third BTCC title from the weekend.