The #84 Atlanta Speedwerks Honda Civic will lead the TCR field away at this weekend's Mid-Ohio 120, Brian Henderson having secured the car's third successive pole position in as many Michelin Pilot Challenge races this season.
The #84 Honda secured pole position at both the season-opener in Daytona and round two at Sebring, though poor fortune meant the Civic finished outside the division's top 10 on both occasions.
While fight for the top spot in Mid-Ohio looked set to go down to the #84 Atlanta Honda and Unitronic JDC-Miller MotorSports's Chris Miller – half-way through the session, the #17 Audi was on provisional pole position by just 0.001s over the Civic – a 1m 28.813s from Henderson eventually put TCR pole out of reach.
Miller's established 1m 29.254s meanwhile was enough to salvage a front row starting position for the RS3 LMS.
Early pacesetter LA Honda World Racing, which posted the first of the session's hot laps, will line up 3rd as it did in Sebring, an event at which the #73 Honda Civic TCR secured 2nd place. The fastest of the Hyundais – the #98 Bryan Herta Autosport w/ Curb-Agajanian Elantra N – will start 4th, while VAN DER STEUR RACING's #19 example rounds out the top five on the TCR grid.
Sebring TCR winner Road Shagger Racing (#61) started the session strongly, but a flurry of late hot laps meant the Audi RS3 LMS was eventually pushed out of the top five, and will now start 6th in-class.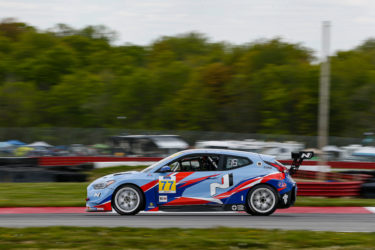 The second Atlanta Speedwerks Honda (#94), which is currently joint-second in the TCR standings alongside Michael Johnson Racing, will start just ahead of the second Bryan Herta Autosport Hyundai (#33) and the Copeland Motorsports Veloster N (#27). Harry Gottsacker's times early on kept the #33 Elantra inside the TCR top five before eventually being bumped back through the midpack. An early pace-setting run for Tyler Gonzalez meant the #27 briefly held a front-row starting position.
The Michael Johnson Racing Hyundai Veloster (#54), which started the season with a Daytona podium, rounds out the top 10 on the TCR grid. Michelin Pilot Challenge championship leaders Michael Lewis and Taylor Hagler, fresh from a 3rd place in Sebring, line up 11th in the Bryan Herta Autosport Hyundai (#77)
Frontrunner KMW Motorsports with TMR Engineering (#5), which was in contention for a podium in Daytona and finished 4th in Sebring, will start 12th after a tough session for the only Giulietta Veloce TCR in the field. Behind, the remaining Hyundais of Copeland Motorsports (#51) and CB Motorsports (#81), and the VGMC Racing LLC Honda Civic TCR (#88), round out the TCR grid for tomorrow's Mid-Ohio 120.