Toyota Gazoo Racing UK has officially taken the covers off its Toyota Corollas for the 2021 British Touring Car Championship, revealing the cars which Rory Butcher and Sam Smelt will race this year.
The liveries on the cars unify them with the sporting successes of Toyota on the world stage, whilst also showing off the second car built by Speedworks Motorsport for the coming campaign.
2021 will be the first time in eight years that Cheshire-based Speedworks Motorsport has run two cars in the BTCC, as it fields an all-new driver line-up for this season.
The team will begin testing at Donington Park later this week before moving on to Snetterton and Brands Hatch.
"We're delighted to show off the Corolla's 'new clothes' for 2021," said Team Principal Christian Dick.
"Since first gaining official BTCC 'Manufacturer' status two years ago, we've worked hard to foster ever-closer relations with Toyota Gazoo Racing and to now see not just one but two Speedworks-built touring cars in the brand's signature red, black and white colour scheme is a very special moment indeed.
"I must also pay tribute to Motul and [official UK importer and distributor] Witham Motorsport for their ongoing support in stepping up to the role of Primary Partner this season.
"I have no doubt that the cars will look even better at speed, and we are all excited to go testing this week to try out everything we've been working on back at base over the winter months.
"We are quietly confident of taking another step forward with the Corolla this year, and once the action gets underway, we look forward to seeing the Toyota Gazoo Racing colours where they belong – right at the front of the pack."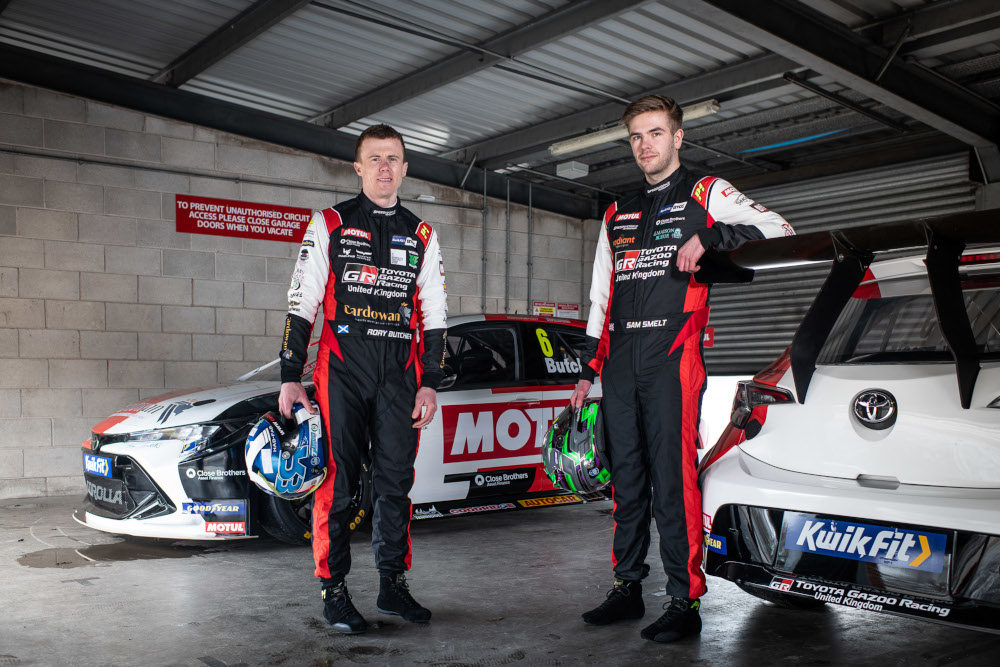 Rory Butcher admits that he has settled into his new team well, and is looking forward to starting his fourth full season in the BTCC.
"I've got to say, I've settled into the team very well," said Butcher. "All the guys and girls have made me feel extremely welcome from the outset, and everybody is so focussed on the objective of fighting for the championship, pushing hard in every single area to ensure we really maximise our performance.
"I've been getting to know the mechanics and my new engineer Paul Ridgway, who has been involved in the BTCC for a long time and arrives with an excellent reputation.
"My brother-in-law Gordon Shedden – who worked with Paul in the FIA World Touring Car Cup a couple of years ago – gave him a ringing endorsement too, so I'm excited to see what we can accomplish together.
"The whole vibe right now is hugely positive, and I can't tell you how much I'm looking forward to the first test at Donington Park."
Sam Smelt is returning to the BTCC after two years away and is looking forward to the start of the season at Thruxton in May.
"After testing the Corolla for the first time towards the end of last year on a wet and greasy day at Snetterton, I'm looking forward to hopefully benefitting from some proper running over the next few days and really familiarising myself with the car," said Smelt.
"I'm excited about getting into the groove and back into 'touring car mode' following a couple of years away – it feels a bit more real with every passing day.
"The start of the campaign is now less than seven weeks off and it's coming around fast.
"I've not been to Thruxton since 2018, but it's a great place to begin the season and obviously the Corolla was super-strong there last year, so I think it's fair to say the whole team will return with a great deal of optimism and ready to fight up at the sharp end."