Target Competition's John Filippi said after the end of the 2020 season that he was 'really really happy' after taking second place in the Drivers Standings.
Filippi, who had switched to a Target-prepared Hyundai i30 N TCR for the 2020 season, sealed his first win of the season in the reverse grid race at Jarama last weekend.
The Frenchman's win, combined with ex-championship leader Mike Halder suffering a double retirement in Spain, meant Filippi moved up to second in the championship behind champion Mehdi Bennani.
"Obviously now the season is over you start wondering where things went wrong and how you could have maybe changed things," said Filippi to TouringCars.Net after the end of the final race of the year.
"28 points behind Bennani is a lot, but I did my best in every session and I tried my hardest each time.
"I finished every race this season, unlike most other drivers, which is what I wanted to do.
"Maybe the race at Barcelona where I got a drive through penalty which lost me points was a bad race for me, although I did come back into the title race at Spa after being quite far back.
"I could have maybe scored easy points there and it was arguably my biggest moment in 2020, but It is what it is and it happened and there's nothing I can do about it now.
"Experience is all very important to me and I've took it on board for sure."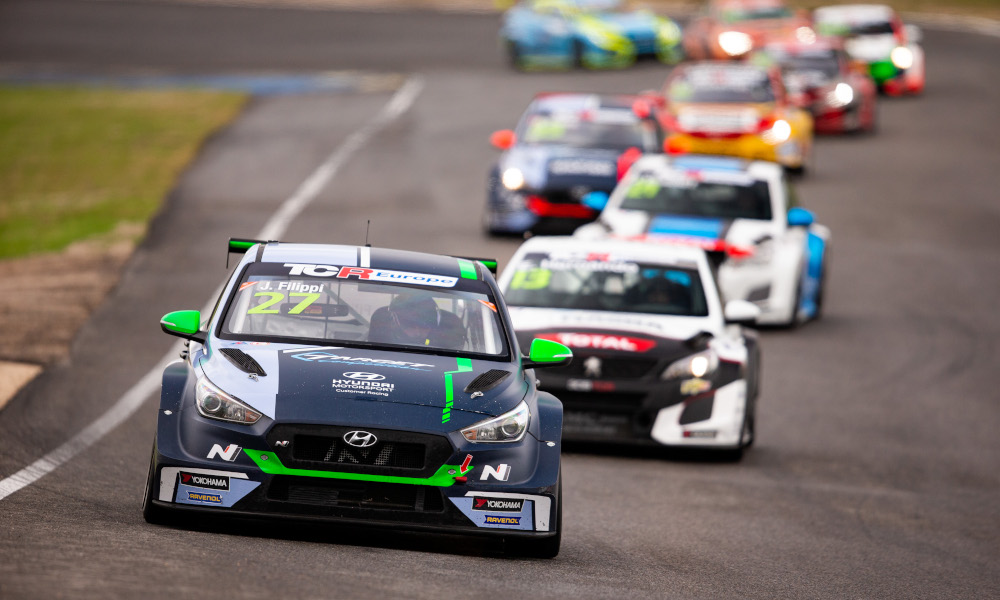 Filippi's win at Jarama was his first not only in TCR Europe but also in touring car racing, and he admitted that he made the most of his starting position to be able to take the victory in what were very challenging conditions.
"The race for me was really good," added Filippi.
"I did what I wanted to do when I knew I was at the front of the race two grid and it was a great way to say thank you to my team for the car and support they've given me this year.
"It was very wet and the car was understeering a lot. The conditions kept changing every lap so I needed to adapt as much as I could every time.
"That was one of the reasons I was so happy to be out in front for most of the race – in P1 you can manage the tyres more when you're not battling with anyone."
The 25-year-old also revealed after the end of the final race that although he was still in mathematical contention for the championship going into the final race of the year, he never considered himself as a potential winner.
"I wasn't thinking about the title to be honest," explained Filippi.
"The championship is not only on one race – I was just hoping to win race two and see what happened.
"In qualifying I'd messed up my lap and was supposed to be 11th but then I heard Jimmy Clairet had been excluded and thought maybe I was still in with a slight chance if things went my way.
"Mehdi did the job he needed to do very well though and won it all by himself.
"If you want to win the title you have to win by yourself and it was never my plan to wait on a mistake from someone else."
Filippi went on to conclude that despite not winning the championship, he was pleased with the progress he has made during 2020.
"In general we did a good job and the team had a good season too.
"Maybe if I'd managed to finish ahead of Bennani more regularly and maybe improved my results at Zolder and Monza I could have been nearer to the championship win.
"I was thinking the whole time in Spain it wasn't impossible for something to happen though and when I look at other champions like Mikel (Azcona) or Josh (Files), they were consistent and that's the most important thing for me too.
"Compared to some of my other touring car seasons obviously I'm really really happy with second place, but at the end of the day I'm a racing driver and I always want to win!
"I enjoyed being in the fight for the title right until the end though, it was really exciting.
"As for next year, we haven't really looked at anything yet.
"Obviously things are different with the pandemic situation right now. It's a bit difficult for anyone in the sport to commit to anything. I think 2021 could be a difficult year for motorsport in general.
"I hope I can work out something to put a package together for next year if we can though.
"Target are a great team and I'd love it if we get something organised, but we'll just have to wait and see."
Filippi finished on the podium a total of three times during the 2020 season and finished ahead of Nicolas Baert in the title standings.