ITR, the promoter and organiser of the DTM, has unveiled its plans for a fully-electric DTM to start in 2023, with the series to be known as DTM Electric.
At the season finale of the DTM at Hockenheimring, a concept car for the new series was unveiled, featuring a sports coupé body.
The E-car has been developed in close cooperation between DTM organisation ITR and automotive and industrial supplier Schaeffler.
In a statement released by the DTM, the aim of the new series is to "show what the future of motorsport can also look like: it is green, has a high performance and it electric".
The new series would be established alongside the DTM, which will switch to running GT regulations next year for its main series.
At its presentation, the car was driven by Formula E racer Daniel Abt, former DTM champions Hans-Joachim Stuck and Timo Scheider, and Schaeffler amabassador Sophia Flörsch.
The car features an output of over 1,000 horsepower, with a fluid-cooled high-performance battery and impressive acceleration and performance capable of matching a Formula 1 car.
Whilst not based on any current road going car from any manufacturer, the bodyshell developed by Moodley and Ideenion is intended to "serve as a possible herald of what can be seen not only in racing, but also on the road in the future".
The series is mooted to potentially get underway in 2023, featuring sprint races with a duration of around 30 minutes and possibly automated battery changes during a mandatory pit stop.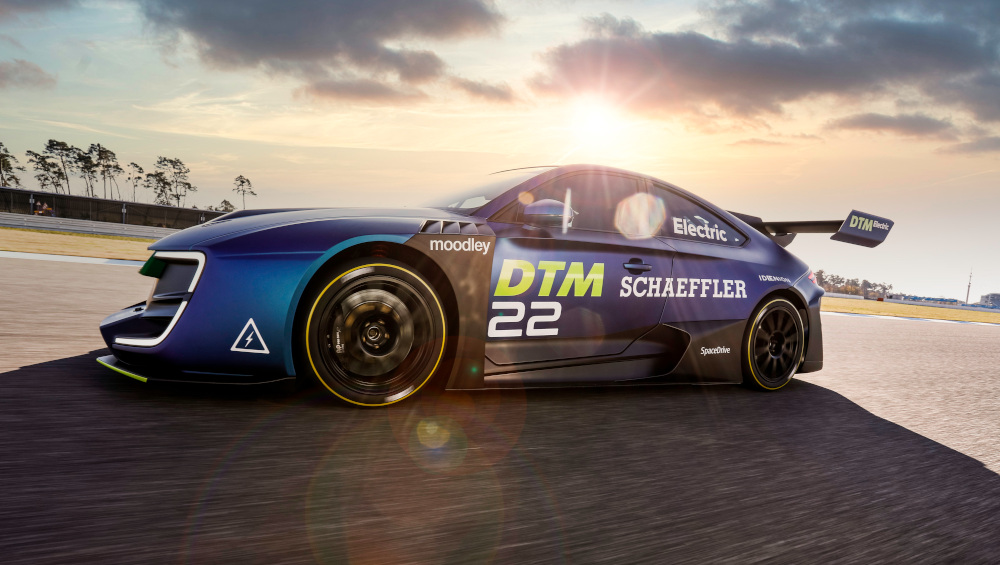 "Together with Schaeffler, our first strategic partner with which we will be cooperating, we want to lead the DTM platform into a successful future," said DTM Chief Gerhard Berger.
"It is our aim not only to showcase the latest technology in DTM Electric, but also to bring central innovations to the race track that allow for spectacular racing.
"Thus, we also want to convince the classic motorsport fans about future technologies and fascinate them with attractive racing."
Matthias Zink, Schaeffler board member for Automotive Technolgies, is looking forward to developing the new series with the DTM.
"We are looking forward to this partnership," said Zink. "Our innovative e-drivetrain systems have been contributing to victories in Formula E since 2014 already and are also being used in production cars in the meantime.
"The partnership with the DTM and the fully-electric series for the future are proof that Schaeffler is helping shape e-mobility as a reliable technology partner."