Hyundai Motorsport has revealed the liveries which will adorn the Hyundai i30 N TCR cars campaigned by BRC Racing and Engstler Motorsport in the 2020 FIA World Touring Car Cup.
The colour schemes are an evolution of those utilised in 2019, when BRC Racing ran all four cars in WTCR.
Reigning champion Norbert Michelisz and 2018 champion Gabriele Tarquini will once again work as team-mates in 2020, with the duo sporting a red colour scheme at BRC Racing.
Engstler Motorsport will run its i30 N cars in blue for second-year racer Nicky Catsburg and full-season rookie Luca Engstler.
The two teams will run with entry names reflecting their primary sponsors. BRC will race under the banner 'BRC Hyundai N LUKOIL Squadra Corse', whilst Engstler Motorsport will race under the name 'Engstler Hyundai N Liqui Moly Racing Team'.
Hyundai Motorsport also emphasised its 'business as usual' attitude in the current coronavirus pandemic, with the company continuing to support customers during the COVID-19 outbreak despite a lack of on-track action.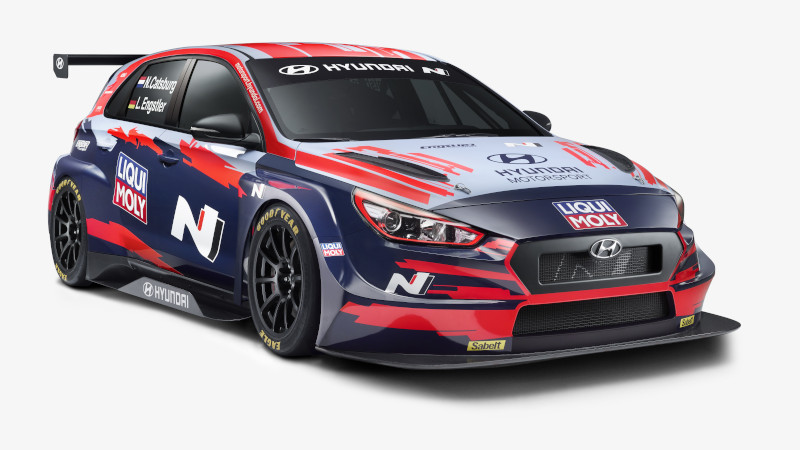 "The reveal of the liveries for a new season is always a big part of the build up to a year of racing, and the publication of the designs for the i30 N TCR competing in WTCR – FIA World Touring Car Cup is no different," said Hyundai Motorsport Customer Racing Operations Leader Andrew Johns.
"It is also important that, despite the current uncertainty around the motorsport calendar due to the COVID-19 outbreak, we remain focused on preparing for the return to racing.
"Voluntarily working from home under measures intended to stop the spread of the virus, the Customer Racing department is operating as business as usual to the fullest extent possible.
"We continue to support our customer teams, not only in WTCR, but also around the world in TCR series, as well as those rallying with the i20 R5."