Williams Advanced Engineering has revealed the ETCR battery pack, which has been completed in just seven months, ready for the series' first year of competition.
The pack consists of a 798 V cell, capable of providing a peak power delivery of 500 kW.
The battery will be used by all teams and manufacturers in this year's inaugural ETCR series, which gets underway in July.
The high-performance battery can be recharged from 10% to 90% in under an hour at 60 kWh.
Williams Advanced Engineering has built the battery with a Vehicle Control Module designed with motorsport in mind, whilst the dual ARM Cottex-A9 processor and Field-Programmable Gate Array (FPGA) allow it to be configured for "process intensive tasks".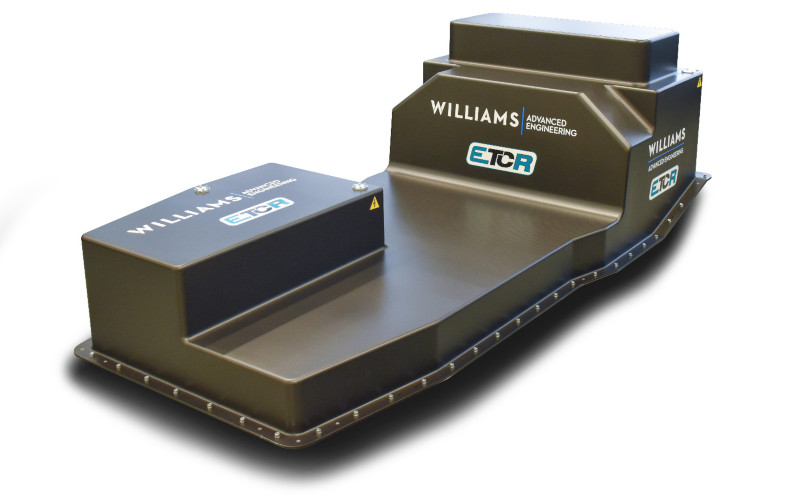 The project was completed in just seven months, from initial feasibility through to in-vehicle testing. Work commenced in May 2019 and two months later cell and prototype module tests were underway.
Computational Fluid Dynamics (CFD) and Finite Element Analysis (DEA) simulations were run in September 2019, before manufacture commenced in December 2019.
The battery pack provides a peak power of 500 kW and 300 kW of continuous power with a 62 kWh capacity.
The battery has also been designed to allow for 'push-to-pass' events over a 21-minute race distance.
The cell has been designed to survive a 50 G crash simulation, achieved through extensive FEA analysis and an electric barrier against electro-magnetic current.
CFD thermal analysis was performed at both the cell and pack level to detail the thermal characteristics for optimisation of cooling and weight efficiency.
ETCR will get underway at the Goodwood Festival of Speed in July 2019 with the first runs on the world famous Hillclimb circuit.