Norbert Michelisz said winning his maiden world title was a 'huge relief' after the Hungarian clinched the FIA World Touring Car Cup crown in Malaysia by beating Esteban Guerrieri.
Michelisz had qualified on pole for both races one and three on Friday, and looked to be edging closer to the title after a flawless victory in race one.
But in a rain-affected race two, the Hyundai driver went off the road and could only finish in eighth, whilst title rival Guerrieri went on to win the race, having started alongside Michelisz.
Technical gremlins then struck Michelisz's car prior to race three, but in the end he was able to claim a maiden title after Guerrieri was helped off the road by Mikel Azcona a few laps in to the final encounter whilst battling for the lead.
In a frenetic few opening laps, the title changed hands numerous times as Guerrieri fought to hold on to the lead whilst Michelisz was struggling to cling on to a podium position, before the championship battle was resolved for good with Guerrieri's demise.
"First of all, I would honestly like to congratulate Esteban, because his performances in race two and race three today were unbelievably strong," said Michelisz. "It was a very tough fight, we were going flat out.
"I think he had some technical issues. So did I, to be honest. Before race three it looked like I wouldn't even start the race.
"Going to the grid for race three I went full throttle and the car was just not accelerating. I honestly thought that it was over.
"Rolling to the grid the car went off so I think I was quite lucky even to get to my starting position because the guys had to push me there and then still restarting the car it was sometimes on three cylinders, two cylinders – I don't know what happened.
"Then I was lucky enough at the start of the formation lap to be able to reset everything. Honestly starting race three I would not have bet a lot of money that I would be sitting here in front of you and celebrating the title.
"But in the end with the car working at 90 per cent I managed to do the start – and in the end it's unbelievable.
"I honestly don't know what to say, it's just a huge relief after a long season. We didn't start off very good, but the second part of the season made up for that.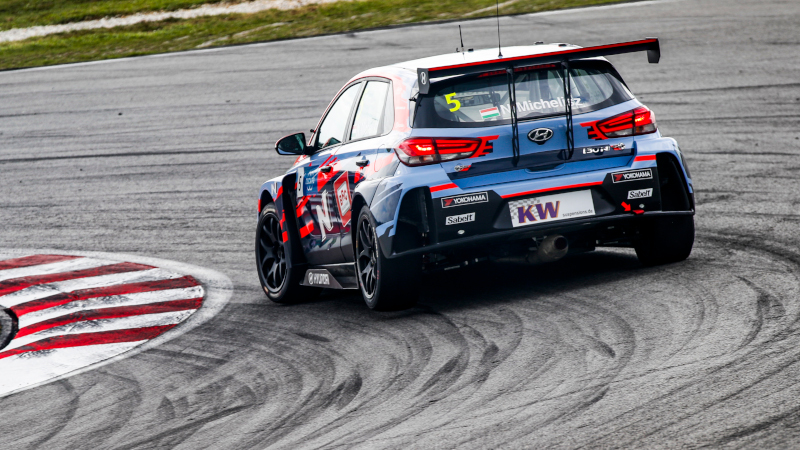 "In the end winning a couple of races but more importantly taking the championship is something I've been hoping for a couple of years now.
"It's pretty difficult to describe all the emotions going through my body now. But the most important thing is to say a huge thank you to my family, to the team and all the Hungarian people who have been supporting me for a bit more than ten years now.
"A bit more than ten years ago I was still playing computer games and hoping to start a professional career. In the end I managed to do that, and not only that winning here that for me is the most important touring car championship.
"So a huge thank you to everyone. I don't want to start saying names in case I leave someone out, but it is just unbelievable."
Michelisz claimed his maiden title in his tenth full season of racing in World Touring Cars, and the 35-year-old did so with five wins and ten podium finishes to his name.
"It was just up and down, by far the longest day of my life. I couldn't sleep yesterday night as I thought about the three races.
"It was like a rollercoaster because race one was quite good, winning the race, I felt I had the confidence and the rhythm. But in race two things didn't really come my way.
"But what matters is now we managed to achieve what we really wanted and in the end it's time to celebrate."