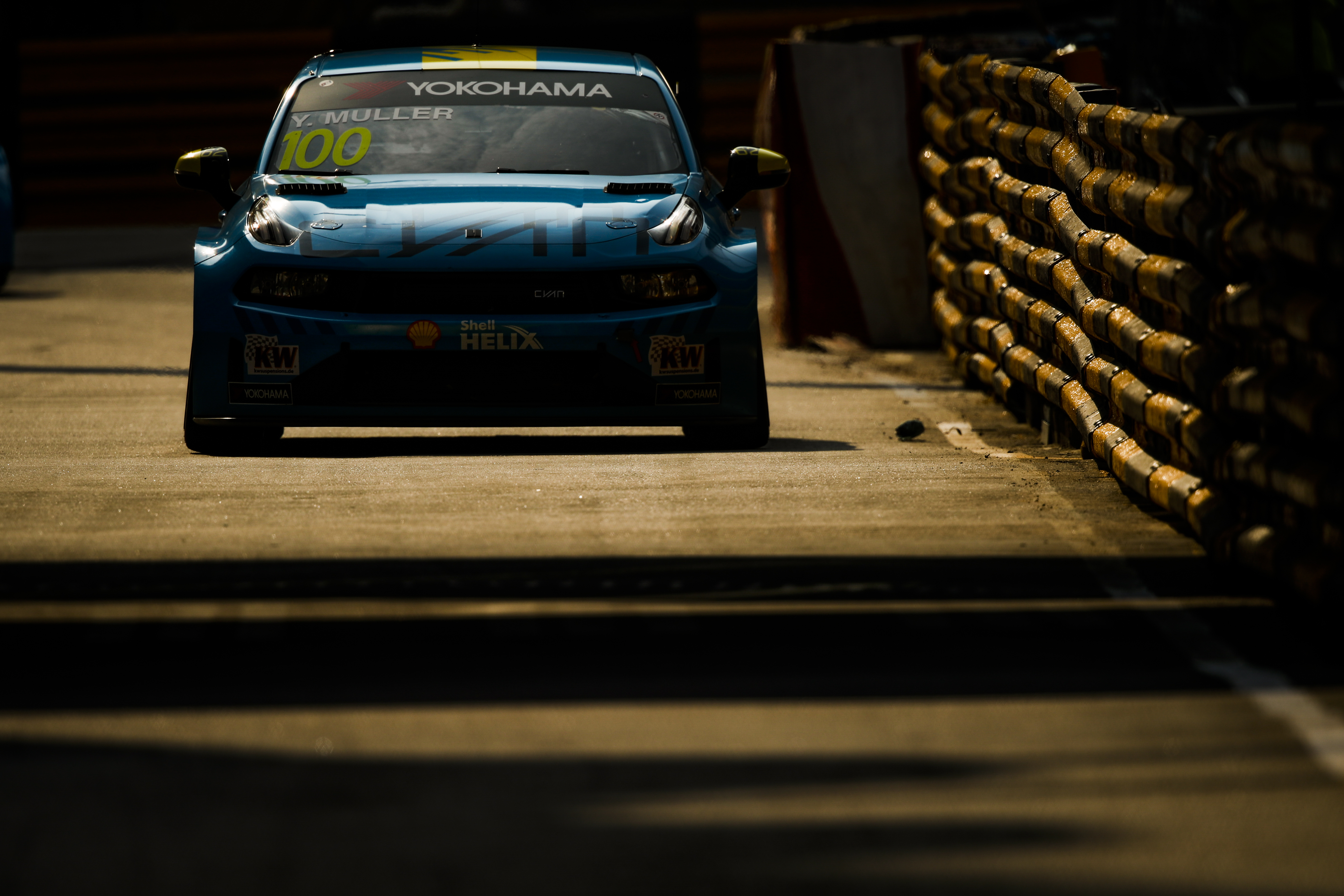 Yvan Muller set a new lap record in the final moments of qualifying to set pole position for the opening FIA World Touring Car Cup (WTCR) race in Macau.
The Frenchman set a best time of 2:28.661 in the slipstream of Lynk & Co teammate – and nephew – Yann Ehrlacher around the 3.8-mile street circuit to deny BRC Hyundai racer Norbert Michelisz by 0.068 seconds at the chequered flag.
The Hungarian will start from the outside of the front row and has a potentially crucial advantage over chief title rival Esteban Guerrieri, who could only manage a frustrating 13th in the Munnich Motorsport Honda Civic Type R.
In a frantic start to the session, four different drivers – Ehrlacher, Nicky Catsburg (BRC Hyundai), Thed Bjork (Lynk & Co) and finally Muller held top spot before Medhi Bennani's SLR Volkswagen crashed and brought out the red flags.
Up until that point, Michelisz's third place was the only saving grace among a top five dominated by the Lynk & Co 03 TCR.
The order switched around again after a short stoppage, with Michelisz the first man to break into the 2:28s.
That benchmark looked likely to hand the Hungarian his first pole position since Vila Real, but Muller's last-gasp effort proved enough to deny him.
On both previous occasions this season Muller has started from top spot – both at Ningbo – he converted them into victory; ominous indeed on a tight street circuit where overtaking opportunities are likely to be at a premium.
Andy Priaulx (Lynk & Co) and Kevin Ceccon (Team Mulsanne) both similarly improved late on to lock down the second row of the grid, with Ehrlacher rounding out the top five ahead of teammate Bjork.
Serial Macau winner Rob Huff and SLR VW stablemate Benjamin Leuchter were split either side of reigning champion Gabriele Tarquini in seventh, eighth and ninth respectively; Mikel Azcona's PWR Racing CUPRA TCR rounds out the top ten.
Frederick Vervisch's Audi RS 3 LMS came next, then Catsburg after dropping down the order. The aforementioned Guerrieri was 13th, with stand-in Robert Dahlgren 14th and Tiago Monteiro 15th.
Jean-Karl Vernay was another driver in strife after sliding into the barriers at Melco Hairpin – he starts 17th regardless; WRT teammate Gordon Shedden is just 24th.
Second qualifying on the streets of Macau is due to start at 05:35 (UK time).
Qualifying result
| | | | | | | | | |
| --- | --- | --- | --- | --- | --- | --- | --- | --- |
| POS | NO | DRIVER | NAT | ENTRANT | CAR | LAPS | TIME | GAP |
| 1 | 100 | Yvan MULLER | | Cyan Racing Lynk & Co | Lynk & Co 03 TCR | 11 | 2:28.661 | 0.000 |
| 2 | 5 | Norbert MICHELISZ | | BRC Hyundai N Squadra Corse | Hyundai i30 N TCR | 13 | 2:28.729 | 0.068 |
| 3 | 111 | Andy PRIAULX | | Cyan Performance Lynk & Co | Lynk & Co 03 TCR | 13 | 2:28.806 | 0.145 |
| 4 | 31 | Kevin CECCON | | Team Mulsanne | Alfa Romeo Giulietta TCR | 13 | 2:28.846 | 0.185 |
| 5 | 68 | Yann EHRLACHER | | Cyan Performance Lynk & Co | Lynk & Co 03 TCR | 10 | 2:28.942 | 0.281 |
| 6 | 11 | Thed BJÖRK | | Cyan Racing Lynk & Co | Lynk & Co 03 TCR | 11 | 2:29.060 | 0.399 |
| 7 | 12 | Rob HUFF | | SLR VW Motorsport | Volkswagen Golf GTi TCR | 12 | 2:29.451 | 0.790 |
| 8 | 1 | Gabriele TARQUINI | | BRC Hyundai N Squadra Corse | Hyundai i30 N TCR | 13 | 2:29.470 | 0.809 |
| 9 | 33 | Benjamin LEUCHTER | | SLR Volkswagen | Volkswagen Golf GTi TCR | 12 | 2:29.660 | 0.999 |
| 10 | 96 | Mikel AZCONA | | PWR Racing | CUPRA TCR | 13 | 2:29.683 | 1.022 |
| 11 | 22 | Frédéric VERVISCH | | Comtoyou Team Audi Sport | Audi RS3 LMS TCR | 11 | 2:29.709 | 1.048 |
| 12 | 88 | Nicky CATSBURG | | BRC Hyundai N LUKOIL Racing Team | Hyundai i30 N TCR | 12 | 2:29.770 | 1.109 |
| 13 | 86 | Esteban GUERRIERI | | ALL-INKL.COM Münnich Motorsport | Honda Civic Type R TCR | 12 | 2:29.833 | 1.172 |
| 14 | 2 | Robert DAHLGREN | | PWR Racing | CUPRA TCR | 12 | 2:29.891 | 1.230 |
| 15 | 18 | Tiago MONTEIRO | | KCMG | Honda Civic Type R TCR | 10 | 2:29.919 | 1.258 |
| 16 | 14 | Johan KRISTOFFERSSON | | SLR Volkswagen | Volkswagen Golf GTi TCR | 10 | 2:30.039 | 1.378 |
| 17 | 69 | Jean-Karl VERNAY | | Leopard Racing Team Audi Sport | Audi RS3 LMS TCR | 12 | 2:30.200 | 1.539 |
| 18 | 29 | Néstor GIROLAMI | | ALL-INKL.COM Münnich Motorsport | Honda Civic Type R TCR | 12 | 2:30.353 | 1.692 |
| 19 | 55 | Ma QING HUA | | Team Mulsanne | Alfa Romeo Giulietta TCR | 11 | 2:30.445 | 1.784 |
| 20 | 21 | Aurélien PANIS | | Comtoyou DHL Team CUPRA Racing | CUPRA TCR | 12 | 2:30.462 | 1.801 |
| 21 | 25 | Mehdi BENNANI | | SLR VW Motorsport | Volkswagen Golf GTi TCR | 9 | 2:30.788 | 2.127 |
| 22 | 9 | Attila TASSI | | KCMG | Honda Civic Type R TCR | 12 | 2:30.835 | 2.174 |
| 23 | 10 | Niels LANGEVELD | | Comtoyou Team Audi Sport | Audi RS3 LMS TCR | 11 | 2:30.867 | 2.206 |
| 24 | 52 | Gordon SHEDDEN | | Leopard Racing Team Audi Sport | Audi RS3 LMS TCR | 12 | 2:30.888 | 2.227 |
| 25 | 6 | Luca ENGSTLER | | BRC Hyundai N LUKOIL Racing Team | Hyundai i30 N TCR | 11 | 2:31.533 | 2.872 |
| 26 | 50 | Tom CORONEL | | Comtoyou DHL Team CUPRA Racing | CUPRA TCR | 12 | 2:31.608 | 2.947 |
| 27 | 19 | Jim KA TO | | KC Motorgroup | Honda Civic Type R TCR | 13 | 2:33.654 | 4.993 |
| 28 | 36 | Billy LO Kai Fung | | Tian Shi Zuver Team | Audi RS3 LMS TCR | 6 | 2:34.791 | 6.130 |
| 29 | 98 | James TANG Chi Lun | | Team TRC | Honda Civic Type R TCR | 13 | 2:36.795 | 8.134 |
| 30 | 59 | Kwai Wah WONG | | Son Veng Racing Team | Volkswagen Golf GTi TCR | 10 | 2:39.999 | 11.338 |
| 31 | 97 | Terence TSE Kin Leung | | Team TRC | Honda Civic Type R TCR | 6 | 2:43.146 | 14.485 |
| 32 | 99 | Arthur LAW Tia Fan | | Team TRC | Honda Civic Type R TCR | 0 | No time | N/A |