Australian Racing Group, the promoter of the TCR Australia series, has announced that the famous Bathurst circuit will host a new 500 km endurance race for TCR cars, starting in 2020.
The Mount Panorama circuit will play host to a standalone endurance event for TCR cars in late November / early December 2020, with TCR teams fr4om around the world invited to take part in the event.
Known as the Bathurst International, the event bill will also feature modern Trans Am muscle cars, heritage muscle cars, LMP3 sports cars and open-wheel S5000 cars.
The exact date of the event is subject to confirmation of other global racing calendars.
A joint venture between ARG, Motorsport Australia (CAMS) and the Bathurst Regional Council has resulted in a second major touring car race being held at the notorious circuit next year.
The TCR event will also see entrants from TCR New Zealand taking to the track, whilst two drivers will be required for each car in the endurance event.
A 55-car limit will be placed on entries into the TCR race, which will not be run for points or as part of a championship series.
"The Australian Racing Group is pleased to announce our Bathurst International event at Mount Panorama," said Matt Braid, Director of ARG.
"This event was presented as a true opportunity to bring a new International focus to Bathurst. Up to now there has been limited opportunities for international drivers to compete at Australia's best race track in cars they are used to racing in their home series'.
"With the variety of categories on offer at the event, and a date that comes after most global series have concluded means the Bathurst International will see international drivers, teams and their cars compete head to head with Australia best drivers across multiple races over the event weekend."
Bathurst Mayor Councillor Bobby Bourke believes that the new event will bring increased international attention to the area.
"We are excited to partner with ARG to bring this exciting new event featuring a range of cars and drivers from all over the world to Mount Panorama," said Bourke.
"An event of this calibre will bring an international focus to the racing circuit not seen before.
"Mount Panorama has a reputation as one of the best racing circuits in the world. The international exposure of this event will elevate Mount Panorama's prestige and showcase the racing circuit and Bathurst to a global audience."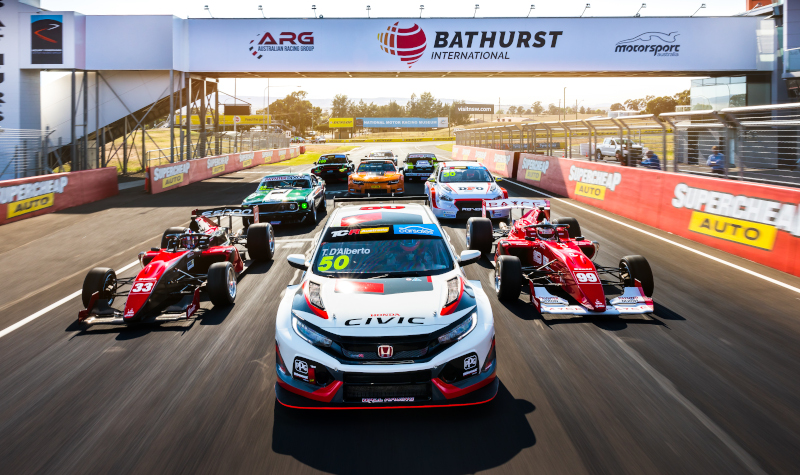 Will Brown, the Inaugural TCR Australia champion, believes that the front-wheel drive TCR cars will be well suited to the challenging 6.213 km circuit.
"Bathurst is an iconic race track, so to have the opportunity to compete against some of the world's best touring car drivers and teams is something that I'm really excited about," said Brown.
"The TCR cars will suit the Bathurst circuit, especially across the top of the mountain. It will be a wild ride, and I reckon that that their speed will surprise a a lot of people.
"In TCR Australia, we've had the chance to see a few international drivers come and compete, and we've seen how fast and how good they are.
"Most of the locals will have the advantage of knowing the track, but I suspect that our advantage will be gone after the first couple of practice sessions. We'll all need to be on our best game.
"I was also fortunate to drive the S5000 car at Sandown, and that was really cool. They are going to be unbelievable at Bathurst and I really hope that I can be a part of that as well."
Leading the international comments is FIA World Touring Car Cup driver Andy Priaulx, who expects the race to provide plenty of thrills for spectators.
"Bathurst is one of the best race tracks in the world – it's a kind of mix between Spa and Macau," added Priaulx.
"It will be fantastic to drive there in a TCR car that will perform really well over the top. I have very fond memories of my previous experiences on the circuit and I am sure that the TCR race will provide a very exciting show. I'm looking forward to hear all about it."
Further information about the event will be revealed in due course.