Josh Cook says he and his BTC Racing team can 'walk away with our heads held high' after a strong season in the British Touring Car Championship in 2019, which concluded with Cook claiming fourth overall at Brands Hatch.
Cook went into the season finale weekend in with a mathematical chance of the overall drivers' title, although it was always going to be an outside shot for the Bath-born racer.
Having qualified in a strong eighth on Saturday, Cook got as high as sixth in Sunday's first race, before weather wreaked havoc on the order.
After pitting for wets, Cook had been making progress before a fuel pressure issue forced him into retirement.
From a lowly 28th on the grid for race two, Cook gained 15 places over the course of the race to claim 13th by the end, having made the right call to run on wet tyres.
Focussing on the fight for the Independents' title in race three, Cook had to catch and pass rival Rory Butcher to take the title. The Honda driver was up to third by the end of lap four, but crucially behind Butcher.
Despite trying to pressure and pass the Scot, Cook's tyres faded and he dropped to fifth by the end, leaving him to finish the year fourth overall and second in the Independent drivers' standings.
"I threw everything I had – and a bit more – at that final race but it just wasn't to be," said Cook. "I had the pace to get to Rory but I knew I only had a few laps to try and get ahead of him.
"He defended well and then my tyres dropped off and that was that; it just wasn't our day.
"You can always wonder if you would have done things differently, but what we have done has been mega this season."
Cook praised BTC Racing for their teamwork throughout the year, with the 28-year-old claiming three outright victories and seven podium finishes in his first in the new Honda Civic Type-R FK8.
"We rocked up at the opening rounds and won when no-one expected us to and have never been lower than fourth in the overall championship [Editor's Note: Cook was fifth overall after Rounds 17, 19 and 23].
"We could have focused on the Independent title and maybe we would have won it, but we went all out for glory and I don't regret that decision at all.
"We can walk away with our heads held high this season as we have won more races than the factory Hondas, have had loads of podium finishes and that is without any real testing.
"I can't thank Steve [Dudman, team owner], Bert [Taylor, Team Principal] and Ben [Taylor, Team Engineer] enough and it's been a pleasure to work with Chris [Smiley, team-mate].
"Now we can all go into the winter and recover from what has been a tough and hard-fought year."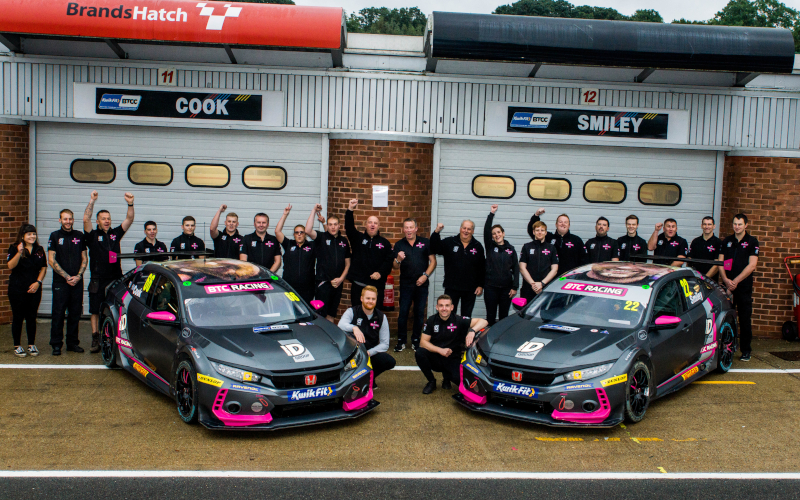 Team Principal Bert Taylor was delighted with the team's performances during the year, including claiming race victories and remaining in title contention.
In addition to Cook claiming fourth, Smiley ended the year 14th overall after three podium visits, whilst the team were classified fourth in the overall Teams' standings and second in the Independent Teams' standings.
"As a team, we are over the moon with the season as a whole and I can't thank everyone who has been involved enough," said Taylor.
"Okay, so it's a little bit disappointing that we didn't pick up a title but if we weren't disappointed then we wouldn't be human – and I'd much rather us be in a position where we have that disappointment than to have come into the final rounds with nothing to play for.
"Over the course of the season, we have grown in stature and have shown that we are capable of challenging right at the front of the grid on a regular basis, and I think that is a great achievement for a team that is only a few years old.
"We've had a car for ten race meetings this season that we have been learning and have done no testing, and we had a driver in Josh who was new to the team and didn't know anyone.
"He has done a fantastic job for us and Chris has also driven really well and shown good speed – he just hasn't had the luck that he needed.
"We've laid some good foundations this year and have to now work hard to build on them next season."