Reigning champion Colin Turkington secured a crucial pole position in a dramatic qualifying session at Brands Hatch for the season finale of the 2019 British Touring Car Championship.
Turkington's WSR stablemate Andrew Jordan held onto third position despite having his fastest time removed for causing a red flag with five minutes remaining in the session.
The 2013 champion, who has secured more victories than any other driver this season, locked up on the entry to Hawthorns Bend and went straight on into the barrier.
As he was beached in the gravel trap when trying to recover, Jordan lost his fastest time but his second-fastest effort was good enough to retain third position.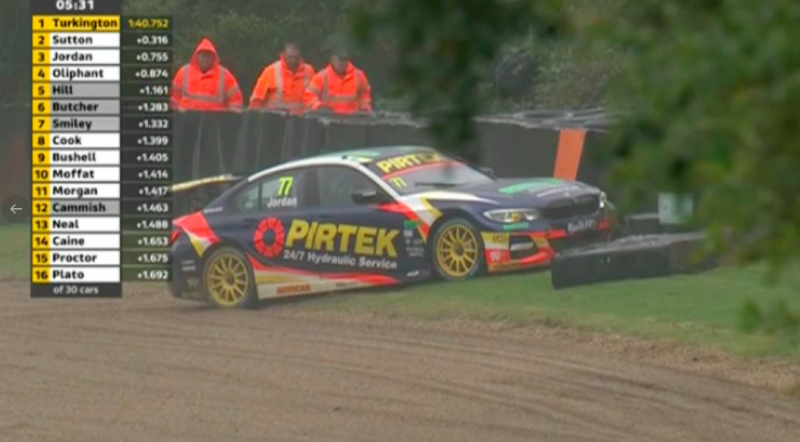 Wet-weather specialist Ash Sutton was three tenths adrift of Turkington's benchmark to share the front row with the Northern Irishman, who repeatedly set fastest lap in the opening half of the session and was never bettered despite carrying maximum championship ballast.
Jordan then heads the second row ahead of team-mate Tom Oliphant who enjoyed a strong qualifying session, while three-time BTCC winner Rory Butcher completed the top five.
Notably, Halfords Yuasa Racing's Dan Cammish languished down in 12th position after a difficult session saw him struggle to heat the rear tyres and resulted in a lack of rear-end stability.
An impressive performance from AmD Tuning's Jake Hill saw him qualify sixth aboard his Audi S3, while BTC Racing team-mates Chris Smiley and Josh Cook qualified seventh and eighth respectively, the latter remaining within title contention.
Mike Bushell, who continues to sub in for Sam Tordoff to see out the 2019 campaign at AmD Tuning, also impressed to secure ninth position, while Aiden Moffat's Infiniti Q50 rounded out the top ten runners.
Ciceley Motorsport's Adam Morgan managed 11th-fastest in his Mercedes A-Class, with Cammish ahead of team-mate Matt Neal as the two Team Dynamics-run FK8 Civics struggled for pace.
Michael Caine again showed pace to finish qualifying as the fastest of the Motorbase Performance Fords, placing in 14th position while Senna Proctor was 15th.
Double champion Jason Plato ended up just behind the pair in 16th position, ahead of Tom Ingram – who has an outside shot at the title after a double win at Silverstone – but was another who struggled for rear grip, demonstrated by a couple of slides at Graham Hill Bend.
The opening British Touring Car Championship race of the weekend is scheduled to get underway at 11:35 [BST] tomorrow [13 October].
Qualifying result
| | | | | | | | | | |
| --- | --- | --- | --- | --- | --- | --- | --- | --- | --- |
| POS | NO | CL | DRIVER | NAT | ENTRANT | CAR | LAPS | TIME | GAP |
| 1 | 1 | M | Colin TURKINGTON | | Team BMW | BMW 330i M Sport | 16 | 1:40.752 | 0.000 |
| 2 | 116 | M | Ashley SUTTON | | Adrian Flux Subaru Racing | Subaru Levorg | 15 | 1:41.068 | 0.316 |
| 3 | 77 | M | Andrew JORDAN | | BMW Pirtek Racing | BMW 330i M Sport | 12 | 1:41.520 | 0.768 |
| 4 | 15 | M | Tom OLIPHANT | | Team BMW | BMW 330i M Sport | 17 | 1:41.626 | 0.874 |
| 5 | 6 | I | Rory BUTCHER | | Cobra Sport AmD AutoAid / RCIB Insurance | Honda Civic Type R | 13 | 1:41.637 | 0.885 |
| 6 | 24 | I | Jake HILL | | TradePriceCars.com | Audi S3 | 14 | 1:41.913 | 1.161 |
| 7 | 22 | I | Chris SMILEY | | BTC Racing | Honda Civic Type R | 15 | 1:42.084 | 1.332 |
| 8 | 66 | I | Josh COOK | | BTC Racing | Honda Civic Type R | 14 | 1:42.151 | 1.399 |
| 9 | 21 | I | Mike BUSHELL | | Cobra Sport AmD AutoAid / RCIB Insurance | Honda Civic Type R | 16 | 1:42.157 | 1.405 |
| 10 | 16 | I | Aiden MOFFAT | | Laser Tools Racing | Infiniti Q50 | 15 | 1:42.166 | 1.414 |
| 11 | 33 | I | Adam MORGAN | | Mac Tools with Ciceley Motorsport | Mercedes-Benz A-Class | 14 | 1:42.169 | 1.417 |
| 12 | 27 | M | Dan CAMMISH | | Halfords Yuasa Racing | Honda Civic Type R | 16 | 1:42.215 | 1.463 |
| 13 | 25 | M | Matt NEAL | | Halfords Yuasa Racing | Honda Civic Type R | 15 | 1:42.240 | 1.488 |
| 14 | 44 | I | Michael CAINE | | Motorbase Performance | Ford Focus RS | 14 | 1:42.405 | 1.653 |
| 15 | 18 | M | Senna PROCTOR | | Adrian Flux Subaru Racing | Subaru Levorg | 16 | 1:42.427 | 1.675 |
| 16 | 11 | M | Jason PLATO | | Sterling Insurance with Power Maxed Racing | Vauxhall Astra | 15 | 1:42.444 | 1.692 |
| 17 | 80 | M | Tom INGRAM | | Team Toyota GB with Ginsters | Toyota Corolla | 15 | 1:42.482 | 1.730 |
| 18 | 19 | I | Bobby THOMPSON | | GKR Scaffolding with Autobrite Direct | Volkswagen CC | 15 | 1:42.655 | 1.903 |
| 19 | 3 | I | Tom CHILTON | | Team Shredded Wheat Racing with Gallagher | Ford Focus RS | 14 | 1:42.834 | 2.082 |
| 20 | 48 | I | Ollie JACKSON | | Team Shredded Wheat Racing with Gallagher | Ford Focus RS | 15 | 1:43.027 | 2.275 |
| 21 | 8 | I | Mark BLUNDELL | | TradePriceCars.com | Audi S3 | 15 | 1:43.359 | 2.607 |
| 22 | 31 | I | Jack GOFF | | RCIB Insurance with Fox Transport | Volkswagen CC | 14 | 1:43.366 | 2.614 |
| 23 | 9 | M | Rob COLLARD | | Sterling Insurance with Power Maxed Racing | Vauxhall Astra | 16 | 1:43.627 | 2.875 |
| 24 | 37 | I | Rob SMITH | | Exceler8 Motorsport | MG6 | 16 | 1:43.746 | 2.994 |
| 25 | 12 | I | Stephen JELLEY | | Team Parker Racing | BMW 125i M Sport | 15 | 1:43.781 | 3.029 |
| 26 | 41 | I | Carl BOARDLEY | | RCIB Insurance with Fox Transport | Volkswagen CC | 13 | 1:43.967 | 3.215 |
| 27 | 32 | I | Daniel ROWBOTTOM | | Cataclean Racing with Ciceley Motorsport | Mercedes-Benz A-Class | 15 | 1:44.027 | 3.275 |
| 28 | 777 | I | Michael CREES | | GKR Scaffolding with Autobrite Direct | Volkswagen CC | 14 | 1:44.574 | 3.822 |
| 29 | 4 | I | Sam OSBORNE | | Exceler8 Motorsport | MG6 | 13 | 1:45.516 | 4.764 |
| 30 | 303 | I | Matt SIMPSON | | Simpson Racing | Honda Civic Type R | 1 | No time | N/A |