Geely Group Motorsport has opened the order book for its Lynk & Co 03 TCR racing car, with the first deliveries expected to take place in the first quarter of 2020.
The car is built by the Chinese company with preparation currently carried out by Cyan Racing, the main motorsport partner of Geely Group.
The 03 made its début in March in the FIA World Touring Car Cup, where it has claimed five victories to-date in the hands of Thed Björk and Yvan Muller, with both drivers also in contention for the 2019 drivers' title.
The company had faced criticism for not yet offering the car to customers, aside from Cyan Racing, despite the ethos of TCR being to build and offer customer cars with manufacturer-back programmes prohibited in WTCR.
The first cars will be delivered to customers in China, which is the most important market for Lynk & Co road car sales.
"We are delighted to make the Lynk & Co 03 TCR available to more customer teams in 2020 after introducing it with the highly successful programme of Cyan Racing in the 2019 FIA World Touring Car Cup," said Victor Yang, Vice President of Communications at Zhejiang Geely Holding Group.
Alexander Murdzevski Schedvin, Head of Motorsport at Geely Group Motorsport, explained that the company hopes to steadily grow its customer base, as it prepares to offer customer racing sales and support for the first time.
"We are very happy to continue grow the passion for the Lynk & Co brand and for the sport by welcoming more teams to join our customer racing programme," said Murdzevski-Schedvin. "Starting with Lynk & Co's biggest market, China, our ambition is to grow the number of customers successively.
"The highly successful TCR category offers a cost effective and competitive way for teams all over the world to compete at top level motorsport and we are adamant to become a growing part of it."
The race car features a two-litre four-cylinder turbocharged engine with 350 horsepower and 420 Nm of torque. The car is front-wheel driven and is equipped with a six-speed sequential gearbox. The total weight is 1265 kilos including driver, as per the regulations.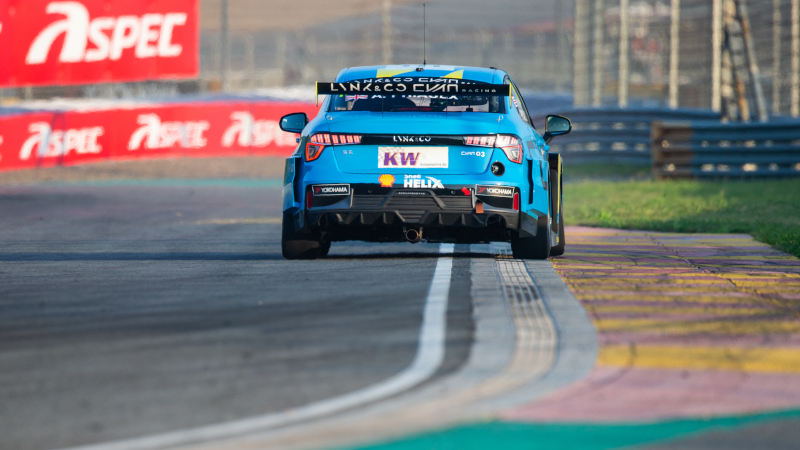 Lynk & Co 03 TCR Technical Specifications
Engine:
4 cylinders
2-litre, turbocharged with direct injection
350 hp
420 Nm
Transmission:
6-speed sequential gearbox
Paddle-shift operated
Suspension:
Front McPherson with adjustable dampers
Rear multi-link with adjustable dampers
Interior/safety:
Strengthened FIA approved roll cage
Race seats and six-point HANS-compatible harnesses
Fire extinguisher system
FIA safety fuel cell
Brakes:
Front 6-piston calipers
380 mm ventilated discs
Rear 2-piston calipers
278 mm ventilated discs
Wheels:
10"x18" rims
Dimensions:
Length: 4740 mm
Width: 1950 mm
Wheelbase: 2760 mm
Weight: 1265 kg