The FIA World Touring Car Cup resumes on the legendary Nürburgring Nordschleife this week, with 27 drivers taking on the 64-turn circuit which also features a huge 2 kilometre long main straight.
Universally recognised as the world's most challenging circuit, the Nordschleife is the ultimate challenge for the WTCR drivers.
Last year the race wins were shared between Yvan Muller (Hyundai), Esteban Guerrieri (Honda) and Thed Björk (Hyundai), whilst eventual champion Gabriele Tarquini suffered a disastrous points-less weekend.
This year Münnich Motorsport Honda driver Guerrieri heads into the event as the points leader – a big difference when compared to 2018 when the Argentine driver went to Germany 71 points adrift in the title battle.
"We've had a fantastic start to the season, the team is working well together and I'm feeling confident about returning to the circuit where I took my first WTCR win last year," said Guerrieri.
"However, I'm leading the championship and I know that puts a target on my back, plus the compensation weight situation at Zandvoort meant we didn't have the fastest car."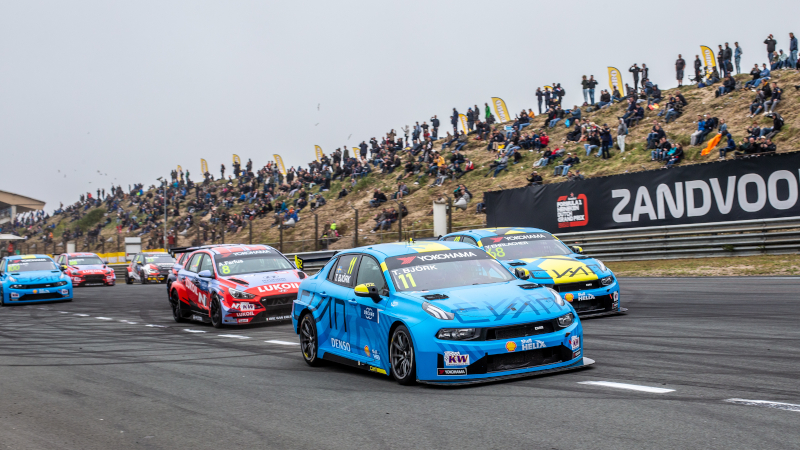 The Lynk & Co drivers stole the show last time out in The Netherlands a month ago, with Thed Björk claiming a double win to move up to second overall in the standings – although not without controversy.
Some in the WTCR paddock have accused the Chinese-owned Swedish-run team of playing games at Zandvoort, with accusations of sandbagging and not showing their true pace in order to play the TCR's Balance of Performance [BoP] system to their advantage.
But Björk points to the Lynk & Co 03's apparent lack of straight-line speed as a reason why he is being cautious ahead of the race weekend.
"This time we are really heading into the unknown with our new race car and we can't take anything for granted, keeping Slovakia in mind regarding high-speed circuits," said a cautious Björk.
"But we have prepared as much as possible and my goal for this weekend is no doubt to keep in touch with the points lead."
Given that Cyan Racing's Björk and Muller both know what it takes to win on the German circuit, it would be imprudent to discount them from being in the mix in the Nordschleife races.
Wildcard racer Antti Buri will be joining the grid in an Audi RS3 LMS entered by his own team this weekend, with the Finn having plenty of experience racing in Germany albeit not with his car on the famous 25.4 km circuit.
One driver who does have plenty of experience on the Nordschleife is SLR's Benjamin Leuchter, with the German estimating that he has lapped the circuit more than 1,000 times prior to 2013, with the 31-year-old clocking up considerably more mileage since then.
Having also claimed his first WTCR podium finish last time out at Zandvoort, Volkswagen racer Leuchter is another driver who cannot be discounted his weekend.
The Nordschleife in 2018 was the event at which Frédéric Vervisch brought his season to life with a double podium which kick-started a run of form that lasted for the rest of the season. This year, the Belgian heads into the event needing another resurgence, after taking just one top ten finish last time out.
Track action gets underway on Thursday with free practice between 11:30 – 13:10 CEST (10:30 – 12:10 BST), followed by qualifying sessions at 15:30 and 19:30 CEST (14:30 and 18:30 BST).
Race one takes place on Friday evening at 17:30 CEST (16:30 BST) followed by races two and three on Saturday morning at 11:00 and 12:20 CEST (10:00 and 11:20 BST) respectively.