Boutsen Ginion Racing's Tom Coronel says he enjoyed some "nice touring car racing" in the opening TCR Europe encounter at the Circuit de Spa-Francorchamps, in which he finished tenth from 14th on the grid.
The Dutch racer, who is dovetailing his TCR Europe campaign with a full season in the FIA World Touring Car Cup (WTCR), started the race from the seventh row on the grid but made a great start and progressed to eighth on the first lap.
He told TouringCars.Net that he enjoyed a "very good" start, but following an opening lap safety car, he found his position difficult to maintain once the race restarted.
"I had a very good start," said Coronel. "I took the inside line and overtook one in Les Combes, and that was it, I was P8!
"So that was good, but difficult to maintain, I could see some people were faster, especially down the straights.
"The CUPRA overtook me easily, [Luca] Engstler was lucky to overtake me because I was in a traffic jam so he overtook me on the outside, so that was a pity.
"But I think I'm happy with that, it was a good race. The last lap at Les Combes me and Engstler were side-by-side and touching and finally we finished P10."
After Coronel's battle with Engstler's Hyundai, he managed to fend off fellow Honda racer Dan Lloyd to finish tenth at the flag, heading home a train of six cars in close proximity.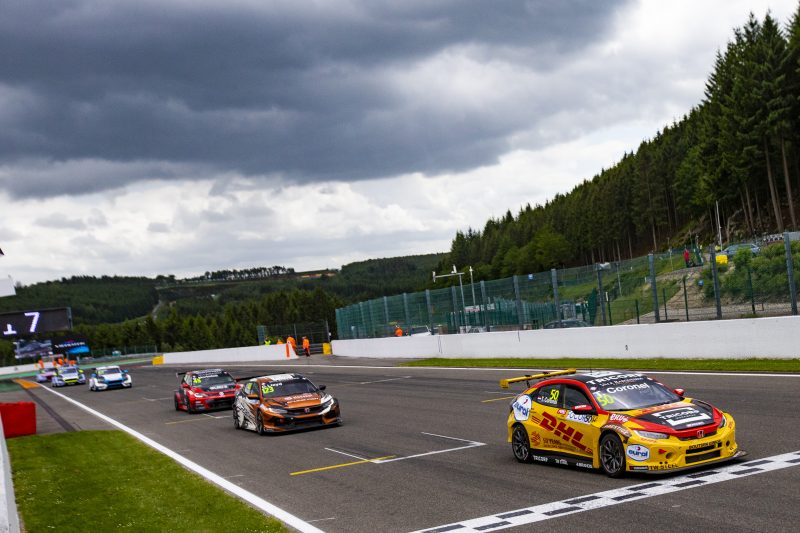 Earlier in the race, he admitted he was "aggressive" with his move on Gianni Morbidelli, before battling side-by-side with Lloyd up Eau Rouge.
"It was a nice battle. Well, to be honest I was a little bit aggressive at La Source with Morbidelli," explained Coronel. "They said it was a good move, but in my opinion I just locked up and had no choice!
"Make out of it what you want! To be honest I made a mistake and I outbraked myself, I hit him, and that's why Lloyd came on the inside.
"Then Lloyd and me went up the hill and up Eau Rouge side-by-side. I think we had good fun, it was nice touring car racing, and this is what I'm here for.
"I like battles. I'd rather have a good battle and finish P2 than lead the race and win by 10 seconds. And this was a typical touring car race. But until now the European championship is nice."
A crankshaft sensor issue limited his running to just two laps over both free practice sessions, before a left-rear puncture cost him in qualifying.
As a result, Coronel feels he is only just finding the "full potential" of the Honda at Spa, and also feels it is not the fastest package at the 4.35-mile circuit.
"It's not the fastest car, I think you can be fifth, sixth or seventh, I think that's the main potential of the car if you are really everywhere on the limit and everything goes right," he explained.
"We had a lot of problems in free practice, I only made two laps in both sessions and then I had to qualify. I mean, you make two laps in Spa and then have to qualify, it's tough.
"The first free practice I did zero laps, just from the gate to the pits. Then second free practice I made two timed laps.
"Then in qualifying I made one timed lap with a left-rear flat tyre then the second lap some guy went completely sideways in front of me in Blanchimont.
"The full potential I couldn't find until now at this track, but I feel OK now. I'm starting to get the swing, the feel of the track and the car."
The second race for TCR Europe at the iconic Belgian circuit is scheduled to get underway at 12:00 CEST tomorrow [9 June].