Adrian Flux Subaru Racing's Ash Sutton says his results in the trio of British Touring Car Championship races at Thruxton highlights the challenges he is "up against" in terms of the top-end speed of his Subaru Levorg.
The 2017 champion believes he "overachieved" in qualifying to secure seventh position before slipping back to ninth in the opening race with maximum ballast and struggling even more in the second encounter to come home 11th.
For race three, Sutton was drawn onto reverse-grid pole, and despite using his advantageous rear-wheel drive launch, eventual race-winner Josh Cook was able to pass him coming into the Complex for the first time despite Sutton having his "foot flat to the floor."
He told TouringCars.Net he believes the dry Thruxton round displayed the Achilles heel of the Levorg after capitalising on mixed conditions in the opening rounds at Brands Hatch and Donington Park.
"From the moment I pulled away to the moment I braked at Turn 3, I was right foot hard down," said Sutton.
"Simple as that. No more said. I think we've been very lucky like I said in the past with the weather at the opening two rounds.
"Today has shown what we're really up against. We're just taking everything as it comes at the minute."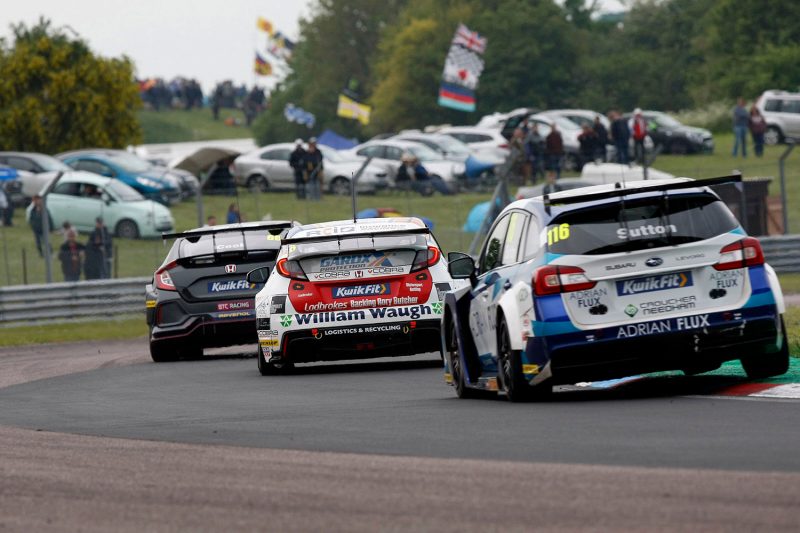 Sutton also noted that he fell backwards in each race at the Hampshire circuit, dropping back by two positions from his grid slot in each contest.
"In qualifying we overachieved, because every single race we went backwards, despite what ballast we've had on, who has been around us and what scenario we've been in," he explained.
"To be P7 and end up P9, and then to end up a little bit further back in race two, they were big, big knocks.
"It was a case of having to dig deep and bounce back from this. Race three was just trying to break clear, we've got all the guys on ballast behind us, but still couldn't hang on to the front guys.
"It was a case of just sitting there and try to use the slipstream to drag us along."
As the series now heads to Croft next month – normally a happy hunting ground for rear-wheel drive machinery – Sutton is confident but believes the resurfacing will bring the front-wheel drive competition closer.
"I think that's going to take away the tyre deg that some of the front-wheel drive guys suffered with last time, it's a little bit of a kick in the backside," Sutton said.
"But we're going to have to go there and just try again. Try to score as many points as we can, it's normally a strong place for us.
"It's normally where our season gets going – so we're in a much better position for sure. That is a positive so we'll see."