Jack Goff says he is very happy to return to the British Touring Car Championship after securing a very late deal to race with Team HARD, but admits a lack of testing puts him on the backfoot.
Goff previously announced that he had given up on plans to return to the BTCC due to insufficient funding, but announced a deal to race with Team HARD on Monday [March 25], replacing Mike Bushell who will instead compete in the Renault UK Clio Cup.
He told TouringCars.Net that the drive was "very last minute," as the timespan between talking to Team Principal Tony Gilham and finalising the deal was less than 24 hours.
"On Sunday night I spoke to Tony for the first time, and then by Monday we'd got the deal sorted," explained Goff.
"So it was very last minute, I'm glad to be back, but I'm under no illusions – I know that we're up against it.
"We've had no testing at all, this is my first time back in any racing car of any sort since October here last year. So today [27 March] we've blown off a few cobwebs."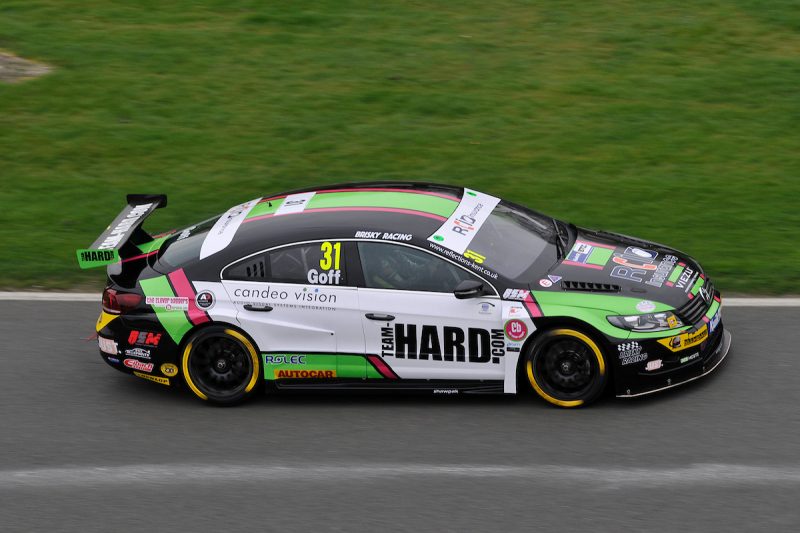 Goff last drove a VW Passat CC in 2014 after completing his debut BTCC campaign with Team HARD behind the wheel of a Vauxhall Insignia, with a best result of second at the final round in 2013.
The Passat has since undergone major changes – most notably the switch from GPRM to RML suspension – which Goff believes makes none of his previous experience in the car transferrable to his 2019 challenger.
"It's completely different, it was GPRM suspension compared to RML, and the car is handling differently altogether," said Goff.
"Different wheelbase – everything has completely changed – so there's nothing from my previous trip in the CC that I can really take into this one.
"But a car is a car and I've got to get on with it, and we've got to fine tune it to suit us, so we'll see what happens."
Despite a seat-mounting issue hindering some progress early in the second three-hour test session, Goff racked up a total of 83 laps for the day and placed 16th in both sessions.
When questioned on his expectations for the upcoming season, Goff was understandably reserved given the lack of mileage completed over the winter, but remains optimistic of scoring podiums.
"I wouldn't have signed up if I didn't believe I couldn't get a podium at some point. I don't come racing just to go around – I want to go out and do well," he said.
"We've got to be aiming for podiums. But I'm not stupid – I know that we're not quick enough currently on outright pace but if we can get our elbows out in a reverse grid then I'll certainly be giving it my all to get a podium."
The opening round of the British Touring Car Championship will get underway at the Brands Hatch Indy circuit next weekend on the 6/7 April.