Cobra Sport AmD has signed proven race winner Sam Tordoff and Scotland's Rory Butcher for its assault on the 2019 British Touring Car Championship, where the duo will get to race a Honda Civic Type-R.
Butcher will continue with the team for a second successive season, having joined in an MG6 for the 2017 campaign, and will get his hands on recent race-winning machinery.
Tordoff, meanwhile, joins AmD Tuning after switching from Motorbase Performance, with whom he made his BTCC return in 2018, Previously, Tordoff spent two years at WSR in 2015 and 2016 and before that two years with Triple Eight in 2013 and 2014.
"The Honda is a car that I've wanted to race for some time and when Gordon Shedden beat me to the title in one, it only increased my desire to see what it was like," said 29-year-old Tordoff. "To be honest, I didn't think it was going to happen and it wasn't something that was on my radar, but then this deal with Cobra Sport AmD with AutoAid / RCIB Insurance Racing came along and I couldn't be more excited.
"I'm sure there will be some people who are surprised by this move and whilst there is some appeal in going into 2019 as an underdog, the reality is that I have one aim and that is to fight for the championship title.
"I showed strong pace on track in 2018 but things just didn't go my way and eleventh in the standings wasn't what I was looking for – and it isn't what I'm chasing next year.
"Cobra Sport AmD with AutoAid/RCIB Insurance Racing have put a lot of investment into not only getting the cars, but in strengthening the team behind the scenes in order to move to the next level and there can be no excuses.
"The Honda was on pole for the final round of 2018 and won races, so we have to be aiming to do the same from the outset and I'm confident we can raise a few eyebrows when the season gets underway – and will only get stronger as the year goes on.
"It was also important for me to know that I'd have a strong team-mate alongside me and that is exactly what I have in Rory. Some of his performances in the MG this year were above where the car should have been and I think we'll form a strong partnership.
"In my eyes, with everything that Shaun and AmD have pulled together for this programme, there is no weak link."
Butcher claimed a best result of sixth in the 2018 campaign, whilst also recording 12 top ten finishes.
The 31-year-old is hoping to be able to build on his 'learning year' in 2018 to challenge more regularly at the front next season.
"This year for me was all about gaining experience in the BTCC and learning the ropes after so long racing in GT cars.
"My aim was to build towards getting into a top package for 2019 to push forwards up the grid, and I'm delighted that I can do that and also stay with Cobra Sport AmD with AutoAid / RCIB Insurance Racing to build on what we achieved this year.
"You only have to look at the stats for the Honda in recent years to see how well it has performed and on paper, there is huge potential for us to do some big things on track in 2019.
"It's a big step up for both the team and I, and I'm confident that this package will give us a great chance of success. Certainly, I think it would be silly of me to not aim for podiums and race wins and I'll also be looking at the bigger picture of getting as many points on the board as we can to see where it leaves us come the end of the season.
"It's also great to have Sam coming onboard and I don't think I could wish for a better team-mate. We enjoyed some good races together when I was with Celtic Speed in the Carrera Cup, and since he moved into the BTCC he has shown himself to be one of the top drivers with his results on track.
"I'm sure he'll be a great reference point for me and I think we'll work together well as a pairing to push the team forwards."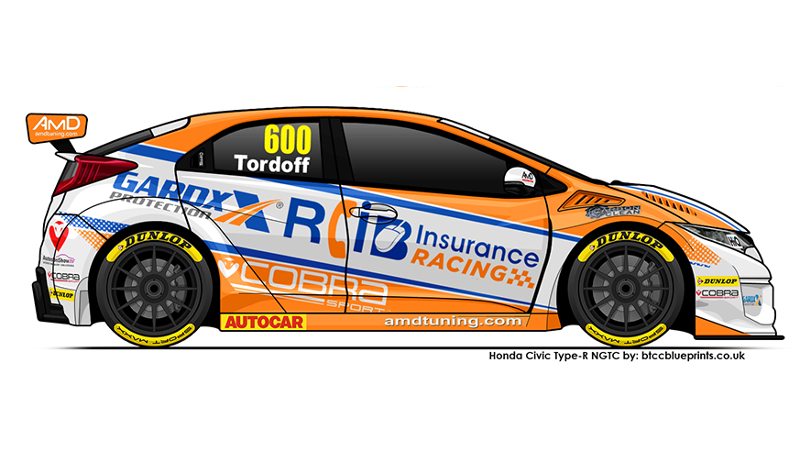 AmD Joint Team Principals Shaun Hollamby and Rachel Abbott are looking forward to working with their proven drivers for 2019.
"From the moment we agreed a deal to purchase the two Hondas, our focus has been on making sure we signed the right drivers who would give us the best chance of success on track in 2019," said Hollamby. "In Rory and Sam, I'm confident we have found the ideal pairing and we are massively excited about what we can achieve together next season.
"We knew when we brought Rory onboard this year that he was a top-quality driver and his performances in the MG were outstanding. He fitted in with the team immediately and keeping him for a second season was a priority.
"Given the fact he now has a year of experience under his belt, I have no doubt at all that Rory will be a real contender for podium finishes and race wins.
"To bring in a driver of the calibre of Sam is fantastic for us as a team and we are expecting big things from him at the wheel of the Honda.
"He brings experience from running with three of BTCC's top teams and is a proven race winner who has consistently shown himself to be one of the quickest drivers on the grid. He is also well aware of what needs to be done to build a championship challenge, and that has to be his target in 2019.
Abbott added: "I'm delighted that we have been able to have secure both Sam and Rory for the 2019 season as we embark on a new challenge with the Hondas.
"A driver of Sam's calibre is a great addition to the team and he brings a wealth of BTCC experience as well as a history of excellent results in the series. It is exciting to see what Rory is capable of at the wheel of the Honda after a solid season in the MG this year and I'm sure that as a pair, they will produce some fantastic results next year.
"I'm really looking forward to working with them both."