Audi bode farewell to its 2018-spec Audi RS5 DTM car in the DTM Young Driver test at Jerez de la Frontera in Spain, where six drivers from six different countries sampled the car in the annual end of season test.
Together with BMW and Mercedes-Benz, Audi offered up-and-coming racing prospects the chance to try out its contemporary DTM car.
The Ingolstadt manufacturer took two RS5 cars to the test, allowing Jonathan Aberdein (20, South Africa), Andreas Bakkerud (27, Norway), Mattia Drudi (20, Italy), Sacha Fenestraz (19, France), Sergey Sirotkin (23, Russia), Benoît Tréluyer (42, France) and Frédéric Vervisch (32, Belgium) to sample the cars.
2018 Formula One driver Sirotkin was a notable late addition to Audi's testing line-up, having lost his F1 drive at Williams for 2019 after the British team signed Robert Kubica.
The cars were fielded by Audi Sport Team Rosberg and customer team WRT, running the outgoing naturally aspirated V8 engines, whilst experienced Audi Sport driver Jamie Green provided advice and a reference point for the drivers.
As with BMW, Audi also took the opportunity to test its 2019-specification machinery with Mike Rockenfeller and Nico Müller, running the new two-litre four-cylinder turbo engine which is capable of delivering 600 horsepower.
"This was another very good test for Audi Sport here at Jerez," said Project Leader Andreas Roos. "All seven drivers did a very good job in our Audi RS 5 DTM. I was particularly pleased to see how excited they obviously were.
"Even someone like Sergey with Formula One experience under his belt had a grin on his face afterwards.
"With our test vehicle we were able to check off a lot of items on our test program list. We drove a total of 1,457 kilometers on these three days, and largely did so without any issues.
"Now we're going to use the rather long winter break to analyze the data before we'll return to Jerez in March for the next official pre-season DTM test."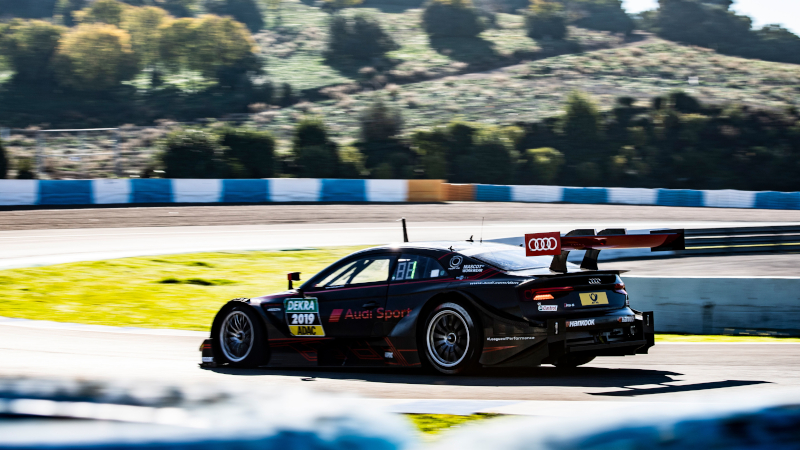 Sirotkin completed 91 laps and admitted afterwards that he had not driven a racing car since Formula 3 which could be compared to the high-downforce RS5 DTM.
"I watched the DTM even as a child, so I was incredibly excited about the test," said the Russian. "Being able to sit in an RS 5 DTM was a unique experience, but also pretty tricky.
"I hadn't found the perfect feel for the car by the end of my stint. I've never driven a race car before that comes close to the RS 5 DTM – the closest I may have come to it was in Formula 3.
"The engineers and the mechanics supported me as best they could and shortened the time for me to familiarize myself as much as possible – many thanks once more to everyone."
For Bakkerud, testing a DTM car marked a significant departure from the style of driving which he is used to in the World Rallycross Championship.
"For me as a rallycross driver, a completely new chapter," said Bakkerud. "Last week I was able to prepare a little for the test in the simulator at Team Rosberg. Obviously, then driving the RS 5 DTM here on the race track was even quite a bit more impressive.
"It was hard to believe how late you can brake with the DTM cars. Jamie and René [Rast] gave me some valuable pointers in this respect. Thank you to Dieter Gass [Head of Audi Motorsport], Audi Sport and the entire test team for this really cool experience."
Vervisch is an Audi Sport driver in touring cars already, racing in the FIA World Touring Car Cup (WTCR) in an Audi RS3 LMS. The Belgian admitted that the experience of the high-downforce DTM car was a special occasion.
"It was a long-awaited premiere for me; I've always wanted to drive a DTM car," said Vervisch. "Other drivers had told me before that the touring cars generate a lot of downforce – I can now confirm that.
"For me personally, that was the biggest change compared to a GT3 sports car or a TCR front-wheel-drive car. Chasing through the turns in the RS 5 DTM is really exciting.
"However, directly finding the limit wasn't easy because you hardly notice the downforce in steering performance."