Speedworks Motorsport has gained manufacturer backing from Toyota for an assault on the 2019 British Touring Car Championship title, with the team switching to the all-new Corolla model for the campaign.
The team will rebrand as Team Toyota GB, and is targeting outright glory after Ingram finished the 2018 season as the runner-up, claiming three wins and nine podiums in the process of a best-ever campaign for the Cheshire team.
Speedworks first joined the BTCC grid in 2011, and the team has run Toyota Avensis machinery in the championship every year it has been involved. The outfit expanded to two cars in 2012 and 2013, but reduced to a one-car operation again for 2014 and 2015.
The addition of a Honda Civic in 2016 with Matt Simpson lasted for just one year, and the team has focussed on running a single car for Ingram ever since.
"We have been speaking to Toyota GB on-and-off for the past couple of years, establishing an ever-closer relationship and nurturing that bond through our common passion for motorsport, engineering excellence and, ultimately, success," explained Team Principal Christian Dick.
"To now have them officially on-board is fantastic news, and will enable us to take that final step to really push for the overall BTCC title.
"The intention is to develop the new Corolla in 2019 before building up to a two-car assault in 2020.
"We feel we have proved what we are capable of on the Independent scene and we are well aware that the BTCC Manufacturers' battle is another level higher again, but as a team, we are ready to pitch ourselves against the very best in Britain and – with Toyota GB's backing – we are confident of doing just that."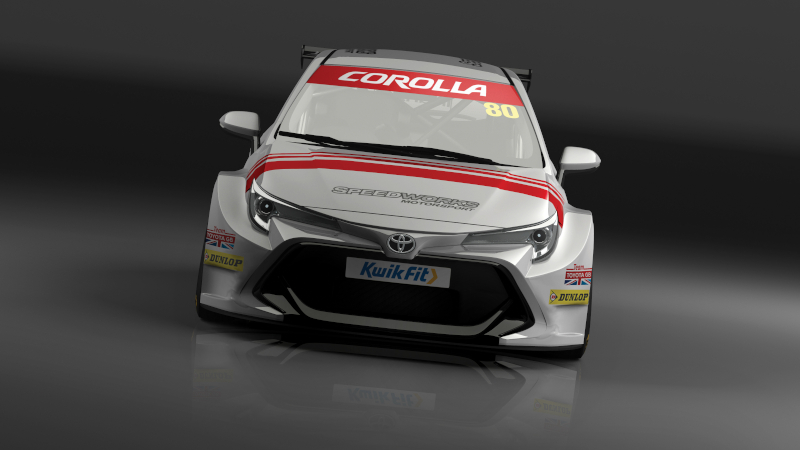 Ingram is optimistic about the partnership with Toyota and was full of praise for the team in securing the backing of Toyota as he prepares to enter his sixth season in the BTCC.
"Having dreamt about racing in the BTCC since I was a little boy, the past five years have been something of a whirlwind for me, if I'm totally honest," said Ingram.
"What we have accomplished as a small Independent outfit – particularly over the last two seasons – has been nothing short of mind-blowing and demonstrates just what this little team is made of.
"To attract the support of a major manufacturer is a phenomenal achievement and huge credit must go to Christian and Amy [Dick – Team Manager], who have worked their absolute socks off to pull this deal together.
"For Team Toyota GB with Speedworks Motorsport, 2019 starts now – and I cannot wait to see how it all unfolds!"
Toyota GB Marketing Director Andrew Cullis emphasies the British credentials of the 2019 Corolla, which brings the Corolla name back to top-level touring cars for the first time since Yaco Racing ran a Corolla in European touring cars in the mid-2000s.
"Bringing the Corolla name and Team Toyota GB back to the British Touring Car Championship in 2019 is a great way of helping us launch this important, all-new British-built car," added Cullis.
"Speedworks Motorsport and Tom Ingram have a winning track record and we look forward to working with them throughout the coming season."