Rob Austin put HMS Racing's new Alfa Romeo on top of the times in the four-hour official test session at the British Touring Car Championship media day at Donington Park, with the top 16 cars covered by less than a second.
The session began on a damp circuit, with initial times being set on wet tyres, before the National circuit quickly dried out and times tumbled throughout the afternoon.
Times changed frequently at the top of the timesheets, with laps in the 1 minute 19 seconds after half an hour before dropping into the 1 minute 12 seconds after an hour and a half and ultimately to the low 1 minute ten seconds, approximately half a second off the qualifying lap record pace.
Motorbase's Tom Chilton was second fastest in his Ford Focus RS, 0.164 seconds off the pace, ahead of Team BMW's Colin Turkington in third.
Sam Tordoff made it two Focus' inside the top four, ahead of BMW Pirtek Racing's Andrew Jordan in fifth.
Power Maxed Racing's Josh Cook was an impressive sixth overall, ahead of the Honda Civic of Jack Goff in seventh, despite the Eurotech Racing driver enduring an off-track excursion late in the session.
Ciceley Motorsport's Adam Morgan, Speedworks' Tom Ingram and BTC Norlin's Chris Smiley completed the top ten, the latter after making several improvements in the closing minutes.
Several drivers endured off-track incidents, including Brett Smith, who like his team-mate lost control at the Craner Curves and damaged the front of his Honda on the grass.
BTC's James Nash only completed ten laps, the least of any driver, due to going off the track and damaging his car early on, whilst Aiden Moffat didn't take to the circuit during the first half of the session due to an issue with the fuel pump on his car.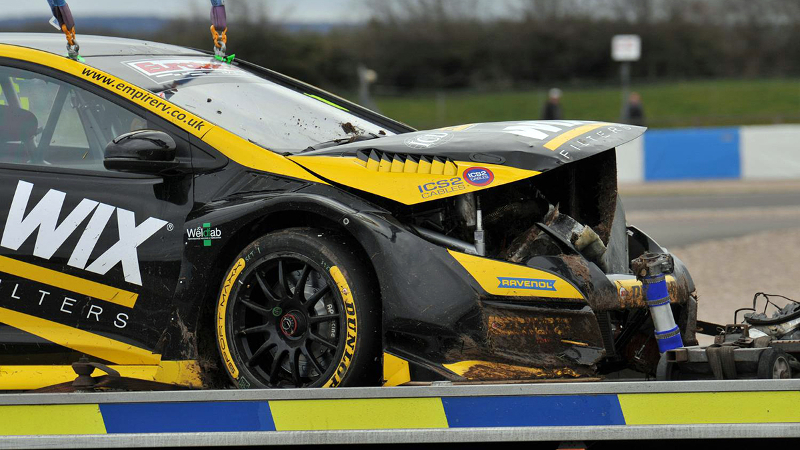 Session results
| | | | | | | | | |
| --- | --- | --- | --- | --- | --- | --- | --- | --- |
| POS | NO | DRIVER | NAT | ENTRANT | CAR | LAPS | TIME | GAP |
| 1 | 11 | Rob AUSTIN | | DUO Motorsport with HMS Racing | Alfa Romeo Giulietta | 48 | 1:10.074 | 0.000 |
| 2 | 3 | Tom CHILTON | | Team Shredded Wheat Racing with Gallagher | Ford Focus RS | 58 | 1:10.238 | 0.164 |
| 3 | 2 | Colin TURKINGTON | | Team BMW | BMW 125i M Sport | 64 | 1:10.354 | 0.280 |
| 4 | 600 | Sam TORDOFF | | Team GardX Racing with Motorbase | Ford Focus RS | 55 | 1:10.415 | 0.341 |
| 5 | 77 | Andrew JORDAN | | BMW Pirtek Racing | BMW 125i M Sport | 55 | 1:10.458 | 0.384 |
| 6 | 66 | Josh COOK | | Power Maxed TAG Racing | Vauxhall Astra | 59 | 1:10.471 | 0.397 |
| 7 | 31 | Jack GOFF | | WIX Racing with Eurotech | Honda Civic Type R | 45 | 1:10.524 | 0.450 |
| 8 | 33 | Adam MORGAN | | MAC Tools with Ciceley Motorsport | Mercedes-Benz A-Class | 52 | 1:10.535 | 0.461 |
| 9 | 80 | Tom INGRAM | | Speedworks Motorsport | Toyota Avensis | 34 | 1:10.568 | 0.494 |
| 10 | 22 | Chris SMILEY | | BTC Norlin Racing | Honda Civic Type R | 56 | 1:10.642 | 0.568 |
| 11 | 6 | Rory BUTCHER | | AmD with AutoAid / RCIB Insurance Racing | MG6 | 43 | 1:10.786 | 0.712 |
| 12 | 18 | Senna PROCTOR | | Power Maxed TAG Racing | Vauxhall Astra | 60 | 1:10.815 | 0.741 |
| 13 | 25 | Matt NEAL | | Halfords Yuasa Racing | Honda Civic Type R | 51 | 1:10.966 | 0.892 |
| 14 | 27 | Dan CAMMISH | | Halfords Yuasa Racing | Honda Civic Type R | 36 | 1:10.981 | 0.907 |
| 15 | 19 | Bobby THOMPSON | | Team HARD. with Trade Price Cars | Volkswagen CC | 44 | 1:10.991 | 0.917 |
| 16 | 5 | Rob COLLARD | | Team BMW | BMW 125i M Sport | 55 | 1:11.007 | 0.933 |
| 17 | 48 | Ollie JACKSON | | AmD with Cobra Exhausts | Audi S3 | 43 | 1:11.102 | 1.028 |
| 18 | 24 | Jake HILL | | Trade Price Cars with Brisky Racing | Volkswagen CC | 33 | 1:11.137 | 1.063 |
| 19 | 20 | James COLE | | Team Shredded Wheat Racing with Gallagher | Ford Focus RS | 73 | 1:11.211 | 1.137 |
| 20 | 1 | Ashley SUTTON | | Adrian Flux Subaru Racing | Subaru Levorg GT | 30 | 1:11.224 | 1.150 |
| 21 | 21 | Mike BUSHELL | | Trade Price Cars with Brisky Racing | Volkswagen CC | 51 | 1:11.265 | 1.191 |
| 22 | 39 | Brett SMITH | | WIX Racing with Eurotech | Honda Civic Type R | 30 | 1:11.313 | 1.239 |
| 23 | 15 | Tom OLIPHANT | | Ciceley Motorsport | Mercedes-Benz A-Class | 59 | 1:11.321 | 1.247 |
| 24 | 12 | Tom BOARDMAN | | AmD with AutoAid / RCIB Insurance Racing | MG6 | 48 | 1:11.543 | 1.469 |
| 25 | 16 | Aiden MOFFAT | | Laser Tools Racing | Mercedes-Benz A-Class | 20 | 1:11.569 | 1.495 |
| 26 | 60 | Stephen JELLEY | | Team Parker Racing | BMW 125i M Sport | 45 | 1:11.629 | 1.555 |
| 27 | 44 | Michael CAINE | | Team HARD. with Trade Price Cars | Volkswagen CC | 31 | 1:11.745 | 1.671 |
| 28 | 303 | Matt SIMPSON | | Simpson Racing | Honda Civic Type R | 31 | 1:11.765 | 1.691 |
| 29 | 99 | Jason PLATO | | Adrian Flux Subaru Racing | Subaru Levorg GT | 36 | 1:11.799 | 1.725 |
| 30 | 28 | Josh PRICE | | Autoglym Academy Racing | Subaru Levorg GT | 46 | 1:12.045 | 1.971 |
| 31 | 23 | Sam SMELT | | AmD with Cobra Exhausts | Audi S3 | 40 | 1:12.121 | 2.047 |
| 32 | 14 | James NASH | | BTC Norlin Racing | Honda Civic Type R | 10 | 1:21.127 | 11.053 |