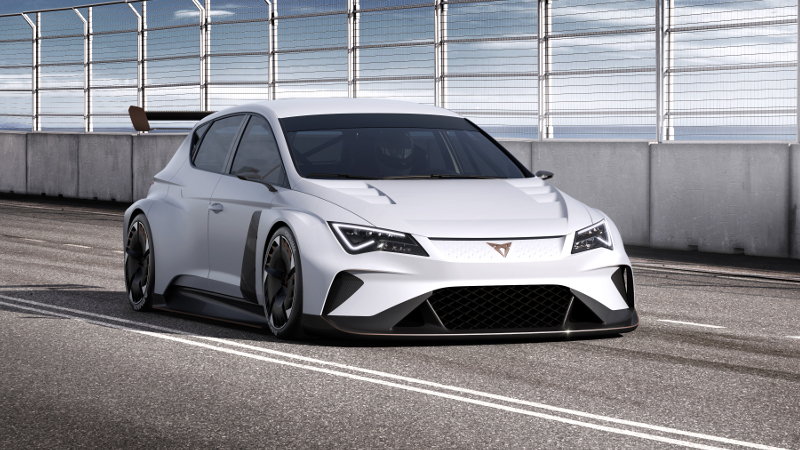 SEAT President Luca de Meo has described the new all-electric CUPRA e-Racer as a 'revolutionary' new car in touring car racing, capable of delivering 'efficient and clean' spectacular racing.
The car has been revealed ahead of next week's Geneva International Motor Show, with the promoter of the global TCR concept, WSC Ltd, also set to unveil further details about a new all-electric touring car series, for which the CUPRA will be the first eligible car.
CUPRA was recently unveiled as a new performance brand for SEAT, taking the existing León and rebranding it with a new logo and other enhancements.
Now SEAT have unveiled the CUPRA e-Racer, which is the world's first all-electric touring car.
"The CUPRA is supposed to express the best of the best of the best of what we are able to do here," said de Meo in Barcelona. "We want people to not to look at the past, not to promise an unreachable future, but to deliver what the market is expecting today, in its more advanced expression.
"Can you, for example, imagine a 100% electric touring car? We at CUPRA could. The new CUPRA E-Racer will be presented as a world premiere at the Geneva International Motor Show.
"This is a true motorsports car, delivering 300 kw of continuous power and up to 500 kw of peak power. It is the first electric racing touring car in the world.
"We thought about why racing should be efficient and clean, and by introducing a new and revolutionary car like this, we want to send to the racing world an important message: it is possible, it is spectacular, and it is also a lot of fun."
Further information is expected to be released next week, along with more information about the E-TCR Series which will accommodate the new racer.