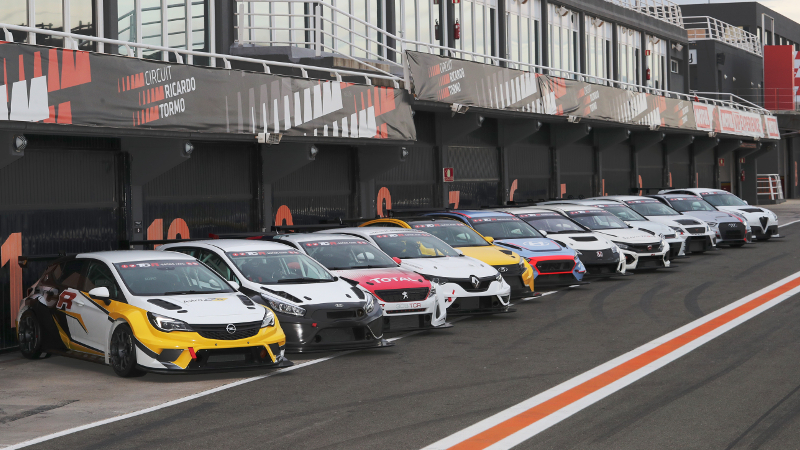 The TCR Balance of Performance tests took place at the Circuit Ricardo Tormo in Valencia between Monday and Wednesday this week, with Dan Lloyd and Gianni Morbidelli carrying out official testing of the cars.
The venue hosted the TCR BoP tests for the second time, having also been used in 2016 for the second season TCR competition.
Each brand also appointed their own test driver to set up the cars before handing the machines over to Lloyd and Morbidelli for the competitive lap times.
The manufacturer test drivers were Mario Ferraris (Alfa Romeo Giulietta), Rahel Frey (Audi RS3 LMS), Josh Files (Honda Civic Type R 2017), Esteban Guerrieri (Honda Civic Type R 2018), Gabriele Tarquini (Hyundai i30 N), Mike Halder (KIA Cee'd), Mikhail Grachev (LADA Vesta), Alexander Heil (Opel Astra), Aurélien Comte (Peugeot 308), Franjo Kovac and Alex Morgan (Renault Mégane), Jordi Gené (SEAT León) and Dieter Depping (Volkswagen Golf GTi).
Unfortunately for Morbidelli, the Italian was involved in a high-speed shunt at Turn 1 whilst testing one of the Vuković Motorsport Renault Mégane cars when a brake duct failed. The car was heavily damaged and Morbidelli was treated at the circuit's medical office for bruises to his right foot.
Cars were tested both on the circuit and then tested on the BAPRO dynamometer and for checks on the car's centre of gravity. Measurements were taken on the dissipation of power, shaft power, shaft torque and boost pressure.
All cars ran on the minimum weight of 1,265 kg plus the driver.