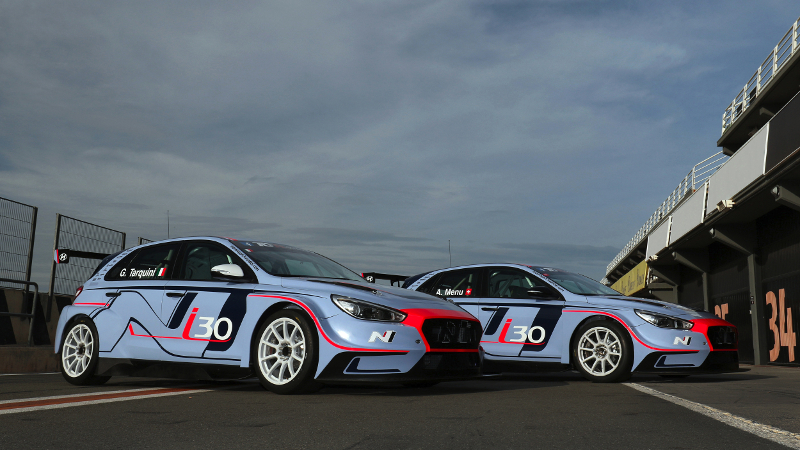 Hyundai Motorsport will give the new i30 TCR its début in the TCR International Series next month, with a pair of the cars for Gabriele Tarquini and Alain Menu to take part in both the races in China and the season finale in Abu Dhabi.
The cars will take part first in the races at China's new Zhejiang International Circuit in early October, with the BRC Racing team, who have been working alongside Hyundai Motorsport's engineers during the development phase, running the cars.
Experienced touring car legends Gabriele Tarquini, who has been involved throughout the development program, and Alain Menu will be at the wheel of the cars. It will be Tarquini's race début in the TCR International Series, whilst Menu returns for the first time since Imola in 2016.
Both drivers were involved in a recent two-day test at the Circuit Ricardo Tormo in Valencia, carrying out final preparations on the cars. The livery used at the test will be the same one used in the two TCR International race meetings.
"As our first car designed specifically for circuit racing the i30 N TCR is a milestone for Hyundai Motorsport," said Hyundai Motorsport Team Principal Michel Nandan. "Despite that challenge the Customer Racing department has produced a strong package for the regulations, which will only improve further with the development work continuing through the races this year.
"The debut in the TCR International Series is a big moment for the project. Coming in China, alongside the TCR Asia Series, the weekend is the ideal event to show the potential of the i30 N TCR to teams and drivers.
"The look of the cars ties the i30 N TCR very closely to the N line-up of road models, so a strong performance would promote both the racecar and the standard models."
Hyundai Motorsport Customer Racing Manager Andrea Adamo has called the participation in the event a 'crucial time' as the outfit prepares to have the cars ready for customer deliveries during the winter, ahead of the 2018 season.
"Bringing the i30 N TCR to the TCR International Series for the final events of this season is, obviously, a very important moment for all of Hyundai Motorsport Customer Racing," added Adamo.
"The weekend in China comes at a crucial time of the year, as teams and drivers are now planning their campaigns for the 2018 season. To be able to show the performance of the i30 N TCR at the highest level is a big opportunity for us.
"However, the races also give us the chance to continue our development work. Not only does the addition of Alain Menu to the team double the feedback to our engineers, but the ability to learn how the car handles the close racing will help us deliver the best possible package for all drivers."