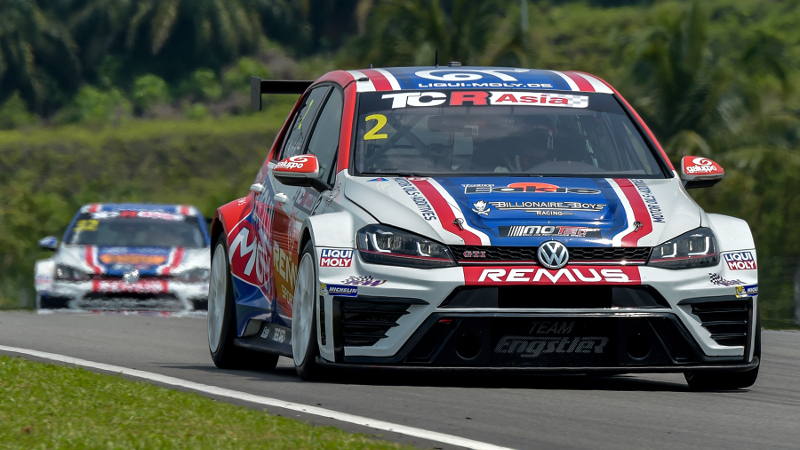 Liqui Moly Team Engstler's Kantadhee Kusiri claimed pole on his TCR Asia Series début in Malaysia, as he saw off a challenge from team-mate Diego Moran.
In the hot Sepang heat, Kusiri went into qualifying as the pace-setter, having been on top during the final practice session beforehand.
The Thai racer then beat local racer Lai Wee Sing to the top time in Q1, where track temperatures hit a high of 55 degrees Celsius.
The all-important Q2 session then saw Kusiri continue to dominate, immediately putting in a time of 2:17.359 on his first lap which would go unbeaten for the rest of the session.
Lai had initially been second fastest in his R Engineering Honda Civic, but he was later excluded from the qualifying results for a parc fermé infringement.
That left the second Liqui Moly Volkswagen of Ecuadorian racer Moran to inherit second on the grid for the opening race, after he posted a time just over a second slower than his team-mate.
Third fastest, after the second R Engineering Honda of Abdul Kaathir was also excluded, was Team Thailand's Tin Sritrai, who was 1.261 seconds behind his fellow Thai racer, having earlier exchanged top times with Kusiri in practice.
Jasper Thong put the new Audi Hong Kong entry in fourth, with the RS3 performing well on its début in the series.
The first race of the TCR Asia Series season takes place at 10:05 local time on Sunday (02:05 GMT, 03:05 CET), with race two following at 14:30 local time (06:30 GMT, 07:30 CET). Both races will be streamed live online at http://asia.tcr-series.com.
Qualifying result
| | | | | | | | | |
| --- | --- | --- | --- | --- | --- | --- | --- | --- |
| POS | NO | DRIVER | NAT | ENTRANT | CAR | LAPS | TIME | GAP |
| 1 | 2 | Kantadhee KUSIRI | | Liqui Moly Team Engstler | Volkswagen Golf GTi TCR | | 2:17.359 | |
| 2 | 32 | Diego MORAN | | Liqui Moly Team Engstler | Volkswagen Golf GTi TCR | | 2:18.382 | 1.023 |
| 3 | 9 | Tin SRITRAI | | Team Thailand | Volkswagen Golf GTi TCR | | 2:18.620 | 1.261 |
| 4 | 5 | Jasper THONG | | Audi Hong Kong | Audi RS3 LMS TCR | | 2:19.014 | 1.655 |
| 5 | 98 | Eric K | | Elegant Racing Team | SEAT León TCR | | 2:20.426 | 3.067 |
| 6 | 8 | SK TONG | | Phoenix Racing Asia | Audi RS3 LMS TCR | | 2:20.452 | 3.093 |
| 7 | 99 | Alex LIU Lic Ka | | Elegant Racing Team | SEAT León TCR | | 2:20.623 | 3.264 |
| 8 | 65 | Douglas KHOO | | Viper Niza Racing | SEAT León TCR | | 2:20.810 | 3.451 |
| EX | 39 | LAI Wee Sing | | R Engineering | Honda Civic TCR | | 2:18.267 | 0.908 |
| EX | 23 | Abdul KAATHIR Mohamed Mustaffa | | R Engineering | Honda Civic TCR | | 2:18.430 | 1.071 |