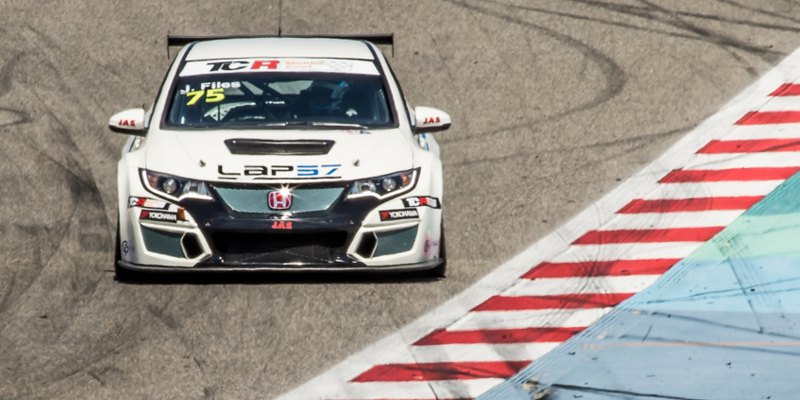 Lap57 driver Josh Files took pole position for the penultimate race of the TCR Middle East Series in Bahrain, as he moved closer to the championship contenders in qualifying.
Files set the pole position lap with a time of 1 minute 9.326 seconds, beating Mulsanne Racing's Davit Kajaia by a mere 0.068 seconds.
The pace was initially set by Liqui Moly Team Engstler's Luca Engstler, before Files moved to the top before the half-way point.
After a brief pause to preserve tyres, Files then improved in the second half of the session to secure pole, despite improvements from his rivals.
"It has been a very close and exciting session, and it's nice to win a pole like this," said Files, who is looking to add the Middle East title to his TCR Germany crown. "The car felt much better, we changed a lot of things in the set-up and it worked well. Even in excess, as from a lot of understeer we went to some oversteer.
"The only thing we haven't been able to solve is this tedious misfiring on the main straight, which costs me a hundredth of a second every time it occurs."
Kajaia kept his slim titles chances alive with second, although the Georgian racer admitted that he was disappointed to miss out on his chance at a first pole in TCR.
"It was a good qualifying, but I am obviously a little bit disappointed about missing the pole for so little," said Kajaia. "Still, we were able to improve much the set-up of the car an tomorrow, I'll push hard and I'll go for the win."
Engstler ended up third fastest, ahead of team-mate Brandon Gdovic in fourth, who still leads the championship heading into race day. American Gdovic admitted afterwards that he was disappointed to have failed to get closer to the pace-setters, having been almost a second adrift.
The third Liqui Moly Team Engstler Volkswagen of young Italian Giacomo Altoè completed the running in fifth. Entries from Liqui Moly Team Engstler for Stefan Goede and Lap57 for Mohamed al Owais have been withdrawn ahead of race day.
Qualifying result
| | | | | | | | | |
| --- | --- | --- | --- | --- | --- | --- | --- | --- |
| POS | NO | DRIVER | NAT | ENTRANT | CAR | LAPS | TIME | GAP |
| 1 | 75 | Josh FILES | | Lap57 | Honda Civic TCR | 14 | 1:09.326 | |
| 2 | 16 | Davit KAJAIA | | Mulsanne Racing | Alfa Romeo Giulietta TCR | 15 | 1:09.394 | 0.068 |
| 3 | 8 | Luca ENGSTLER | | Liqui Moly Team Engstler | Volkswagen Golf GTi TCR | 8 | 1:09.427 | 0.101 |
| 4 | 46 | Brandon GDOVIC | | Liqui Moly Team Engstler | Volkswagen Golf GTi TCR | 9 | 1:10.252 | 0.926 |
| 5 | 10 | Giacomo ALTOÈ | | Liqui Moly Team Engstler | Volkswagen Golf GTi TCR | 7 | 1:10.499 | 1.173 |