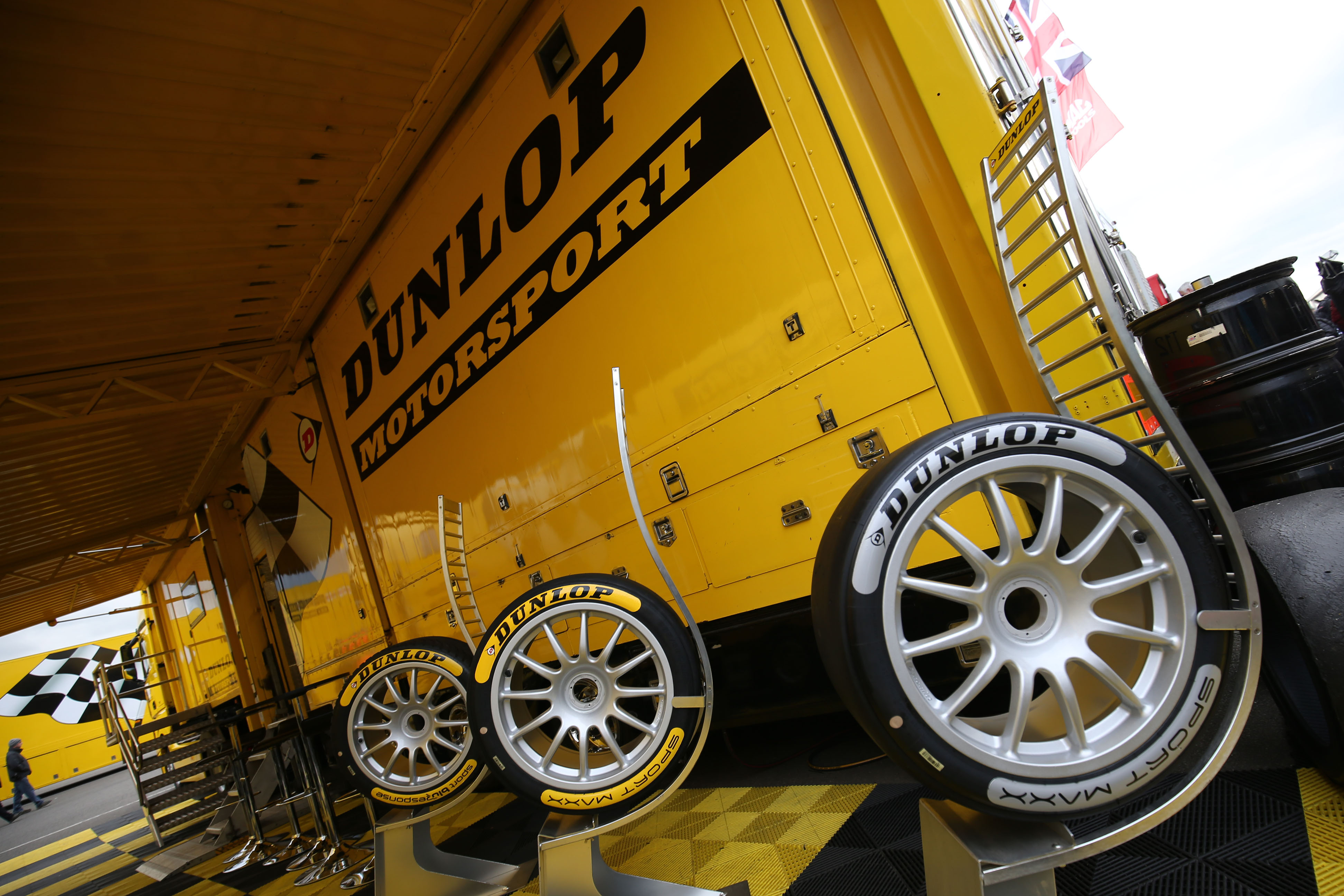 One of the largest question marks heading into the new British Touring Car Championship season surrounds the new compound range of SportMaxx tyres introduced by championship supplier Dunlop.
Drivers will continue to use the designated 'prime' tyre in two of the weekend's three contests at every event, with a 'soft' or 'hard option compound made available for the remaining race. Thruxton is the exceptional to the rule, with the harder option tyre compulsory for all three events to counter the abrasive track surface and high levels of degradation.
Dunlop has also chosen to select the harder compound as the option tyre for the events at Donington Park, Croft, Rockingham and Silverstone.
Bigger tyre sizes and new constructions have been introduced for 2017, with a 20mm increase in the width of the tyre complimented by improvements to steering response and braking stability.
In addition, the BluResponse wet tyres have benefited from a revised tread pattern to increase resistance to aquaplaining, and have also been subject to the 20mm width increase.
After extensive testing of the new compounds by teams during the off-season, Dunlop is now confidently predicting a speed increase on previous seasons by up to a second per lap at some circuits on the calendar, breaking that figure down into half a second of improvement per mile of racing.
By comparing lap times at the well-attended test at Castelloli Circuit near Barcelona last month with those of the previous season, Dunlop confirmed that the previous best time of 1:44.28 had been beaten by a margin of nearly one second by a majority of this years attendees.
Drivers have given feedback on the new tyres to TouringCars.net, suggesting they provide a bigger window of performance in which to push, resulting in prolonged battles on circuit during races. This could negate the advantage some cars, such as the BMW 125i M Sport currently possess, in being kinder to tyre management over a race distance.
A championship race-winning driver suggested TOCA may seek to reduce boost levels to compensate for the net increase in speed, but when TouringCars.net attempted to verify this suggestion a source disagreed it would be a likely move by the championship organisers.
Defending champion Gordon Shedden believes the new rubber will improve the rate of punctures at low pressure.
Dunlop's Mickey Butler also predicted to TouringCars.net that the new tyres would take around two laps to reach optimum temperatures this season, which places even further importance on the formation lap before races begin.
The changes are set to throw the team a curveball at the start of the new campaign as engineers and technicians seek to get a handle on the new rubber, as will their drivers, but the message from Dunlop to the assembled media at Donington Park last week was clear – 'bigger, wider, faster and stronger'.