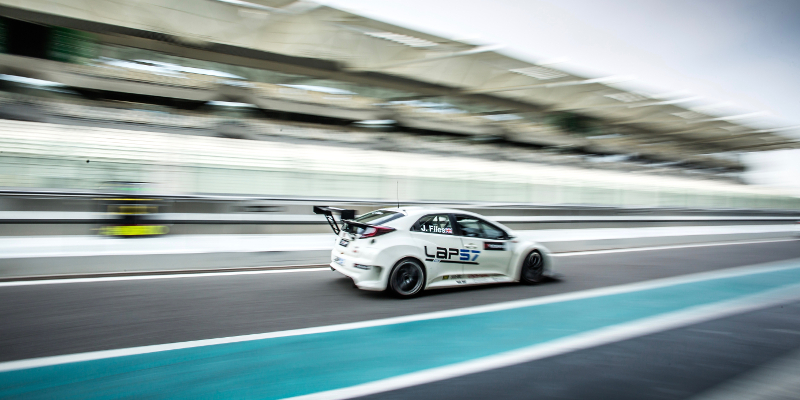 Lap57 driver Josh Files took victory on his début in the TCR Middle East Series at Abu Dhabi, winning race one ahead of Mulsanne Racing's Davit Kajaia after a closely-fought race.
Files, racing a Lap57-entered Honda Civic TCR, initially lost the lead at the beginning after a poor start, allowing Kajaia to take the lead.
It would be another eight laps before Files returned to the front, after passing the Georgian racer at Turn 20 on lap nine, the duo having made contact a lap earlier as Files tried to pass the Alfa Romeo Giulietta.
"That was very hard – we knew we had a lot of speed over one lap, but we hadn't done an eleven lap race run so we didn't know what to expect," said Files. "I didn't make a great start; I didn't use enough clutch, which was my fault, and so it was a bit of post-season rust, I guess!
"Davit was very fast, the Alfa in a straight line is on another level and even when I was in his slipstream he was pulling away. Getting past was the difficulty, as I knew the only places to get past were in the slow corners in the last sector because down the straights he could pull away.
"It was a case of 'I'm coming through, with or without your permission' but I saw he seemed to make a mistake in one corner and that gave me the chance to come through. Tomorrow will certainly be interesting!"
Third went to Top Run Motorsport's Giacomo Altoè, with the young Italian driving a clean race from third on the grid and scoring the first podium for the Italian team's car – which will undoubtedly come as a relief after repeated reliability issues.
Liqui Moly Team Engstler's Brandon Gdovic was fourth, despite last-lap contact with team-mate Luca Engstler, who subsequently stopped on the circuit. Lap57's Mohamed Al Owais, who had also been in the battle, stopped on the final lap of the race. Nevertheless the UAE driver was classified in fifth position.
That left Liqui Moly Team Engstler's Stefan Goede, who pitted on lap four, to be classified in sixth after he rejoined the race, whilst Engstler, the points leader heading into the race, was the final classified finisher in seventh.
Race one result
| | | | | | | | | | |
| --- | --- | --- | --- | --- | --- | --- | --- | --- | --- |
| POS | NO | DRIVER | NAT | ENTRANT | CAR | LAPS | TIME/GAP | BEST | GD |
| 1 | 75 | Josh FILES | | Lap57 | Honda Civic TCR | 11 | 26:17.510 | 2:22.386 | 1 |
| 2 | 16 | Davit KAJAIA | | Mulsanne Racing | Alfa Romeo Giulietta TCR | 11 | 1.313 | 2:22.418 | 2 |
| 3 | 10 | Giacomo ALTOÈ | | Top Run Motorsport | Subaru WRX STi TCR | 11 | 23.181 | 2:23.752 | 3 |
| 4 | 46 | Brandon GDOVIC | | Liqui Moly Team Engstler | Volkswagen Golf GTi TCR | 11 | 44.876 | 2:2:24.358 | 5 |
| 5 | 57 | Mohamed AL OWAIS | | Lap57 | Honda Civic TCR | 10 | + 1 LAP | 2:23.638 | 57 |
| 6 | 8 | Luca ENGSTLER | | Liqui Moly Team Engstler | Volkswagen Golf GTi TCR | 10 | + 1 LAP | 2:24.542 | 7 |
| 7 | 7 | Stefan GOEDE | | Liqui Moly Team Engstler | Volkswagen Golf Gti TCR | 10 | + 1 LAP | 2:25.126 | 7 |