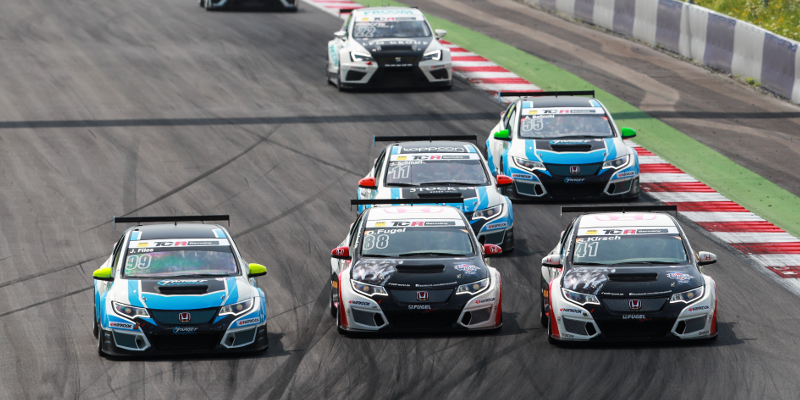 The 2017 ADAC TCR Germany calendar has been published, with the championship once again featuring seven events held at six different circuits in Germany, Austria and The Netherlands.
The calendar follows a similar format to that of the inaugural season in 2016, with the season kicking off at the Motorsport Arena Oschersleben in late April.
The second round will then take place at the Red Bull Ring in June, before a second visit at Oschersleben in early July, which will again be held in conjunction with the TCR International Series.
Anorer round outside Germany is held at Zandvoort in mid-July, before the season closes with rounds at the Nürburgring, Sachsenring (which is later in the year than previously) and the Hockenheimring in September.
Aside from the round at Zandvoort, all other events will be held in conjunction with the ADAC Formula 4 Championship and the ADAC GT Masters Championship.
The championship will once again be broadcast on the SPORT1 TV channel in Germany.
Entries to the championship, which in 2016 featured amongst the largest grids of any TCR series, will open on the 28 November.
2017 ADAC TCR Germany calendar
| | | | |
| --- | --- | --- | --- |
| Round | Country | Circuit | Date |
| 1, 2 | | Motorsport Arena Oschersleben | 29 – 30 April |
| 3, 4 | | Red Bull Ring | 10 – 11 June |
| 5, 6 | | Motorsport Arena Oschersleben | 8 – 9 July |
| 7, 8 | | Circuit Park Zandvoort | 15 – 16 July |
| 9, 10 | | Nürburgring | 5 – 6 August |
| 11, 12 | | Sachsenring | 17 – 18 September |
| 13, 14 | | Hockenheimring | 22 – 24 September |