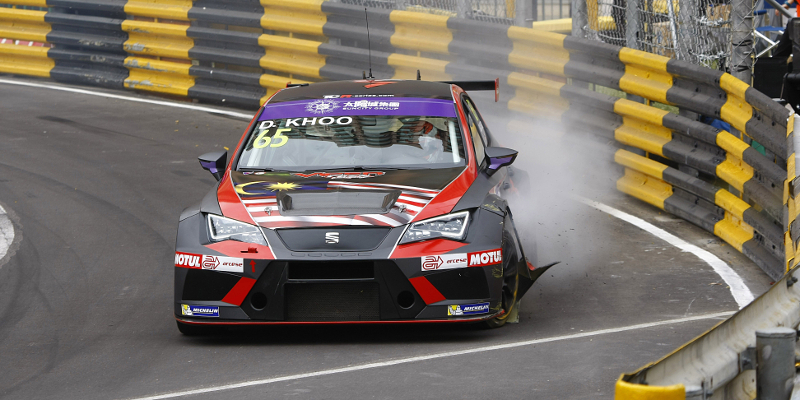 Leading drivers in the TCR International Series have been critical of the speed and awareness of some of the local entries in this year's Guia Race, which features a capacity 36-car field.
Friday's second practice session was again interrupted by the Asian drivers, with Douglas Khoo (pictured) causing a ten-minute red flag stoppage after he hit the wall early on.
But the championship contenders and pace-setting drivers were critical of the speed of some of the competitors, fearing that it could lead to safety issues around the demanding street circuit.
"The only issue is traffic, although we know this is a feature typical of Macau," said Gianni Morbidelli, who set the pace in second practice. "Some of the drivers are really very, very slow. It's a dangerous situation."
Craft-Bamboo Racing's Pepe Oriola was again second fastest, and he echoed Morbidelli's comments, despite brushing with his own team-mate and points leader James Nash.
"I'm happy with the session, except for the issues posed by some of the slower cars," said Oriola. "It's really tricky, some of the guys run almost 30 seconds slower…
"For the rest, I had a little contact at Lisboa with my teammate James Nash while we were towing each other, I think he got towed by the stream and could not brake when I was passing him.
"All the potential title contenders are very close and it's going to be very interesting tomorrow. It's still open and you can feel the pressure growing…"
Reigning champion Stefano Comini also believes the speed differential between the leading TCR drivers and the rest of the field is too much. The 26-car TCR field is joined by an additional ten entries from the China Touring Car Championship this weekend.
"We spent the session testing towing with Jean-Karl [Vernay] in view of tomorrow's qualifying, given that the Golf has less top speed in the long straights," added Comini.
"The real problem is the level of performance of some of the local entries. The difference is really excessive…"
"I'm not that pleased, because the traffic meant I didn't manage to put in any good laps."