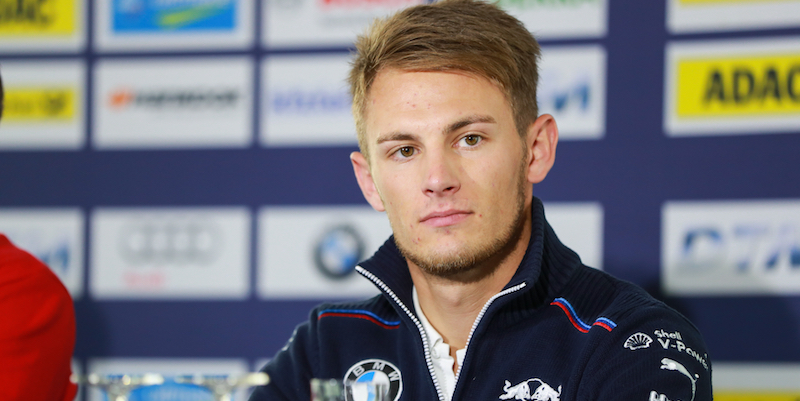 As one of the three main protagonists that will battle it out for the Deutsche Tourenwagen Masters drivers' title this weekend, BMW's Marco Wittmann has the chance to become the first driver since Audi Sport's Timo Scheider to win two titles, and be the first to do so in the "New-Era."
The Fürth-based driver has shown incredible consistency, as he did in his maiden title year two seasons ago, even with being excluded from the feature race at the Hungaroring three weeks ago still keeping him ahead of the Audi Sport pairing of Edoardo Mortara and Jamie Green.
The trio are separated by 39 points with just two races to run, but the Team RMG driver is happy with being in with a good chance of taking his second title with Stefan Reinhold's outfit.
"That shows we have done a good job throughout the year," said the 26-year-old, who is a mere 14 points ahead of Mortara.
"Now we need to approach the season finale with a cool head and try to keep out of any scuffles. It won't be that easy since the races in Hockenheim are usually action-packed."
This coming weekend will see the second successive time that the drivers' title will be decided, and if Wittmann is at least 26 points ahead of Mortara ahead of the second race, he will take top honours.
Reinhold is also looking to get another team title, as the Niederzissen-based outfit was formed to initially assist BMW's return to the DTM, but with the prospect of further glory, he is very much aware that the pressure is on.
"Naturally there is a lot of tension going into these crucial two races of the DTM season. Our team has done an outstanding job throughout the year, which is why we are still in with a chance of winning the drivers' and team championships at the season finale," he explained.
Reinhold and his team are just 25 points behind Team Abt Sportsline, who will have double the amount of drivers in comparison with RMG, but it doesn't stop their motivation.
"We are perfectly prepared and now also want to enjoy the weekend. We need to get everything possible out of the car on the track, and to finally get the reward for our good performances."
Motorsport Director Jens Marquardt feels that the season finale around the 4.574-km circuit will provide a "thrilling" conclusion to what has already been an intense year so far.
"I'm already very proud of what we have achieved this year with a great deal of team spirit and consistency," he explained, stating that the Munich brand will assist Wittmann as best they can to help him to take another title.
"Considering his performances this season, he would deserve the title without any doubt. It is not going to be easy, but the opportunity is there – and we want to take it. In the manufacturers' and team standings we are in second place and ready to pounce.
"Let's see what the races in Hockenheim bring. The 2016 DTM is characterised by the equality of all the individual packages that we haven't seen often, and I'm sure that the finale will also provide plenty of drama."