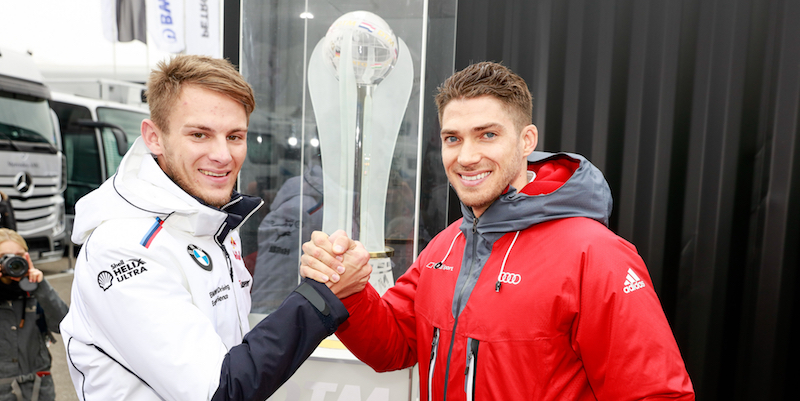 Marco Wittmann and Edoardo Mortara are set to conclude their battle for the 2016 Deutsche Tourenwagen Masters drivers' title this weekend at Hockenheimring, with two races remaining.
With the pair separated by just 14 points, the series concludes at the season finale for the second successive year. Last season, the fans in attendance saw Manor Racing's Pascal Wehrlein take the crown on the day before his 21st birthday.
The pair have secured 7 wins, 10 podiums and 23 top ten finishes between them so far this year, so they both clearly understood what is required to raise the glass trophy come Sunday evening.
When asked about whether winning the title in 2014 was an advantage, Wittmann felt that it was a good position to be in, even with Mortara and Team Phoneix's Jamie Green chasing hard.
"I think I'm in a pretty good position, to be honest," explained the 26-year-old at the first press conference of the finale weekend.
"14 points of a gap is always good to have, so first of all, it will be do to a good weekend in qualifying, which is always very important in DTM. Then the aim is to stay in front of Edo and Jamie, and that would at least be the optimum for me."
The Team RMG driver also cited unpredictability as a factor in the events that will unfold at the 4.574-km circuit, as the first two races of the season clearly showed after another long off-season.
"I know it will be tight and Hockenheim is always pretty special, as all three manufacturers will be pretty close here, so I think it will be interesting.
"But we all try our best out on track and score as many points as possible, see where we end up."
Mortara still remained optimistic of his chances, but stated that he can only aim for the "perfect weekend," as he needs to still be within 25 points or less after tomorrow's race (Saturday 15th October).
"I know that if I do two very good races, it could potentially be possible to win this title. In DTM, it's not that realistic, as the level is very high, and winning both races will be very, very tough," said the 29-year-old, who has been in the wars this year.
"We have shown that we were very competitive in the last couple of race weekends. We won here in the first weekend of the season, so it's looking not too bad."
Mortara was able to become the first driver since Laurent Aiello to win at the Norisring in 2001, but due to the testing and racing schedule centering around the Baden-Württemberg track, he insisted that there is nowhere to hide.
"Everyone knows the track so well, basically, which makes it even more difficult, as you can see that the gaps are very small between us all. We all know them pretty much that this weekend that our car will be competitive enough."
Summarizing his season even with the final races not yet run, the Italian felt that there were more good moments, which kept him in the running for the title, even with incidents at Zandvoort and Hungary costing him point scores.
"In the end, we should be looking at this race weekend to still have the chance and do our best, and see who comes up on top."