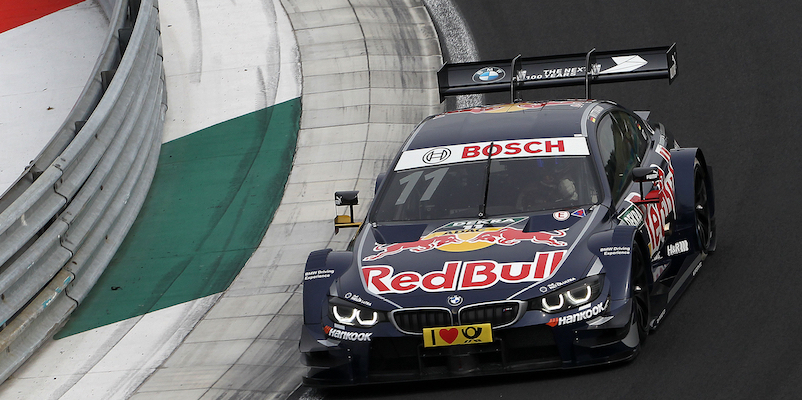 With just two more races of the current Deutsche Tourenwagen Masters season remaining at Hockenheim in three weeks' time, points leader Marco Wittmann expressed his intent to not give any quarter in his attempt to secure a second drivers' title in three years.
After a scare after contact with Audi Sport's Edoardo Mortara on the run down to turn one, he felt that it was all down to the Italian's poor start, which was somewhat compromised with a brake issue before the lights went out.
"I had a very good start, whereas Edo didn't. His wheels were spinning and I had all the momentum," said the 26-year-old, who goes into the season finale with a 26-point advantage over the Team Abt Sportsline driver, having finished fourth in the race on Sunday.
"I went over to his side of the track and thought he wanted to block Eki first and he pushed me over onto the grass – although I was already alongside him. There was contact, and I had to drive across the grass. There was contact again when I came back. In my opinion, it was caused by Edo's mistake at the start."
"We couldn't have improved on finishing in seventh and fourth this weekend. The competition from Audi was extremely strong. So these points are even more important."
Mortara admitted that a wheel rim failure contributed to his right front puncture, after contact with Wittmann and further incidents resulted from a poor start issue, having been the man on form all weekend.
"Subsequently, I was sandwiched between Wittmann and Green. One of the rims broke in the process and I had to take a few more hits on lap one," explained the Italian, who was in contention for another potential victory.
"That's very disappointing because we could have won again today."