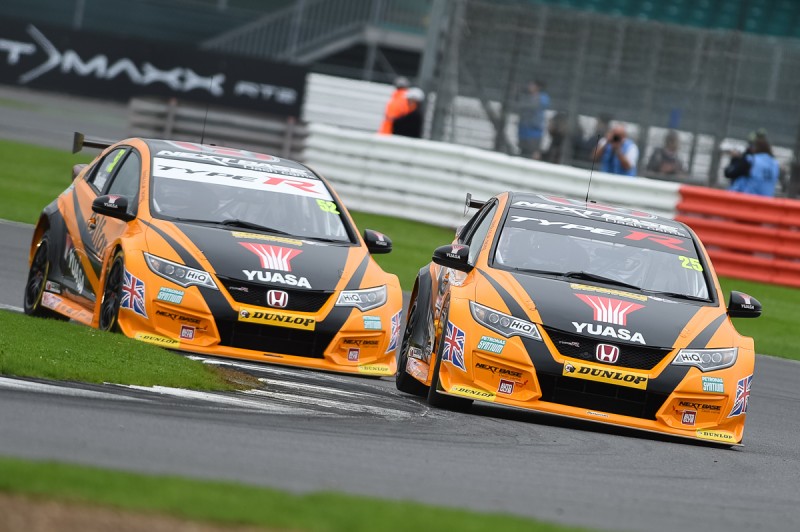 Despite being forced to recover from a puncture in the opening race to keep his championship prospects alive, three-time British Touring Car champion Matt Neal was pleased to remain in contention with the series set to head to Brands Hatch in less than two weeks for it's record-breaking finale.
Eight drivers will head to Kent with a chance of taking UK motorsport's most prestigious honour, with Neal ranked the second highest of leader Sam Tordoff's challengers, some fourteen points adrift of the BMW; three behind team-mate and defending champion Gordon Shedden.
Neal crucially claimed the final championship point on offer in the second contest despite starting a lowly 24th, and from there the Midlands-based driver pressed onwards in the reverse grid race to net fifth, though it was a case of what might have been with the Honda Civic Type R coming into a league of it's own in the high-speed corners.
"We gained some ground and although it was fairly heavy-going again to begin with in race three, once I found some clear air I could really get my head down and showcase the Civic Type R's full potential." commented Neal.
"Our car is great in the high-speed sections, so we were quick through Copse and then strong on the brakes into Maggotts and Becketts, which made that the overtaking spot of choice. I just wanted that race to keep on going – who knows, we might have even come away with a Honda one-two! Both 'Flash' and I are well in the hunt going to Brands Hatch, so it's game on!"
Neal benefited from working alongside Shedden to get a tow during qualifying, and as such was able to defy his success ballast and start a credible seventh for race one. With his closest championship rivals struggling further back, the opportunity was there for Neal to claim the standings advantage, but bad fortune elected to pay him a visit.
"It was all looking quite rosy until a couple of laps from the end of race one! I'd been sitting there feeling pretty smug after qualifying and running ahead of all my main championship rivals, and then the puncture put us properly on the back foot and needing to recover ground, which isn't easy here." admitted Neal.
"On the positive side, at least the other guys around us in the points didn't have a stellar time of it either."
Neal's experience has been cited as one of his main advantages heading into the finale, and with three crowns plus many more championship battles to his name, his tactic of consistency could be set to pay off on a dramatic finals day in two weeks.