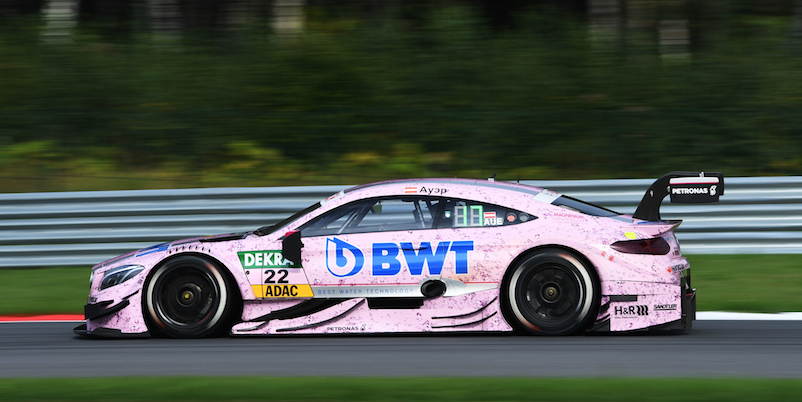 Even though the titles are far from being decided in this year's Deutsche Tourenwagen Masters, Mercedes-AMG DTM Head, Ulrich Fritz is aware that there will be a lot of battling up and down the field this weekend, as one of three brands attempts to assert it's dominance on the series.
"We're heading for the Eifel with decent prospects. Robert [Wickens] is in a promising position as far as the drivers' championship is concerned, and Paul [di Resta] is still in striking distance of the top, plus there is everything still to play for in the manufacturers' championship," he explained.
Last year's two races saw the Stuttgart brand take a total of nine top ten finishes, with Pascal Wehrlein and Paul di Resta being the only two drivers to take to the podium.
"We intend to rectify that this weekend. Perhaps we'll have some luck in terms of the weather. In the Eifel, rain is famously not an uncommon occurrence, and we saw in Moscow how well our car works in the wet," said Fritz, after Mercedes dominated in the first race in Russia, which saw Wickens, di Resta and Gary Paffett take to the podium.
"Broadly speaking, though, I'm anticipating a hard-fought and close weekend because we are after all entering the decisive phase of the championship battle."
The first free practice session of the DTM race weekend gets underway at 17:00 CEST (British Summer Tine + 1) this afternoon, lasting for 30 minutes.
DTM Nürburgring Timetable
Friday 09.09.2016
17:00 CEST (BST + 1): FP1 – 30 minutes
Saturday 10.09.2016
10:45 CEST (BST + 1): FP2 – 30 minutes
12.30 CEST (BST + 1): Qualifying 1 – 20 minutes
15:00 CEST (BST + 1): Race 1 – 40 minutes (plus 1 lap)
Sunday 11.09.2016
10:40 CEST (BST + 1): FP3 -30 minutes
12:50 CEST (BST + 1): Qualifying 2 – 20 minutes
15:15 CEST (BST + 1): Race 2 – 60 minutes (plus 1 lap)