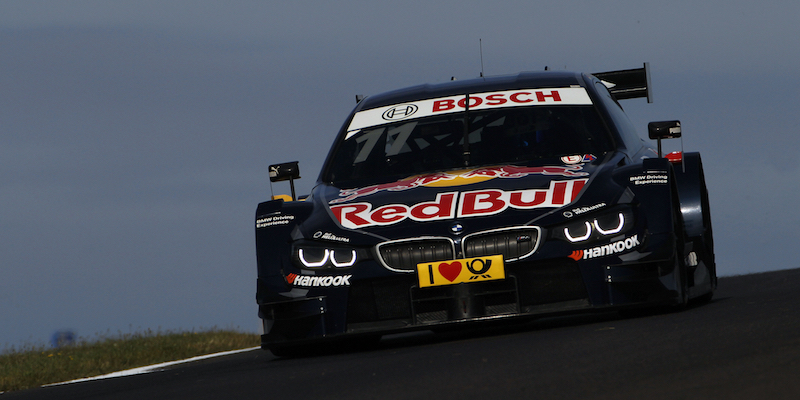 Team RMG's Marco Wittmann took top honours in the third and final free practice session for the Deutsche Tourenwagen Masters at Moscow Raceway this morning, ahead of Audi's Miguel Molina and Team RBM's Tom Blomqvist.
Whitman posted the fastest time in the 30-minute session with a 1:29.470 around the 3.931-km circuit with just under two minutes remaining, with Molina having led the session from the half-way point.
Blomqvist completed a close top three, who were separated by 0.193 seconds, with the top 23 drivers covered by 0.998 seconds. Team Abt Sportsline's Mattias Ekström was the next best-placed Audi in fourth, having missed out on the top three by 0.025 seconds, posting his best attempt in the final moments of the session.
Augusto Farfus made it three BMWs in the top five ahead of Paul Di Resta, who was the fastest of the Mercedes contingent in sixth place. Audi Sport Team Abt's Nico Müller, who set the pace in free practice two yesterday, was seventh ahead of Team RMG's Timo Glock and HWA's Maximilian Götz.
Team Phoenix's Timo Scheider rounded out the top ten in his Audi RS5 DTM, 0.516 seconds off the pace set by Wittmann, and was 0.005 seconds ahead of Team Rosberg's Jamie Green and HWA's Daniel Juncadella, who were also split by the same time difference.
Yesterday's sprint race winner, Robert Wickens, was 14th fastest behind Team MTEK's Bruno Spengler, whilst 2005 champion Gary Paffett found himself further down the order in 18th place, ahead of DTM débutant Felix Rosenqvist.
Qualifying for the feature race starts at 10.50am local time (BST +2), lasting for 20 minutes.
Session results
| | | | | | | | | |
| --- | --- | --- | --- | --- | --- | --- | --- | --- |
| POS | NO | DRIVER | NAT | ENTRANT | CAR | LAPS | TIME | GAP |
| 1 | 11 | Marco WITTMANN | | BMW Team RMG | BMW M4 DTM | 14 | 1:29.470 | 0.000 |
| 2 | 17 | Miguel MOLINA | | Audi Sport Team Abt | Audi RS5 DTM | 17 | 1:29.563 | 0.093 |
| 3 | 31 | Tom BLOMQVIST | | BMW Team RBM | BMW M4 DTM | 15 | 1:29.666 | 0.196 |
| 4 | 5 | Mattias EKSTRÖM | | Audi Sport Team Abt Sportsline | Audi RS5 DTM | 17 | 1:29.691 | 0.221 |
| 5 | 18 | Augusto FARFUS | | BMW Team MTEK | BMW M4 DTM | 14 | 1:29.699 | 0.229 |
| 6 | 3 | Paul di RESTA | | Mercedes-AMG | Mercedes-AMG C63 DTM | 16 | 1:29.717 | 0.247 |
| 7 | 51 | Nico MÜLLER | | Audi Sport Team Abt | Audi RS5 DTM | 15 | 1:29.772 | 0.302 |
| 8 | 16 | Timo GLOCK | | BMW Team RMG | BMW M4 DTM | 11 | 1:29.827 | 0.357 |
| 9 | 84 | Maximilian GÖTZ | | Mercedes-AMG | Mercedes-AMG C63 DTM | 17 | 1:29.835 | 0.365 |
| 10 | 10 | Timo SCHEIDER | | Audi Sport Team Phoenix | Audi RS5 DTM | 16 | 1:29.986 | 0.516 |
| 11 | 53 | Jamie GREEN | | Audi Sport Team Rosberg | Audi RS5 DTM | 14 | 1:29.991 | 0.521 |
| 12 | 12 | Daniel JUNCADELLA | | SILBERPFEIL Energy/UBFS Invest Mercedes-AMG | Mercedes-AMG C63 DTM | 15 | 1:29.996 | 0.526 |
| 13 | 7 | Bruno SPENGLER | | BMW Team MTEK | BMW M4 DTM | 13 | 1:30.010 | 0.540 |
| 14 | 6 | Robert WICKENS | | SILBERPFEIL Energy/UBFS Invest Mercedes-AMG | Mercedes-AMG C63 DTM | 14 | 1:30.015 | 0.545 |
| 15 | 22 | Lucas AUER | | BWT Mercedes-AMG | Mercedes-AMG C63 DTM | 18 | 1:30.039 | 0.569 |
| 16 | 99 | Mike ROCKENFELLER | | Audi Sport Team Phoenix | Audi RS5 DTM | 17 | 1:30.102 | 0.632 |
| 17 | 36 | Maxime MARTIN | | BMW Team RBM | BMW M4 DTM | 14 | 1:30.118 | 0.648 |
| 18 | 2 | Gary PAFFETT | | EURONICS/FREE MEN'S WORLD Mercedes-AMG | Mercedes-AMG C63 DTM | 16 | 1:30.267 | 0.797 |
| 19 | 88 | Felix ROSENQVIST | | EURONICS/FREE MEN'S WORLD Mercedes-AMG | Mercedes-AMG C63 DTM | 17 | 1:30.333 | 0.863 |
| 20 | 27 | Adrien TAMBAY | | Audi Sport Team Rosberg | Audi RS5 DTM | 15 | 1:30.396 | 0.926 |
| 21 | 48 | Edoardo MORTARA | | Audi Sport Team Abt Sportsline | Audi RS5 DTM | 15 | 1:30.399 | 0.929 |
| 22 | 8 | Christian VIETORIS | | BWT Mercedes-AMG | Mercedes-AMG C63 DTM | 17 | 1:30.407 | 0.937 |
| 23 | 13 | António Félix da COSTA | | BMW Team Schnitzer | BMW M4 DTM | 15 | 1:30.468 | 0.998 |
| 24 | 100 | Martin TOMCZYK | | BMW Team Schnitzer | BMW M4 DTM | 17 | 1:30.931 | 1.461 |