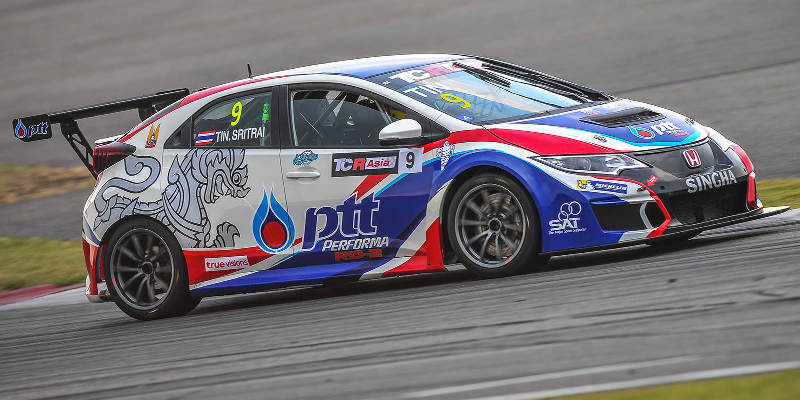 Team Thailand's Tin Sritrai was dominant in qualifying for the TCR Asia Series' third round of the season in Shanghai, with the Thai ace putting his Honda Civic on pole position for the second time this season.
Sritrai took pole position by just 0.085 seconds from Liqui Moly Team Engstler's Andy Yan, who had earlier been over two seconds off Sritrai's pace in his Volkswagen in Q1.
Henry Ho Wai Kun put his Champ Motorsport in third, ahead of fellow Macanese racer Michael Ho Hon Keong.
Another two Macanese racers qualified in fifth and sixth, with Kevin Tse in his Teamwork Motorsport Volkswagen Golf ahead of the identical car driven by Liqui Moly Team Engstler's Filipe Clemente de Souza.
Local racer Neric Wei Chaoyin qualified in seventh on his début in the TCR Asia Series, as the Son Veng Racing team also marked its first appearance in the championship.
Kenneth Ma Hon Wah gave the re-worked Ford Focus of the FRD Racing Team its first outing of the season in Q1, but ended up almost ten seconds off the pace as the car completed little prior running.
Q2 times
| | | | | | | | | |
| --- | --- | --- | --- | --- | --- | --- | --- | --- |
| POS | NO | DRIVER | NAT | ENTRANT | CAR | LAPS | TIME | GAP |
| 1 | 9 | Tin SRITRAI | | Team Thailand | Honda Civic TCR | 2 | 2:19.210 | 0.000 |
| 2 | 3 | Andy YAN Cheuk Wai | | Liqui Moly Team Engstler | Volkswagen Golf Gti TCR | 3 | 2:19.295 | 0.085 |
| 3 | 88 | Henry HO Wai Kun | | Champ Motorsport | Honda Civic TCR | 3 | 2:20.092 | 0.882 |
| 4 | 38 | Michael HO Hon Keong | | Champ Motorsport | Honda Civic TCR | 4 | 2:20.501 | 1.291 |
| 5 | 8 | Kevin TSE Wing Kin | | Teamwork Motorsport | Volkswagen Golf Gti TCR | 3 | 2:21.033 | 1.823 |
| 6 | 26 | Filipe Clemente DE SOUZA | | Liqui Moly Team Engstler | Volkswagen Golf Gti TCR | 3 | 2:21.046 | 1.836 |
| 7 | 14 | Neric WEI Chaoyin | | Son Veng Racing Team | Volkswagen Golf Gti TCR | 3 | 2:21.767 | 2.557 |
| 8 | 17 | Terence TSE Kin Leung | | RoadStar Racing Team | SEAT León Cup Racer DSG | 2 | 2:23.166 | 3.956 |
| 9 | 7 | Bill O'BRIEN | | Teamwork Motorsport | Volkswagen Golf Gti TCR | 0 | No time | N/A |
| 10 | 65 | Douglas KHOO Kok Hui | | Viper Niza Racing | SEAT León TCR V2 SEQ | 0 | No time | N/A |
| 11 | 78 | Kenneth MA Hon Wah | | FRD Racing Team | Ford Focus TCR | 0 | No time | N/A |