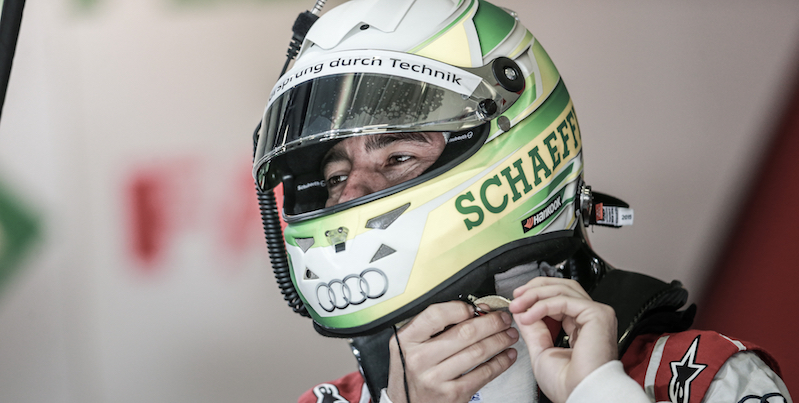 Mike Rockenfeller is looking to race for victory at the forthcoming Deutsche Tourenwagen Masters event at Moscow Raceway this coming weekend, as the Audi Sport driver is hopeful that his Audi RS5 DTM will be fighting at the sharp end of the grid.
The 32-year-old won the inaugural event at the 3.931-km circuit back in 2013, along with taking the win in last year's feature race, but feels that with the way the championship title fight is at the moment, that it is "difficult to predict the outcome of the race."
Rockenfeller, who became a father for the second time to son Paul recently, explained that Ernst Moser's outfit have been working on set-up towards the business end of the series, as several of the top ten are in contention with four race weekends remaining.
"We hope that we made the right steps forward during the summer break and, as a result, will be well-set for the race weekend," said the Team Phoenix driver.
Rockenfeller recently returned to the Russian capital to visit the new Audi City facility as a part of his commitments for the Ingolstadt brand to watch this year's 24 Hours of Le Mans, having gotten to know the city well since the DTM started to race there.
"At the races I always enjoyed the friendliness of the people. And the interest shown by the local journalists is impressive as well. I've seldom seen so many members of the media at a press conference as I did following my victory in the DTM's premiere in Moscow in 2013," stated the German, who is currently 20th in the standings, with just five points to his credit.
With a very technically and demanding challenge set to take place for all 24 drivers at the final foreign stop of the season, Rockenfeller admits that there are plenty of chances for the drivers to overtake, along with encountering some tricky sections on an even surface.
"The left-hand turns, some of which are very fast, are technically pretty challenging to drive. You can't brake as straight on entering and then turn in, but only brake while you're driving through the corner.
"This poses the challenge of adjusting the set-up and your driving style so that you hit the brakes as late as possible without the rear of the car swinging out due to the lateral acceleration or the front wheels locking."
The first DTM free practice session at Moscow Raceway starts on Friday, August 19th, at 17.00 local time (British Summer Time + 2), lasting for 30 minutes.
DTM Moscow Raceway weekend schedule (All times BST + 2)
Friday, August 19
17.00-17.30 – Free Practice 1 (30 minutes)

Saturday, August 20
09.30 – Free Practice 2 (30 minutes)
11.10 – Qualifying for race 1 (20 minutes)
13.33 – Race 1 (40 minutes plus 1 lap)
Sunday, August 21
09.10 – Free Practice 3 (30 minutes)
10.50 – Qualifying for race 2 (20 minutes)
13.10 – Race 2 (60 minutes plus 1 lap)