One-off returnee Dave Newsham says that he is 'just getting back in the groove' at Knockhill, as the Scot makes a brief return to the British Touring Car Championship at his home circuit.
Newsham is a last-minute stand-in for regular driver Kelvin Fletcher, who has opted to skip the event to be with his wife as the couple expect the birth of their child. As a result Newsham, who has been competing for Power Maxed Racing in the British RallyCross Championship, was the logical substitute for this weekend.
Speaking to TouringCars.Net after practice, Newsham admitted that the Chevrolet Cruze felt like 'quite a different car' compared to when he last drove it in 2015.
"The steering's quite different, so I'm just getting back in the groove really," said Newsham. "I haven't been in touring cars since Brands Hatch last year, but the car is really quite good.
"The car felt alien for a couple of laps this morning, but then you just get in the groove with it and in that last session it felt pretty good.
"I didn't take me long to say yes [to the deal]. It has been difficult; I've done BTCC for five years and it's been a big part of my life, but it was just getting harder and harder to get the funds together to do it again.
"I was a bit worried about returning, to be honest, but then this morning it was like just another meeting. It's quite strange actually."
Newsham admits that he is hoping to be able to put together a drive for 2017, adding that working with Power Maxed Racing would be the best option for him as both he and Team Principal Adam Weaver want to find a solution to get him back in a touring car full-time.
"First and foremost I want to enjoy the weekend and make the most of it, because that's going to be the last of it for this year.
"I think Adam would like me back here full time. The team want me here, I want to be here, it's just that stuffy old bit about the money really.
"A good weekend this weekend will help a lot, and we can then just work on it after the weekend. I dug very deep into my own personal pocket last year and I can't do that again, so I haven't got that to fall back on.
"I do miss it though and I'd love to be back next year."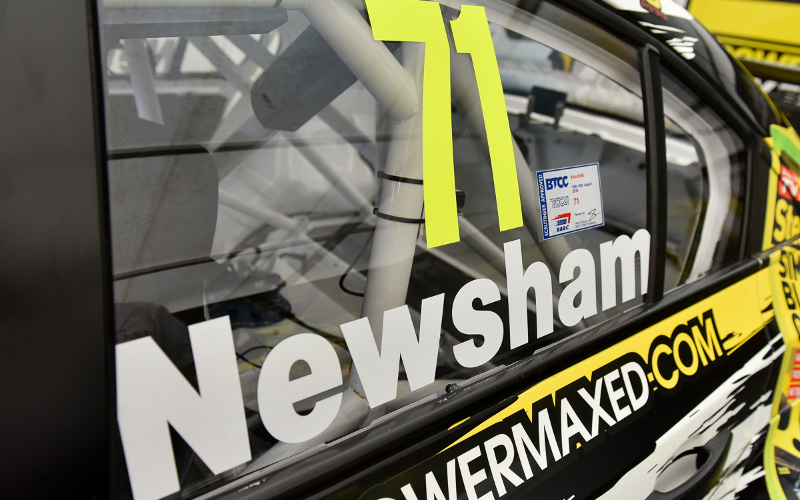 Weaver himself added that the deal was done to avoid a repeat of Hunter Abbott's situation in 2015, where the then Rob Austin Racing driver had to leave the circuit at the last minute after qualifying to be with his wife as she gave birth.
"Obviously I'm good friends with Dave and he's still driving with us in rallycross, and Steve [Brady, BTCC Engineer] has been engineering that as well.
"The only reason he didn't drive with us again [in BTCC] was due to aligning the budgets – basically the age old story.
"Kelvin said that his wife was pregnant and was due literally today, and based on Hunter last year, who tried to get away with it and get the race weekend in, which obviously didn't go down too well, we discussed it and didn't want to be in that situation."