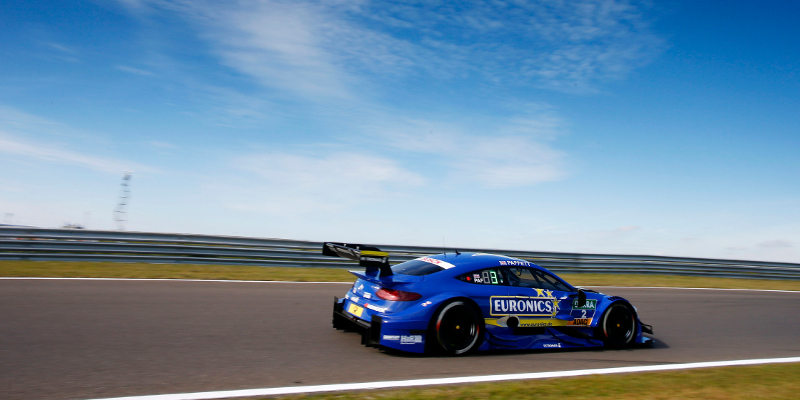 Mercedes' Gary Paffett set the pace in second practice for the Deutsche Tourenwagen Masters at Zandvoort, with the leading BMW of Marco Wittmann 0.180 seconds behind.
With Mercedes' having dominated much of the session, Paffett went to the top of the times in the closing five minutes to topple stable-mate Daniel Juncadella, who ultimately ended up third fastest after BMW's former champion Wittmann split the pair in the final minutes.
Mattias Ekström ended the session in fourth as the leading Audi driver, with the Ingolstadt marque struggling for pace around the circuit in the Dutch sand dunes.
Maximilian Götz put in a strong session to finish fifth, leaving three Mercedes in the top five at the end of the short half-hour session.
BMW only managed to get two other drivers into the top ten at the end of the session, with RBM's Tom Blomqvist ending up in sixth, ahead of RMG's Timo Glock in seventh.
Nico Müller was the only other Audi driver to crack the top ten in eighth, just over half a second off the pace, ahead of a quartet of Mercedes' drivers.
Christian Vietoris, who was warned about not going slowly enough through an earlier 'slow zone', was ninth, with Brit team-mate Paul di Resta completing the top ten, ahead of Lucas Auer and Friday's pace-setter Robert Wickens.
The earlier slow zone had been called when the Mercedes of Esteban Ocon, who ended up 16th and the slowest of the Stuttgart marques eight cars, put his car in the gravel at Turn 7.
Eleven of the bottom twelve places were occupied by BMW and Audi cars, with the latter in particular struggling for speed, with four of its drivers over a second off the pace. In total all 24 drivers were covered by 1.161 seconds.
Qualifying takes place at 15:45 CEST (14:45 BST).
Session results
| | | | | | | | | |
| --- | --- | --- | --- | --- | --- | --- | --- | --- |
| POS | NO | DRIVER | NAT | ENTRANT | CAR | LAPS | TIME | GAP |
| 1 | 2 | Gary PAFFETT | | EURONICS/FREE MEN'S WORLD Mercedes-AMG | Mercedes-AMG C63 DTM | 11 | 1:31.497 | 0.000 |
| 2 | 11 | Marco WITTMANN | | BMW Team RMG | BMW M4 DTM | 14 | 1:31.677 | 0.180 |
| 3 | 12 | Daniel JUNCADELLA | | SILBERPFEIL Energy/UBFS Invest Mercedes-AMG | Mercedes-AMG C63 DTM | 14 | 1:31.820 | 0.323 |
| 4 | 5 | Mattias EKSTRÖM | | Audi Sport Team Abt Sportsline | Audi RS5 DTM | 14 | 1:31.846 | 0.349 |
| 5 | 84 | Maximilian GÖTZ | | Mercedes-AMG | Mercedes-AMG C63 DTM | 12 | 1:31.866 | 0.369 |
| 6 | 31 | Tom BLOMQVIST | | BMW Team RBM | BMW M4 DTM | 12 | 1:31.937 | 0.440 |
| 7 | 16 | Timo GLOCK | | BMW Team RMG | BMW M4 DTM | 13 | 1:31.995 | 0.498 |
| 8 | 51 | Nico MÜLLER | | Audi Sport Team Abt | Audi RS5 DTM | 14 | 1:32.039 | 0.542 |
| 9 | 8 | Christian VIETORIS | | BWT Mercedes-AMG | Mercedes-AMG C63 DTM | 14 | 1:32.080 | 0.583 |
| 10 | 3 | Paul di RESTA | | Mercedes-AMG | Mercedes-AMG C63 DTM | 13 | 1:32.102 | 0.605 |
| 11 | 22 | Lucas AUER | | BWT Mercedes-AMG | Mercedes-AMG C63 DTM | 14 | 1:32.162 | 0.665 |
| 12 | 6 | Robert WICKENS | | SILBERPFEIL Energy/UBFS Invest Mercedes-AMG | Mercedes-AMG C63 DTM | 11 | 1:32.234 | 0.737 |
| 13 | 7 | Bruno SPENGLER | | BMW Team MTEK | BMW M4 DTM | 11 | 1:32.234 | 0.737 |
| 14 | 17 | Miguel MOLINA | | Audi Sport Team Abt | Audi RS5 DTM | 12 | 1:32.332 | 0.835 |
| 15 | 18 | Augusto FARFUS | | BMW Team MTEK | BMW M4 DTM | 13 | 1:32.386 | 0.889 |
| 16 | 34 | Esteban OCON | | EURONICS/FREE MEN'S WORLD Mercedes-AMG | Mercedes-AMG C63 DTM | 11 | 1:32.393 | 0.896 |
| 17 | 99 | Mike ROCKENFELLER | | Audi Sport Team Phoenix | Audi RS5 DTM | 14 | 1:32.477 | 0.980 |
| 18 | 100 | Martin TOMCZYK | | BMW Team Schnitzer | BMW M4 DTM | 12 | 1:32.484 | 0.987 |
| 19 | 36 | Maxime MARTIN | | BMW Team RBM | BMW M4 DTM | 10 | 1:32.501 | 1.004 |
| 20 | 48 | Edoardo MORTARA | | Audi Sport Team Abt Sportsline | Audi RS5 DTM | 11 | 1:32.516 | 1.019 |
| 21 | 53 | Jamie GREEN | | Audi Sport Team Rosberg | Audi RS5 DTM | 13 | 1:32.596 | 1.099 |
| 22 | 27 | Adrien TAMBAY | | Audi Sport Team Rosberg | Audi RS5 DTM | 14 | 1:32.599 | 1.102 |
| 23 | 10 | Timo SCHEIDER | | Audi Sport Team Phoenix | Audi RS5 DTM | 15 | 1:32.610 | 1.113 |
| 24 | 13 | António Félix da COSTA | | BMW Team Schnitzer | BMW M4 DTM | 12 | 1:32.658 | 1.161 |