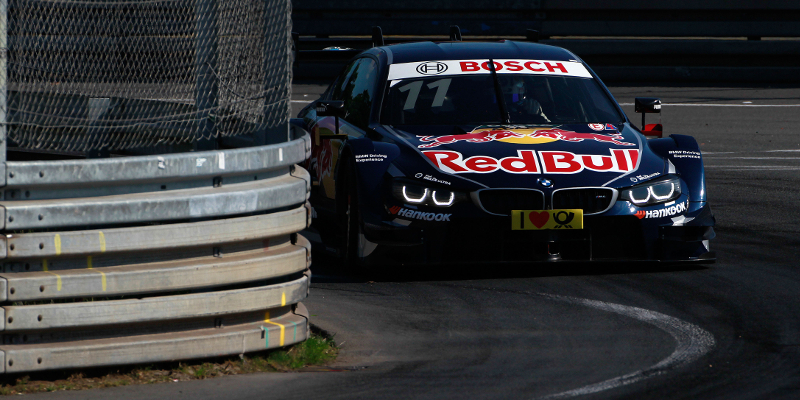 BMW's Marco Wittmann admits that he did not expect to leave his home round of the Deutsche Tourenwagen Masters as the leader of the drivers' championship standings.
Former champion Wittmann continued his consistent run in the 2016 championship to finish fourth and sixth in the weekend's two races respectively.
It extends the German's run of top eight finishes to seven in a row – more than any other driver – and gives him a two-point lead over Audi's Edoardo Mortara in the process.
Commenting on the second race, which again saw Wittmann make good progress from his starting position of tenth, he explained that the errors of other drivers ahead of him helped him to progress.
"My start wasn't very good, but the incident involving Mattias Ekström meant that I made it through the initial phase in tenth place anyway," said Wittmann. "After that the pace was really good, but you couldn't really attack. It would have been too risky.
"We opted for a slightly longer first stint, which turned out to be the right move. After that I fought well, was able to overtake Edoardo Mortara and then got stuck behind Lucas Auer and Paul di Resta for a long time. It would have been too risky to get involved in this situation too.
"We didn't really expect that I would be leading the drivers' championship at the end of the weekend."
Team RMG Team Principal Stefan Reinhold added that he was particularly pleased for local driver Wittmann, who hails from Fürth just to the north-west of Nuremberg.
"This weekend was perfect team-building for us," said Reinhold. "We made rigorous preparations for the Norisring with our engineers and mechanics. We know that we need to pick up points even on difficult weekends.
"Our result clearly exceeded our expectations. The drivers did a fantastic job and pulled their weight. Big thanks also go to BMW. We are extremely happy right now.
"I'm particularly delighted that we were able to give Marco Wittmann another successful home event here in Nürnberg."