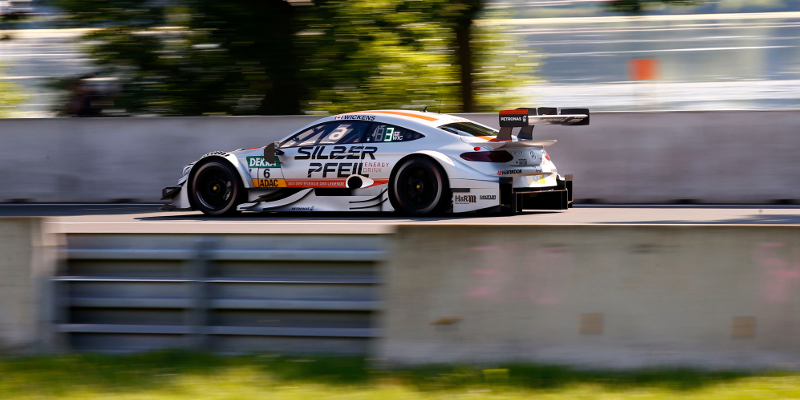 Robert Wickens put Mercedes on top of the times in second practice for the Deutsche Tourenwagen Masters at the Norisring, ahead of stable-mate Lucas Auer in second and Audi's Jamie Green in third.
Wickens hit the top of the times in the final five minutes of the session and traded top times with Audi's Green, before posting a time that put him back on top with around two and a half minutes to go.
Auer was second, having himself first hit the top of the timesheets just before the halfway stage of the session, with the Austrian continuing to show promising pace in his Mercedes.
'Mr Norisring' Green was third, just 0.102 seconds adrift, ahead of fellow Audi racer Mattias Ekström in fourth, who traded top times with Auer around the halfway stage.
Former champion Marco Wittmann was the best of the BMW drivers in fifth, at a circuit where the BMW racer have never excelled in the past.
All 24 drivers were covered by less than seven tenths of a second, with one of the most experienced drivers, BMW's Martin Tomczyk, propping up the timesheets.
The session went off without incident, although a number of drivers including Mercedes' Daniel Juncadella brushed the wall exiting the Turns 2 and 3 chicane, with no ill effects.
Qualifying for race one takes place at 11:05 CEST (10:05 BST).
Session results
| | | | | | | | | |
| --- | --- | --- | --- | --- | --- | --- | --- | --- |
| POS | NO | DRIVER | NAT | ENTRANT | CAR | LAPS | TIME | GAP |
| 1 | 6 | Robert WICKENS | | SILBERPFEIL Energy/UBFS Invest Mercedes-AMG | Mercedes-AMG C63 DTM | 25 | 48.570 | 0.000 |
| 2 | 22 | Lucas AUER | | BWT Mercedes-AMG | Mercedes-AMG C63 DTM | 26 | 48.642 | 0.072 |
| 3 | 53 | Jamie GREEN | | Audi Sport Team Rosberg | Audi RS5 DTM | 26 | 48.672 | 0.102 |
| 4 | 5 | Mattias EKSTRÖM | | Audi Sport Team Abt Sportsline | Audi RS5 DTM | 26 | 48.706 | 0.136 |
| 5 | 11 | Marco WITTMANN | | BMW Team RMG | BMW M4 DTM | 19 | 48.723 | 0.153 |
| 6 | 48 | Edoardo MORTARA | | Audi Sport Team Abt Sportsline | Audi RS5 DTM | 24 | 48.757 | 0.187 |
| 7 | 27 | Adrien TAMBAY | | Audi Sport Team Rosberg | Audi RS5 DTM | 29 | 48.765 | 0.195 |
| 8 | 7 | Bruno SPENGLER | | BMW Team MTEK | BMW M4 DTM | 22 | 48.798 | 0.228 |
| 9 | 51 | Nico MÜLLER | | Audi Sport Team Abt | Audi RS5 DTM | 25 | 48.807 | 0.237 |
| 10 | 16 | Timo GLOCK | | BMW Team RMG | BMW M4 DTM | 25 | 48.830 | 0.260 |
| 11 | 3 | Paul di RESTA | | Mercedes-AMG | Mercedes-AMG C63 DTM | 24 | 48.882 | 0.312 |
| 12 | 10 | Timo SCHEIDER | | Audi Sport Team Phoenix | Audi RS5 DTM | 25 | 48.902 | 0.332 |
| 13 | 12 | Daniel JUNCADELLA | | SILBERPFEIL Energy/UBFS Invest Mercedes-AMG | Mercedes-AMG C63 DTM | 25 | 48.902 | 0.332 |
| 14 | 8 | Christian VIETORIS | | BWT Mercedes-AMG | Mercedes-AMG C63 DTM | 26 | 48.904 | 0.334 |
| 15 | 36 | Maxime MARTIN | | BMW Team RBM | BMW M4 DTM | 25 | 48.926 | 0.356 |
| 16 | 84 | Maximilian GÖTZ | | Mercedes-AMG | Mercedes-AMG C63 DTM | 27 | 48.936 | 0.366 |
| 17 | 34 | Esteban OCON | | EURONICS/FREE MEN'S WORLD Mercedes-AMG | Mercedes-AMG C63 DTM | 20 | 48.959 | 0.389 |
| 18 | 99 | Mike ROCKENFELLER | | Audi Sport Team Phoenix | Audi RS5 DTM | 28 | 48.990 | 0.420 |
| 19 | 31 | Tom BLOMQVIST | | BMW Team RBM | BMW M4 DTM | 25 | 48.998 | 0.428 |
| 20 | 13 | António Félix da COSTA | | BMW Team Schnitzer | BMW M4 DTM | 25 | 49.002 | 0.432 |
| 21 | 18 | Augusto FARFUS | | BMW Team MTEK | BMW M4 DTM | 26 | 49.026 | 0.456 |
| 22 | 17 | Miguel MOLINA | | Audi Sport Team Abt | Audi RS5 DTM | 27 | 49.050 | 0.480 |
| 23 | 2 | Gary PAFFETT | | EURONICS/FREE MEN'S WORLD Mercedes-AMG | Mercedes-AMG C63 DTM | 9 | 49.145 | 0.575 |
| 24 | 100 | Martin TOMCZYK | | BMW Team Schnitzer | BMW M4 DTM | 20 | 49.230 | 0.660 |