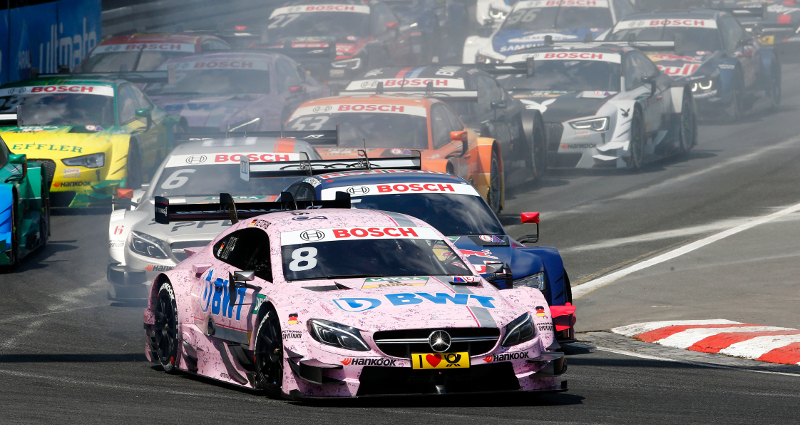 Mercedes' Head of DTM Ulrich Fritz has slammed Mattias Ekström for taking out Christian Vietoris and Robert Wickens from the lead of the first Deutsche Tourenwagen Masters race at the Norisring.
Vietoris and Wickens had been leading the race in 1-2 formation when, on lap 20, Ekström made a late lunge up the inside of the latter into Turn 1.
The Swede ultimately missed his braking point and careered down the side of Wickens, also tagging the rear of Vietoris' C63 DTM to spin him out of the lead.
The damage to the front of Ekström's Audi forced him out of the race, whilst Wickens also retired as a result of the incident. An unhappy Vietoris went on to claim a solitary point for tenth.
Mercedes' Head of DTM Ulrich Fritz slammed Ekström for the move, which denied the Stuttgart manufacturer a win at their most successful venue. He also cited the seemingly 'hypocritical' remarks from Ekströmn, who claimed the incident was in part due to aggressive defending from Wickens.
"I think we saw a nice clean race at the start, then came that move by Ekström, in which he totally unnecessarily took out the two Mercedes placed first and second," said Fritz. "What's more, with Rob still leading the championship.
"I don't believe that sort of thing has any place in fair racing, and I'm also sure that the fans don't want to see it either.
"After Spielberg, he complained about various other drivers, calling them 'clowns'. Today, he earned himself a red nose of his own.
"We were on our way to wrapping up another victory at the Norisring. Now all we've got from it is a third place and the loss of many points in the title battle."
Wickens was matter-of-fact about the incident, fully blaming the former double champion.
"Ekström is an idiot; there's not much more to say," said Wickens. "I don't know what he was thinking, he's clearly not the smartest driver in DTM. That's it.
"He's already done that to lots of drivers this year. Everything was okay before Mattias Ekström's attack.
"We were well placed in the top three. I saved my DRS and then Ekström braked far too late and crashed into Christian and me. That's what happened."
Whilst Ekström apologised to Vietoris for the incident, the Swede notably stopped short of accepting the blame for Wickens' retirement.
"I feel incredibly sorry for Christian," said Ekström. "He was totally faultless in getting entangled in the tussle between me and Wickens."
Ekström was later handed a three-place grid penalty in Sunday's race for the incident.