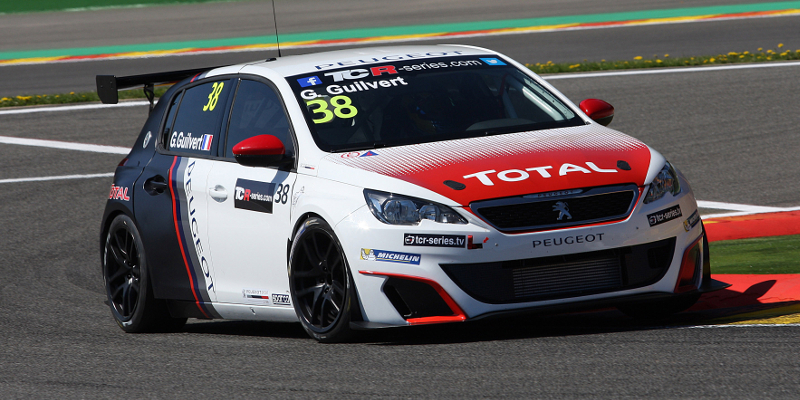 Sébastien Loeb Racing are hoping to be able to close the gap to their competitors in the TCR International Series at Spa-Francorchamps, after driver Grégory Guilvert ended practice over three seconds off the pace.
The team are making their début in the TCR Series this weekend as they continue development of the Peugeot 308 Racing Cup car.
Although the car, which features a 1.6-litre turbocharged engine, is not being exclusively developed for TCR, with the aim also being to sell it to customers in the European Touring Car Cup and VLN, the team have opted to use the event at Spa-Francorchamps to further hone the new racer.
Grégory Guilvert is the team's lead development driver, having also participated in the RCZ Racing Cup and driven the 208 T16 Pikes Peak hillclimb car for the brand.
Guilvert admitted that following his first TCR session he and the team were reasonably pleased with their pace, but emphasised that there was plenty of further work to be done.
"It's a little bit too soon to judge, as we had just thirty minutes in free practice and only did a few laps because it's quite a big track," said Guilvert to TouringCars.Net. "We need to make some adjustments. I followed some cars and we were quite happy because we are not so far [from the pace].
"We have a smaller engine compared to the two-litre cars. We had an advantage this morning because we had new tyres, so we are far from the lead and we need to improve and find some things in order to be closer.
"I think [we can close the gap] – all of the team thinks so, and our target is that we want to be closer than this. After the BoP test in Valencia we were closer with another driver, but at Spa, which is a big track with a long straight, hopefully we will be closer than in this free practice.
"It's not the best track to show the car, but I think if we are not so far off the pace then we can make some adjustments in BoP and try to be closer to the leaders."
Guilvert added that whilst he and Sébastien Loeb Racing are developing the car on behalf of Peugeot Sport, the door remained open for other drivers, including his current team-mate, to continue with the car in TCR.
"Sébastien Loeb Racing will do this event, VLN on the Norschleife in one week, and the ETCC at the Nürburgring just before the 24 Hour race," added Guilvert. "I don't know what will happen after this event.
"Sébastien Loeb Racing works for Peugeot Sport, especially on my car, but the second car is a customer car. So maybe if some driver has enough money to join this championship then I think we can see some drivers competing in this series.
"Jimmy [Clairet] is a customer racer. If some driver like Jimmy has enough money to join this championship then I think at the end of this year you can see some more cars."
Clairet himself was pleased with the general handling of the car after first practice, but admitted it was too early to draw comparisons with the other TCR cars.
"It was a good adaptation session to both the car and the track," said Clairet. "I have not much experience at Spa, having only raced here with the Clio Cup last year. It's obviously not the same thing.
"I was very pleased with the behaviour of the Peugeot 308, a well-born car and very pleasant to drive. The chassis seems already very well balanced. I can't say much about absolute performance with respect to other cars, as I was relatively alone during the session.
"We'll continue working and I rely a lot on the team and the know-how of my team-mate."