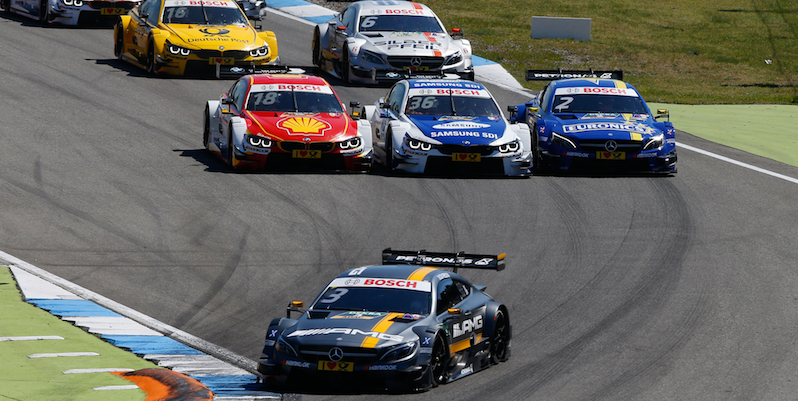 A fortnight after the season opener at Hockenheim, Mercedes-AMG is leading all three categories in this year's Deutsche Tourenwagen Masters (DTM) campaign, as Paul Di Resta and Robert Wickens currently head up a 1-2 in the drivers' standings.
The new C63 AMG DTM has shown impressive strides forward after a good show at testing and Hockenheim, with Gary Paffett and Christian Vietoris joining Di Resta and Wickens in the driver's standings in the top ten.
The Stuttgart outfit will also look to put the "push him out" affair from last year behind them, as well as Wickens' black flag disqualification the year previously.
"We are of course travelling to Spielberg in an upbeat mood," explained Head of DTM, Ulrich Fritz, who was pleased with the performance of the new car, as well as the overall team performance.
"The relief in our camp was commensurately great on Sunday. Now we have to make sure that we can overcome our Spielberg jinx. At least we never have a boring time at Spielberg! Our idea of the perfect weekend would be to leave the place on Sunday without any whiff of scandal and with a slate of good results."
Wickens himself stated about being the "centre of attention" over the past two seasons, but is excited about racing around the 4.326-km circuit, and is looking ahead to no major incidents this time around .
"It would be nice to get into the headlines for positive reasons this year, say with two high points-scoring results. Ideally, I would like to see the entire field in my rear mirror, just as long Timo doesn't pop up there. Then it could be a great weekend."
France's Esteban Ocon, who endured a difficult début at Hockenheim, but will look to use his Formula 3 and GP3 experience in Austria.
"Everything was new to me, so I had a lot to learn. In the course of the weekend, though, we made good progress, and I moved up the grid from the first to the second qualifying," said the 19-year-old, who recently took part in the recent Formula One test for Renault Sport.
"We have to keep working in this same direction at Spielberg. My aim for the second race weekend of the season is to improve my performance so that I'm competing more toward the front of the field."
The first practice session of the second DTM race weekend at the Red Bull Ring gets this afternoon (20th May) underway at 17.00 local time.