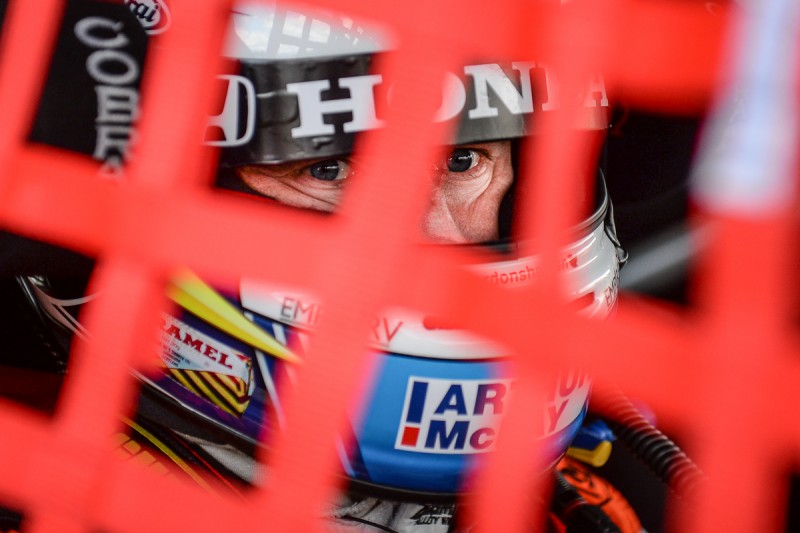 With the qualifying results now in, TouringCars.net's BTCC Correspondant, Damian Meaden, offers his views heading into the triple-header of action-packed races on Sunday…
With Tom Ingram on pole position, Aiden Moffat on the front row, the ballast-laden Gordon Shedden outside the top ten and the rear-wheel drive BMW's stuck square in the midfield, Saturday's qualifying session at Thruxton has certainly provided a wealth of intriguing plot points to consider ahead of the first race on Sunday.
Firstly, let's consider that just eight months ago Tom Ingram was claiming his first podium finish in the Dunlop MSA British Touring Car Championship. Fast forward to today and he's a two-time polesitter, a race victor and has taken to the rostrum on a total of three occasions, and arguably it could have been four without that clash with Rob Collard at Brands Hatch. With Matt Neal sitting behind with a full quota of success ballast, I fully expect the destiny of the first race at Thruxton to be in the former KX Academy member's hands, and unless the MG duo can make a blistering start in Hampshire at 12:12 it is difficult to see anything other than a controlled drive from Tom.
Having said that though, this time yesterday I'd have been doubtful of Aiden Moffat securing a front-row drive, but here we are. There is no questioning Aiden's potential, but it has been proven time and again that drivers need a 'bedding in' period in this series. Who remembers the crash-a-holic Adam Morgan of 2012, who four years later is a likely championship contender and the very definition of 'consistent' on the grid? Moffat turned heads at Knockhill last year with that first podium finish, but I must admit that, mostly due to the quality of his rivals, I hadn't expected him to place quite so highly. If Neal behind halters the progress of the MG pair, there is a very significant chance that Moffat is the only threat to Ingram taking a race win? Can he do it? Well yesterday I couldn't see him on the second row, now I can almost see him on the top step…
And what of Cook and Sutton, seemingly the very definition of 'teamwork' at the moment. The two used each other's tow in qualifying to maximum effect and, whilst it's not quite the front row as was the case at Donington Park, the two have the potential to do some serious damage tomorrow in fairly ballast-free MG6s. The question will be how quickly they can dispense with Neal's Honda in front, which is sure to fall behind if not early on then in the latter stages as the ballast takes it's toll on the tyres. I would expect one of them, if not both, to be on that first podium of the day.
Gordon Shedden has a lot of work to do tomorrow, but the defending champion can almost roll out with a carbon copy of his strategy at Donington Park last time out and gradually work his way forward to a strong finish in the reverse grid race, whilst picking up consistent points throughout. But the midfield attracts mayhem, something WSR will also be keen to avoid as their three stars attempt to work their way back into contention after a difficult qualifying.
It would be foolish as well to disregard Jeff Smith, lining up in 7th after another impressive session behind the wheel of the Eurotech Racing Type R. Jeff has certainly found a new lease of life in the brand new machinery, and everything I pointed to in a column back in my spell as Editor-in-Chief at Totally BTCC is slowly coming to pass – Eurotech are gradually making their way back to the sharp end of the field, and even more consistently the mistakes are being eradicated from their 'game', so to speak. The occasional mistake still creeps through, but then I'd argue whether any driver has a perfect thirty race season?
Aron Smith. I can't help but smile a little every time he clocks up another impressive result for the fledgling Team BKR, especially in light of how widely he was written off post-Brands Hatch. His ties with Warren Scott are as strong as ever, and his form on the track is the only thing I'd argue is stronger in his racing world at the moment. He continues to impress with every outing and I honestly expect him to be in with a chance of winning the Independents title at the end of the campaign if he can keep the run going. I'd expect him to be up there at some point tomorrow, most likely on the podium if I know Aron. He's a fighter, and that's definitely coming to the fore this season, more than ever before. Who says GPRM has to be slower than RML over a race distance?
Motorbase will also be keen to rebuild after a frustrating qualifying. I had Andrew Jordan as my tip for pole position after second free practice, with the Pirtek Ford Focus clearly in it's element versus a fair portion of the field, but it wasn't to be. Nevertheless, Jordan is a Thruxton specialist and he knows how to drag results out. His drought since Croft 2014 is going to end this year, make no mistake about it, and you would think that this weekend represents arguably his best chance to achieve that, perhaps in the reverse grid race. Expect Jackson to be back on the money when the lights go out as well.
So, in summary – we have a belter of a triple header set to get underway in Hampshire, and you'd be a fool to miss it. Predictions? Ingram will take race one ahead of the MG duo, Neal and Moffat. Beyond that, it's anybodies guess, but Shedden will need to work fast to ensure he doesn't lose ground on the top of the standings. First race is at 12:12 – don't miss it!