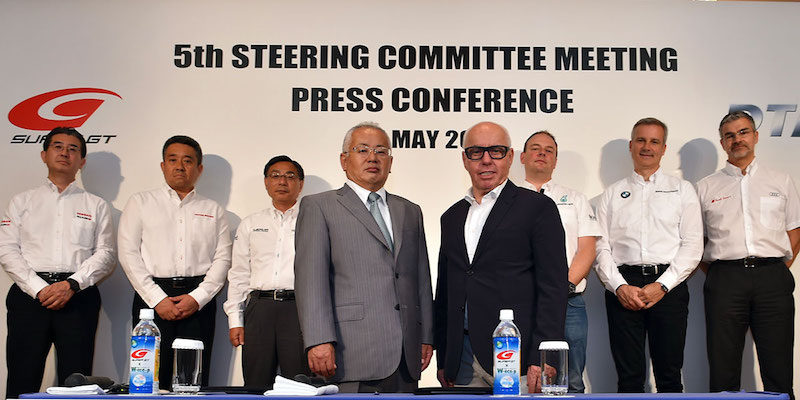 After the recent announcement that the Steering Committee between the DTM and Japanese Super GT have set a deadline for the "Class One" regulations to be publicly revealed in September 2017, the most notable change was the absence of IMSA from the meeting.
When it was made public that "Class One" would be making a return in September 2014, with IMSA working alongside ITR, the Deutsche Tourenwagen Masters (DTM) promoter, and Japan's Super GT, there was a genuine excitement in the air.
It would be a welcome evolution, in essence, of the cars that raced in the mid-1990s in the ITC (International Touring Car Championship), such as the Alfa Romeo 155 V6 Ti, Mercedes C-Class V6 and Opel Calibra V6 4X4.
But with the delays to the introduction of turbo engines, which will not be used in the DTM until 2019, and no recent announcements regarding IMSA's involvement, all might not be as it seems.
The "DTM USA" series needs the involvement of some serious well-known US manufacturers to help it get off the ground, in all honesty. So after approaching IMSA for some further clarification back in February, their communications team provided a swift response:
"We continue to keep potential manufacturer partners aware of the opportunity. As we have always stated, this is a highly professional manufacturer platform and any launch of a DTM USA platform would require multiple manufacturers to make a multi-year commitment to develop it in partnership with IMSA in North America."
It's understandable why the "Big Three" have not opted to pursue this at present, as they all have some form of motorsport involvement elsewhere. Commitments into any type of racing will always be dependent on their chosen marketing strategies.
Ford currently race with the all-new GT in both the WeatherTech SportsCar Championship and the FIA World Endurance Championship. The Blue Oval is currently celebrating the 50th anniversary of winning at Le Mans.
And there is also Ford's World Rallycross Championship (World RX) effort, with Ken Block and Andreas Bakkerud piloting a pair of Ford Focus RS RXs on the global stage.
General Motors also have several programs in racing at present, such as the Opel Astra TCR making its début this season in both the TCR International and TCR Germany series. This is as well as both Corvette and Cadillac brands being active in racing in some shape or form.
Chrysler had eventually phased out their main involvements in motorsport by the end of 2014. This included Dodge being involved with NASCAR and their high-performance arm Street & Racing Technology (SRT) competing in the American Sportscar racing scene.
But there is a potential issue, when it comes to IMSA's potential future involvement in the Steering Committee.
IMSA President Scott Atherton recently stated in an open letter to the organisation's shareholders that TCR regulations were under consideration of being adopted. This recent admission could actually jeopardise their future within this group, unless the move has already been made behind the scenes.
It's understandable that IMSA want to help nurture young talent, who are looking towards moving into series like the WeatherTech SportsCar Championship.
So a more cost-effective method may be easier for drivers in the USA to compete, in terms of the funding from sponsors required.
But after five years of waiting for the elephant in the room to leave the building, I personally feel that both DTM and Super GT are better off on their own, especially given that they are well-established historically and geographically.
TCR will be more beneficial to the United States, especially with the recent confirmation of the Las Americas championship set to take place between October 2016 and March 2017 in Central America and the south-eastern USA.
The rapid expansion of the TCR platform has been a catalyst for many organisations to take notice, especially with TCR promoter Marcello Lotti making all the right moves when it's required.
The jury's still out as to what IMSA's next move will be, but I'll be keeping an interest in what takes place in the coming months.