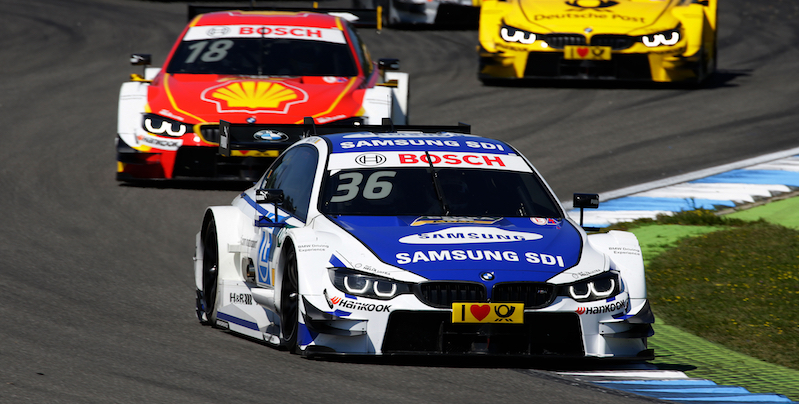 BMW Motorsport racked up its 70th win the Deutsche Tourenwagen Masters this afternoon, thank to the hard work of Team RMG's Marco Wittmann, who took a well-earned win in Spielberg in the sprint race.
Along with this, the Munich manufacturer also extends its lead in the manufacturer's standings to 140 points, 47 ahead of Mercedes and twice the amount to Audi Sport's credit.
The 2014 champion, who now sports Red Bull colours, was kept honest all the way through the 30-lap encounter at the Red Bull Ring. Wittmann was able to keep both Tom Blomqvist and Edoardo Mortara at bay for his first win in 2016.
"It really does treat me well. With the pole position and the good start, I laid the foundation for the win," said the 26-year-old, as his Team RMG stablemate Timo Glock ended up taking fourth place as well.
"Nevertheless, it was not easy to maintain the lead since my rivals were able to use the DRS. I'm very happy that it was enough to get the win – particularly for the team. They earned this success."
Motorsport Director Jens Marquardt praised the efforts of the overall team performance, which started with a front row lockout in qualifying, thanks to both Wittmann and Blomqvist.
"I am very proud of Marco and Tom, who brought the one-two result home, despite Edoardo Mortara keeping up the pressure right down to the final lap. And our guys behind them also drove a fantastic race. That was by no means as easy as it might have looked."
"It is fantastic to be on the podium so early in the season. Our car has been incredibly fast so far this weekend," said Blomqvist, who picked up his first podium of the season.
The Anglo-Swedish driver has also won at the Red Bull Ring in Formula 3, so his experience was a welcome telling point of the pace that is still to come.
"We ended up getting the result we deserved, and overall things went well for BMW too. I am happy – and naturally I will go on the attack again tomorrow."
Another driver that was happy with his performance was Team Schnitzer's Martin Tomczyk, who catapulted his M4 DTM off the starting grid, and was able to finish in a credible fifth place.
"I am very happy. Going into the race, I said fifth place was a realistic goal. Which is what we achieved," said the 34-year-old, who started in ninth place.
"Thanks go to my team, since we worked long and hard to get such a good car."