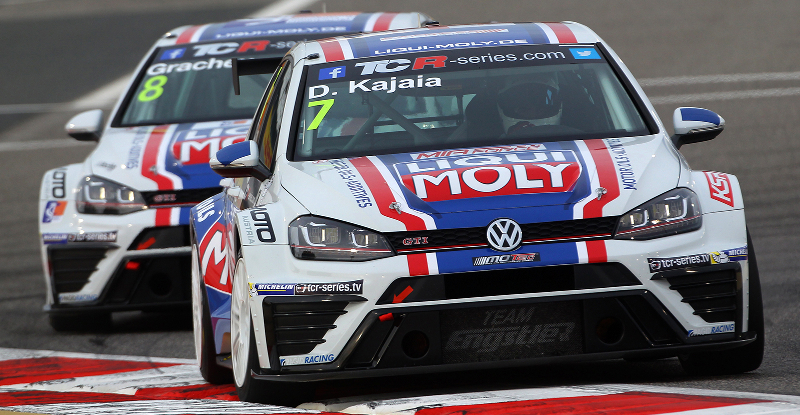 Experienced touring car drivers Andy Yan and Filipe Clemente de Souza are to race a brace of Volkswagen Golf cars for Engstler Motorsport in the 2016 TCR Asia Series.
The Chinese and Macanese racers are very well known in the Asian touring car scene, with Yan being a multiple Chinese Touring Car Champion and de Souza a multiple Macau Touring Car Champion.
More recently, de Souza has made occasional appearances in Asian rounds of the World Touring Car Championship between 2011 and 2014, including with Engstler Motorsport in the latter year, and the TCR International Series with Roadstar Racing in 2015.
Whilst Yan has never raced in either the WTCC or TCR International Series, his move to the regional TCR Asia Series is the biggest of his career to-date. The Chinese racer has raced a TCR car previously though, contesting the opening round of the 2015 TCR Asia Series season in Malaysia at the wheel of an FRD-prepared Ford Focus.
Both drivers were in attendance at the recent pre-season test in Valencia, where Balance of Performance [BoP] testing was carried out.
Promoter David Sonenscher of WSC Asia Limited says he is pleased to see a team of Engstler's calibre committing to the series for 2016. The German outfit had previously announced an entry into the series in 2015, which ultimately failed to come to fruition due to the late delivery of Volskwagen's Golf TCR cars.
"Enquiries have been high since the close of the 2015 season, and we will be announcing a strong field for the 2016 season within the next few days," said Sonenscher.
"It's fantastic to have Engstler Motorsport involved in the TCR Asia Series, they were an integral part of the debut season of the TCR International Series and had flagged their interest in being involved with us last year, however a delay in getting the new Golf GTi into the series meant they also delayed their debut in TCR Asia.
"The addition of two of the Asian region's most successful touring car drivers will do them no harm either, nor the experience that Engstler and Volkswagen bring into TCR Asia, they'll certainly be amongst the front-runners this year."
Engstler Motorsport will not be the only team running Volkswagen machinery in the 2016 TCR Asia Series, with China's TeamWork Motorsport entering a brace of the German cars for an as-yet unspecified driver line-up.
The opening round of the ten-round 2016 TCR Asia Series will get underway on 14-15 May at the former Formula 1 venue in South Korea.